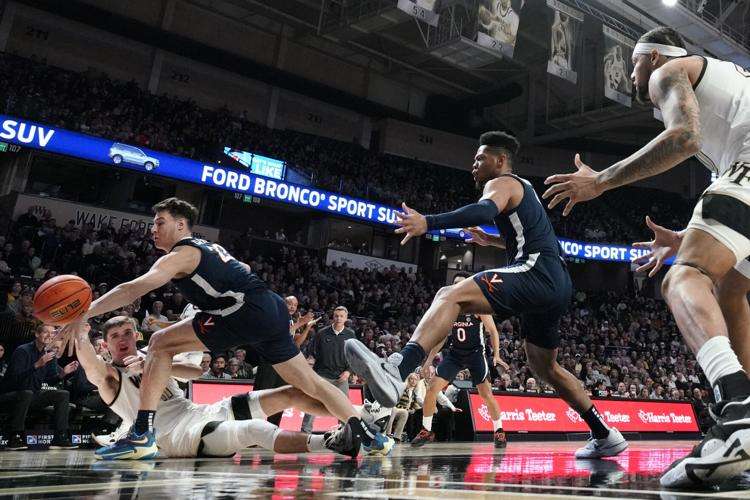 WINSTON-SALEM, N.C. – A lively environment once again took over Lawrence Joel Veterans Memorial Coliseum on Saturday afternoon (Jan. 21), as the Wake Forest men's basketball team battled against No. 10 Virginia in the team's 20th game of the 2022-23 campaign. Both sides competed for a full 40 minutes before Wake Forest ultimately fell in a 76-67 decision.
Wake Forest moved to 14-6 overall on the year, now standing at a 6-3 clip in Atlantic Coast Conference (ACC) play.
A total of 12,443 spectators took over LJVM to witness the heavy matchup, breaking a new season record of attendance this year.
Saturday featured a career performance for Damari Monsanto, as the redshirt junior stayed hot from the early get-go to finish with a new career high of 25 points. He has reached over both 20 points and six made three-pointers on four separate occasions this season.
Cameron Hildreth finished with 16 points and seven rebounds while going 9-of-10 from the free-throw line. Tyree Appleby added 13 points and five assists. Andrew Carr led his squad on the glass, snatching a game-high 10 rebounds.
The Deacs made the most of their looks at the charity stripe, netting 18 of 22 attempts (81.8%).
Wake Forest hits the road this week to face the Pittsburgh Panthers on Wednesday (Jan. 25). Tipoff is set for 7 p.m. ET inside Petersen Events Center and the game will air live on ACC Network.

Standout Stats
Damari Monsanto steadied Wake Forest's scoring tempo from the jump, ending with a new career high of 25 points. He has reached over both 20 points and six made three-pointers on four separate occasions.
Wake's 67 points against Virginia are the second-most the Cavaliers have allowed in conference play this season.
Wake's 22 attempts at the free throw line are the most opportunities a team has had against Virginia this season.

Wake's 81.8 percent from the line is the second-highest free throw percentage an ACC opponent has recorded against the Cavaliers.

How It Happened
Appleby opened the scoring with a second-chance layup after he grabbed his own rebound at the 18:22 mark.
Monsanto knocked down the first triple of the contest to give the Deacs an early 5-0 lead with 16:55 remaining in the first half.

Wake Forest held Virginia scoreless over the first 3:44 of action. The Cavaliers shot 0-for-7 during that span.

Carr grabbed his own miss for a second-chance layup to put the Deacs up 7-4 at the 13:43 mark.
Appleby retook the lead with a pull-up three-pointer with just over 12 minutes to go in the first half.
Hildreth fought his way to the rim for his first basket of the game with 11:21 remaining in the half.
Hildreth made a pair of free throws before Monsanto knocked down back-to-back three-pointers to get Wake Forest back in the contest.
Monsanto hit a two-point jumper and a three as the redshirt junior scored his fourth-consecutive basket.
Hildreth earned his way to the line and went 2-for-2 to cut the deficit to nine with 1:23 to go in the half.
Appleby found Marsh in the paint for an open dunk as the Deacs capped off a 16-7 run.
Wake Forest trailed Virginia, 32-42, at the half.

Monsanto led the Deacs with 14 points, including four three-pointers.
Hildreth capitalized on free throws as he went 6-for-6 from the line and finished the first half with eight total points.

Wake Forest used an 8-0 run early in the second half to cut the deficit to just six.

Appleby scored the first Wake Forest points of the half with a driving layup at the 18:41 mark.
Monsanto and Hildreth connected on back-to-back threes and forced UVA into a timeout.

Carr knocked down a hook shot in the paint to make it 50-41 headed into the under-16 media timeout.
Hildreth brought the Deacs to within four with a driving layup on a fast break following a block by Carr.
Hildreth found Klintman on a fast break for an open slam before Monsanto knocked down his fifth triple of the game on the next possession to cut the deficit to three with 8:58 remaining.
Appleby earned his way to the line and knocked down a pair of free throws and sent the Deacs into the under-eight media timeout down one.

Wake Forest held Virginia to just 1-for-9 from the floor over a four-minute span.

Marsh went 2-for-2 from the line to keep Wake Forest within two scores with 3:19 remaining.
Monsanto connected on back-to-back three-pointers over a 17-second span thanks to a Hildreth steal and brought the Deacs back to within four with 48 seconds to go.
Despite the comeback effort, Wake Forest fell to Virginia, 67-76.

Coach's Comments

"Well, I think everybody got their money's worth today. We had a great crowd and a tremendous student crowd. We had 2,600 students here, which is a tremendous showing by them. Congrats to Virginia. They're a really good basketball team, an elite team. Everybody talks about their defense, but they're really good on offense. I guess they showed it today; they had 15 threes on us. They got Franklin going, but they spread it out. It's not just one guy. They had a bunch of guys make threes on us. We weren't guarding them very well at the beginning of the game. We got off to a pretty good start, but they were just missing. Then, when you see that ball cling, now they start to go in. I think they scored on eight-straight possessions in the first half, a 22-point run there. We were playing from behind the rest of the game. It's hard to do that against an elite basketball team. That just made it really hard for us.
It was a great fight by my team to come back. It was an unbelievable building. We had three chances to take the lead and just couldn't get it done; we got a little anxious. We tried to make the big play to keep the crowd going. Ty took a three in transition, not a great shot. The second one got blocked at the rim, that was a great defensive play and Andrew got a wide open three in the corner to take the lead and just missed it, and that was kind of it. You gotta give them credit. They came in here and they took the hit and then they won the game. They played really well. We did hold them scoreless in the second half I think from about 9:16 to 6:26, which helped us get back in the game. It's a tough game. We'd love to have won it, but we didn't and we gotta move on.
This is the thing, we're not even halfway through the ACC yet. We gotta go to Pitt, and then we're only at the halfway point. Our fight was tremendous. We played really good defense in the second half, but didn't play very good defense in the first half and that's why the score was what it was. We felt pretty good at halftime, only being down 10. We went plus-nine in the last five minutes, that kind of got us back in it. We came out in the second half plus-four. We had the game going like we wanted it to go, but timely shots hurt us. McKneely is a good player. Vander Plas is a hard matchup, he's an inside-outside player, and they made some big timely threes." – head coach Steve Forbes

Upcoming
Wednesday, Jan. 25 – at Pitt – 7 p.m. ET // ACC Network
Saturday, January 31 – vs NC State – 1 p.m. // ACC Network
Tuesday, January 31 – at Duke – 7 p.m. // ESPN/ESPN2