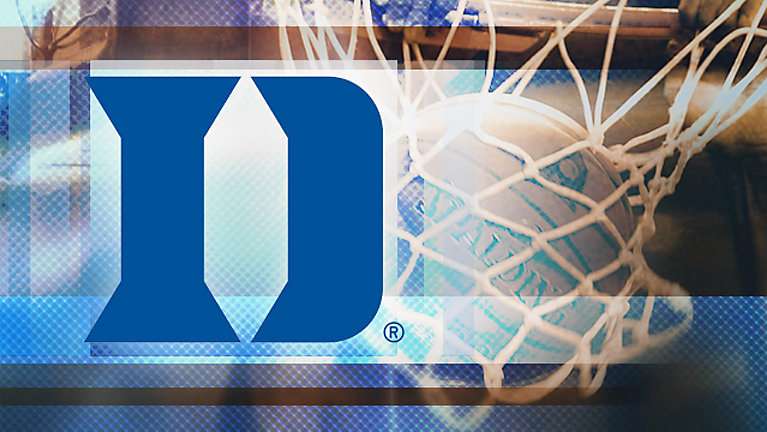 DURHAM – Duke used a team-high 17 points from Kyle Filipowski and 14 points from Jeremy Roach in his return to the court to defeat No. 17 Miami on Saturday afternoon. The Blue Devils (14-5, 5-3) finished with four players in double-figures as Tyrese Proctor and Dariq Whitehead scored 11 and 10 points, respectively. Filipowski snagged 14 rebounds to complete his ninth double-double, and third consecutive, while Dereck Lively II grabbed double-digit boards for the first time in his career, finishing with 10 rebounds.
HOW IT HAPPENED
Freshmen scored the first nine points for Duke, with Kyle Filipowski, Dariq Whitehead and Mark Mitchell each connecting on their first shot from the field.
Jeremy Roach entered the game for the first time with 16:01 on the clock, making his return to the court for the first time since Jan. 4 after missing the previous three games due to injury. He scored his first points of the afternoon shortly after to draw Duke within one, 18-17.
Duke connected on four straight shots heading into the second-to-last media timeout of the first half and held its largest lead of the game so far, 29-24, with 6:51 remaining before halftime.
Through the first 20 minutes, the Blue Devils logged assists on 13 of their 15 baskets, shot 15-of-31 from the field (.484) and went into the halftime break with the score knotted at 38 apiece.
Filipowski became the first Duke player to reach double-figures with his first basket of the second half and capped off his ninth double-double of the year with his tenth rebound of the afternoon less than five minutes into the frame.
Back-to-back three-pointers with the shot clock expiring from Whitehead and Jacob Grandison opened up a four-point lead for Duke, 51-47, with 14:51 on the clock.
Roach and Whitehead became the next Blue Devils to score in double-figures and Duke remained in the lead, 59-54, with just over eight minutes left in the game.
Proctor's third three-pointer of the game, a new career-high, made the freshmen the fourth Blue Devil to eclipse 10 points. The game remained tightly-contested but with Duke staying in the lead, 64-60, at the final media timeout of the day.
The Hurricanes held the Blue Devils scoreless for over three minutes and used a 6-0 run to draw within one, 64-63, before two Filipowski free throws ended the run at the 2:04 mark.
Duke's defense held strong to close out the victory, allowing just one made field goal — a layup with five seconds remaining — in the final 2:54 of the game.
NOTES
The game marked the 500th consecutive sellout at Cameron Indoor Stadium. The last non-sellout was Nov. 16, 1990 vs. Boston College. The streak is the longest current streak (by time) in either men's college basketball or the NBA and an all-time NCAA Division-I record (per Yahoo).
Duke's record at Cameron during the sellout streak is 454-46.
Duke held a 44-38 rebounding advantage, including a 16-13 edge in offensive rebounds. It marks the 15th time in 19 games this season that Duke out-rebounded an opponent.
Duke is now 13-2 this season when out-rebounding the opponent and 11-2 with an advantage in offensive rebounds.
Miami's 66 points matched its season low – the Hurricanes came in averaging 78.4 points. For the season, Duke has held 17 of 19 to below their season scoring average. Duke is now 14-3 when holding an opponent to below its season scoring average.
Duke finished with 19 assists on 25 field goals (76%) – the 19 assists matched a season-high for Duke and the assist percentage was the highest.
Duke blocked a season-high eight shots.
Duke has now connected on at least one three-point field goal in 1,172 consecutive games – the nation's second longest active streak.
Junior Jeremy Roach returned from a three-game absence (toe injury) and scored 14 points on 6-of-10 shooting with four assists and two steals.
Freshman Kyle Filipowski recorded his ninth double-double – including his three straight – with 17 points and 14 assists. Filipowski has 63 points and 43 rebounds over Duke's last three games.
Freshman Dereck Lively II posted career highs in both rebounds (10) and offensive rebounds (6) and matched his career high with five blocked shots.
Graduate Jacob Grandison recorded a game-high six assists – his most in a game this season and most since six vs. Missouri last season while playing for Illinois.
Freshman Tyrese Proctor scored 11 points and hit 3-of-7 from three-point range, a career high in three-point field goals.
QUOTES
"I was proud of our offense. I thought we came out really clicking, sharing the ball, I mean we had 38 points at half, so our offense was good. It was more our defense and Miami is a team where you can have a high scoring game against them. In the second half, to hold them to 28 points, that's a big deal. That's not an easy thing to do, so proud of defense but really our offense, the way we shared it." — head coach Jon Scheyer
"It felt great. It was awesome having our captain back out there. A lot of props to Tyrese [Proctor] and Jaylen [Blakes], too, for playing as well as they did when he was out. They carried the load very well, but Jeremy being back was great. He provided great minutes for us today and we're just looking forward to building on that." — freshman forward Kyle Filipowski
To stay up to date with Blue Devils men's basketball, follow the team on Twitter, Instagram and Facebook by searching "DukeMBB".