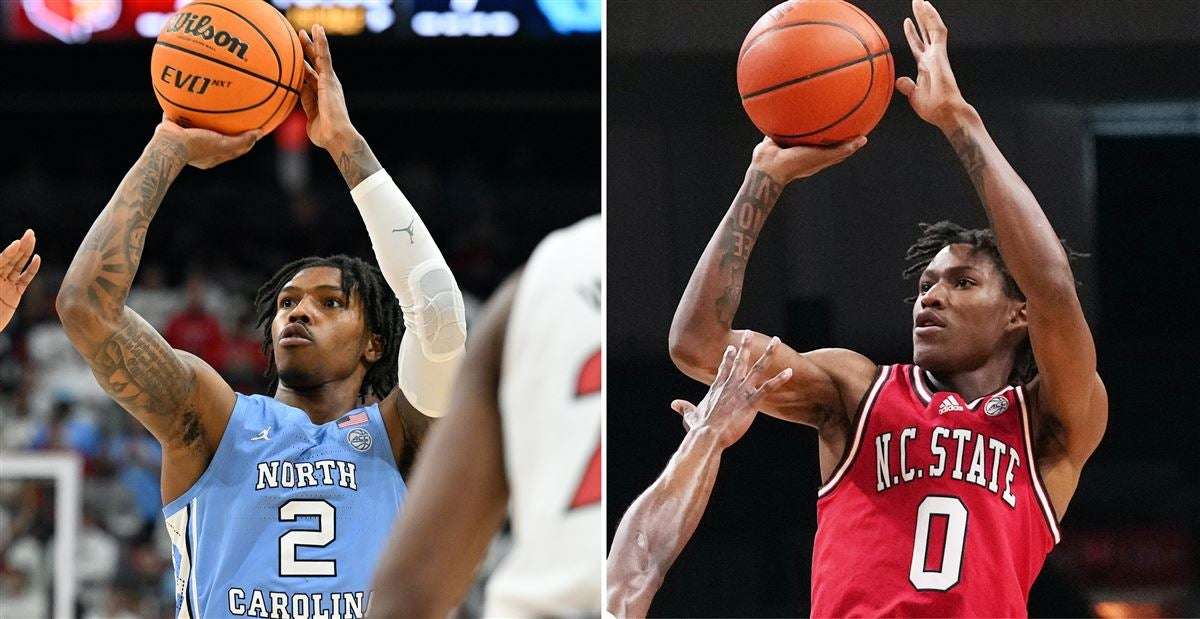 by Matt Bowers
CHAPEL HILL, N.C.—Armando Bacot had a record-breaking game and RJ Davis scored 26 points as North Carolina beat NC State, 80-69, at the Smith Center on Saturday afternoon.
Davis scored a game-high 16 points in the first half and finished with 26, hitting 5 of 8 field goal tries and all 14 of his free throw attempts.
Caleb Love's shooting slump continued as he hit only 3 of 14 attempts from the floor. However, nine of 14 field goal tries were from two-point range, he shot 9 for 10 from the free throw line and he led the Tar Heels in plus/minus at +17 in a team-high 38 minutes of action.
Bacot finished with 23 points and 18 rebounds for his 61st career double-double, breaking the UNC career record. Hall-of-Famer Billy Cunningham (1962-65) held the previous mark with 60. Bacot also extended his own school record with his 68th career double-figure rebound game and tied his own school record for most rebounds in a game against the Wolfpack.
Late in the second half, Bacot then broke the UNC career rebounding record. He has 1,221 in his career, breaking the previous Carolina record of 1,219 held by Tyler Hansbrough.
"Early on, I think I got a good start, getting a good amount of rebounds and then I picked up that second foul," Bacot said after the game. "I was trying not to get in foul trouble but trying to stay in the game and be aggressive. And then, I got lucky. They missed a couple shots and then I got it.
"I think now it is starting to sink in, and to greet Tyler Hansbrough after just meant everything to me. Growing up, seeing how great of a player he was, not just at UNC, but just in college in general, he is one of the greatest players of all time. To be able to pass him just means a lot."
Bacot's effort on the boards helped Carolina to a 42-27 rebounding edge as a team, overcoming a 37 percent shooting day and getting just one point from its bench.
"Every day and practice, shootaround, game, you know that he's gonna give his best on both ends of the floor for himself, for the team, for this program," said head coach Hubert Davis. "And for him to pass Tyler Hansbrough, Billy Cunningham for all time double-doubles in points and rebounds, it's unbelievable. He's a fantastic player. He's one of the best players in Carolina history and I'm just really really proud."
NC State guard Terquavion Smith left the game on a stretcher after falling hard to the floor after a foul by Leaky Black on a drive to the basket in the second half. D.J. Burns and Jarkel Joiner led the Wolfpack with 18 points apiece.
Carolina is 36-5 in the last 41 meetings with NC State and 53-12 in the last 31 seasons. The Tar Heels are 81-23 vs. the Wolfpack in Chapel Hill, including 30-7 in the Smith Center.
UNC won its ninth game in the last 11 outings and improved to 14-6 overall this season, 6-3 in the Atlantic Coast Conference. NCSU fell to 15-5, 5-4 and saw its four-game winning streak come to an end.
The Tar Heels hit 36 of 39 free throw attempts as a team, season highs in both categories, while NC State was 12 for 12 at the line.
At halftime, members of the 1993 UNC NCAA championship team were on-hand to be recognized for the 30th anniversary of winning head coach Dean Smith's second national title.
Freshman forward Jalen Washington returned to the lineup after missing the Boston College game earlier in the week with a sprained ankle, but junior wing Puff Johnson missed the game with a sore right knee.
The Tar Heels will return to action on Tuesday night at 9 p.m. at Syracuse.