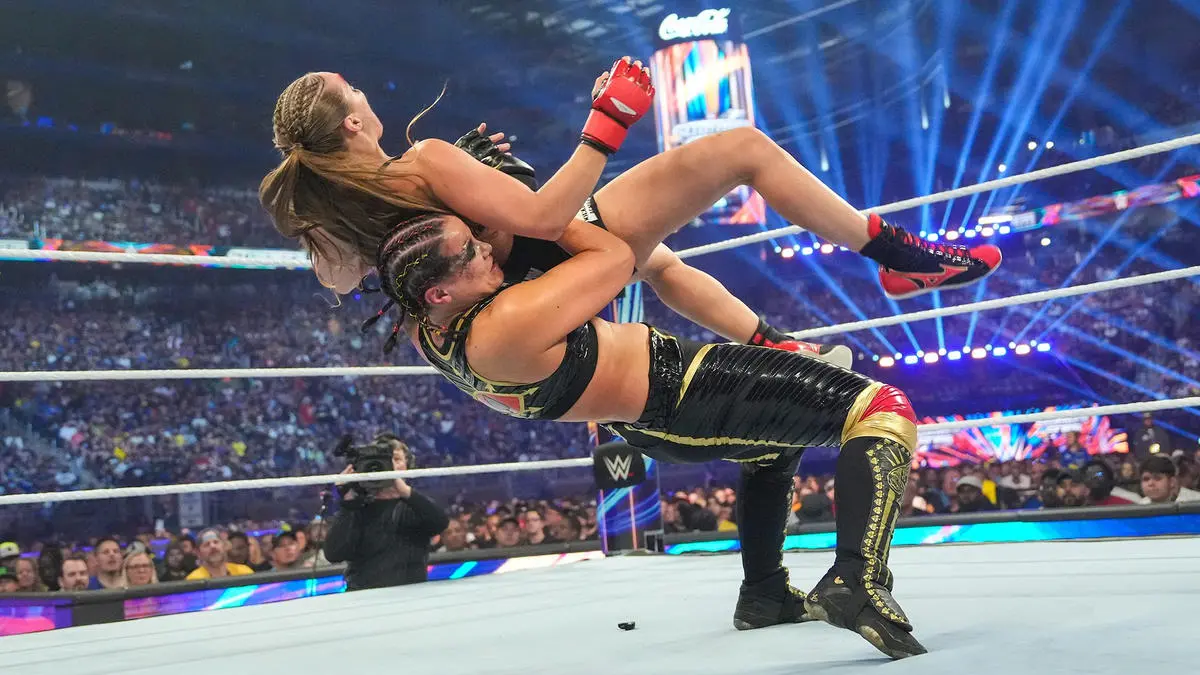 This weekend at SummerSlam, Ronda Rousey competed in what many consider to be her final WWE match, in a losing effort to former tag team partner and real-life friend Shayna Baszler.  
"The Baddest Woman on the Planet" made the transition from the UFC to WWE back in January 2018 and for the last five years, she has stayed in the squared circle as opposed to being in the octagon.
If this was Rousey's final match in WWE, this caps off five-and-a-half years in the sports entertainment industry. Finally, we can judge her career in the WWE.
Going back to her time in UFC, she was the biggest draw – man or woman – for the combative sports company. Rousey was 12-0 and nearly unstoppable as the first female UFC Champion. Her dominance was unreal to witness before Rousey suffered two upsetting losses to Holly Holm in November 2015, followed by Amanda Nunes in December 2016.
For years, Rousey's passion for WWE was well-documented. She attended SummerSlam in 2014 as a fan and hopped the barricade at WrestleMania 31 in an in-ring segment with The Rock, Triple H, and Stephanie McMahon at Levi's Stadium. This made the IWC go crazy about a potential WWE run for Rousey before becoming a reality at the Royal Rumble 2018 event.
Diehard WWE fans didn't love her. For reasons spanning from her sudden rise to stardom in the company, to her lack of mic skills, or the struggle transitioning to the sports entertainment world and a scripted-fighting industry. There was an expectation coming in from the UFC with the likes of Ken Shamrock, Matt Riddle, and Rousey's friend Shayna Baszler having a more seamless transition. For whatever reason, Rousey never seemed to live up to the hype.
On the bright side, Ronda Rousey did contribute to a pivotal time in women's wrestling. Rousey brought eyes to the product because she built her name across the globe. Those new viewers were watching Ronda Rousey in the first ever women's main event in WrestleMania history where she and Charlotte Flair lost to Becky Lynch for both the Raw and SmackDown Women's Championships.
For what it's worth, Rousey also did a classic nod in the wrestling world. If this was her final match in WWE, at least full-time, she went out in defeat, elevating what could be the next star: Shayna Baszler. This win could elevate Baszler into being a legitimate force on the main roster.
In the end, people will look back at this career potentially being a waste of a lucrative contract. While "Rowdy" Ronda Rousey wasn't your typical WWE wrestler, and certainly wasn't the best in her five years with the company, her name will be attached to the company's history surrounding the women's division.
Rousey was inducted into the UFC Hall of Fame back in 2018. It will only be a matter of time before she is inducted into the WWE's Hall of Fame. If nothing else, it's because her name is Ronda Rousey and she doesn't care about her bad reputation.
Follow us on Social media for the latest news on Pro Wrestling
Facebook: SportsCarolina Monthly
Twitter: SportsCarolina Monthly and Michael Davis