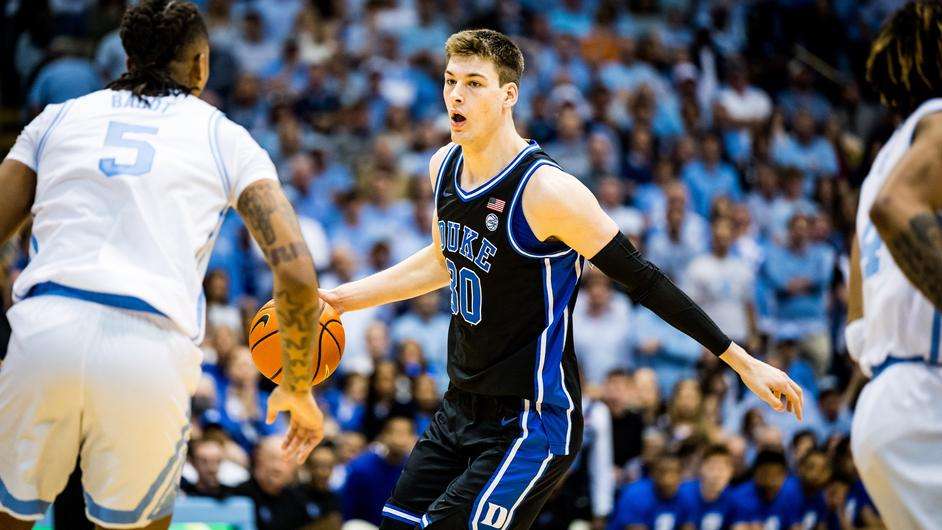 CHAPEL HILL – Duke held North Carolina without a field goal for the final 4:20 of action and Kyle Filipowski poured in a 22-point, 13-rebound double-double as the Blue Devils (23-8, 14-6) defeated the Tar Heels (19-12, 11-9), 62-57, on Saturday night. With the win, Duke finished off the 19th season sweep of North Carolina in the rivalry's ACC history (1953-54).
Filipowski was one of four Blue Devils to score in double figures on Saturday night. The freshman was joined by junior captain Jeremy Roach, who had 10 points and his classmates, Tyrese Proctor and Mark Mitchell, who finished with 13 and 10 respectively. Carolina was held to 57 points in both of the games against Duke this season, marking the Tar Heels' lowest points against Duke since an 82-50 loss on Jon Scheyer's Senior Night in 2010.
Duke ends the regular season with the No. 4-seed in the ACC Tournament, marking the Blue Devils' ACC-best 15th top-five ACC finish in the last 16 seasons and 37th in the last 40. With the No. 4-seed, Duke beings play at the ACC Tournament on Thursday in the quarterfinals versus either No. 5 Pitt, No. 12 Florida State or No. 13 Georgia Tech. The game tips at 2:30 p.m. from the Greensboro Coliseum.
HOW IT HAPPENED
Duke's defense picked up from where it left off in the first matchup against North Carolina, blocking three North Carolina shots in the first two minutes of play. The Blue Devils trailed by just one possession, 5-2, at the first media timeout of the game.
Jeremy Roach tied the game right out of the break, knocking down his first three-pointer of the evening. The Blue Devils claimed their first lead, 7-5, on the next possession, courtesy of a Tyrese Proctor pull-up floater.
A three-point-play by Dariq Whitehead pushed the Blue Devils back in front, 26-23, with 4:44 remaining in the first half. Kyle Filipowski converted a spinning layup on the next trip down the floor, giving Duke its largest lead of the first half, 28-23.
The Blue Devils remained in the lead, 33-31, at halftime. Filipowski had a game-high nine points and nine rebounds in the first 20 minutes of play.
Proctor became the first Blue Devil in double figures after a put-back layup gave the freshman 11 points and made it a four-point lead, 39-35, with 16:18 on the clock. Filipowski finished off his 14th double-double of the year with an offensive rebound and a powerful dunk on Duke's next possession.
A transition dunk by Mark Mitchell opened up Duke's largest lead of the game so far, 43-37, at the 14:02 mark. North Carolina responded with a seven-point run over the span of 1:37, leading to a Duke timeout with just over 12 minutes to play.
Two consecutive three-pointers gave North Carolina a four-point lead and made it a 13-2 run for the home team, before a Mitchell layup trimmed the deficit to two, 49-47, with 8:02 left in the game. Both offenses went back and forth for the next stretch of action and North Carolina held a slight edge, 55-54, at the final media timeout of the game.
Filipowski knocked down two free throws with 1:38 on the clock to give Duke the lead, 58-57. Roach converted a driving layup with less than a minute remaining and the Blue Devils' defense held strong to help finish off the 62-57 victory.
NOTES
Head coach Jon Scheyer extends the Duke record for most wins by a first-year head coach, with the previous mark of 20 held by Harold Bradley (20-13 in 1950-51) and Gerry Gerard (20-6 in 1942-43).
Duke's current six-game winning streak is a season long. In the streak, Duke is allowing opponents to shoot just .384 from the field, .323 from three and score just 61.7 points.
Duke is now 7-2 this season in game's decided by five points or less.
For the season, Duke has now held 27 of 31 opponents to below their season scoring average. Carolina entered averaging 77.1 points.
Duke is now 23-4 in games holding an opponent below its season scoring average.
It is the 11th time this season that a Duke opponent has failed to scored more than 60 points.
Duke held Carolina to 5-of-23 from three-point range (.217), marking the 17th time this season Duke has held a team below .300 for the game.
Duke has now connected on at least one three-point field goal in 1,184 consecutive games – the nation's second longest active streak.
Freshman Kyle Filipowski was 4-of-5 from the free throw line in the last five minutes of the game.
Freshman Tyrese Proctor has 11 double-digit scoring games over the last 15 games.
Jeremy Roach recorded a game-high three steals.
QUOTES
"I'm proud of what we've done. Our defense has been top-10 in the country in the month of February. We've been as consistent as anybody in the country down the stretch. And we've been through this enough, or at least I have, just being on the staff here, where no matter how you end the year, postseason is different. We need to get refreshed. This was a physical game. And we had to do some things to gut it out. But now we need to refocus, understanding postseason is a different animal. It's one-and-done time and there's a lot to learn from this. But the belief is there for us, and that's as important as anything." — head coach Jon Scheyer
"It's a huge win. Just keep playing game by game. Not looking too far ahead, not looking back at our past. I think we've just done a great job sticking together through our ups and downs. And I think we're having a lot of fun, our chemistry is really starting to click now. We're coming together at the right time and it's been good." — freshman Tyrese Proctor
To stay up to date with Blue Devils men's basketball, follow the team on Twitter, Instagram and Facebook by searching "DukeMBB".