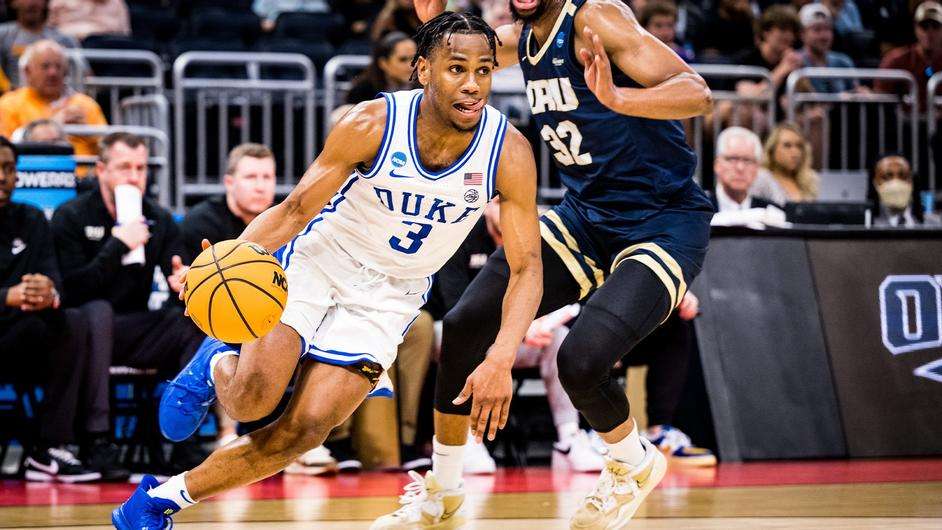 ORLANDO, Fla. – A postseason career-high 23 points from Jeremy Roach helped No. 5-seed Duke advance past Oral Roberts, 74-51, in the NCAA Tournament First Round on Thursday night at the Amway Center. The Blue Devils (27-8) never trailed in Orlando as head coach Jon Scheyer secured his first NCAA Tournament victory as head coach.
Roach's 23 points matched his career high, which he set in the Blue Devils' previous game, a victory over Virginia in the ACC Championship game. Duke's defense limited an explosive Oral Roberts offense to a season-low 23 first-half points. The Golden Eagles' 51 total points were 33.2 below their season average entering Thursday night's game.
HOW IT HAPPENED
Duke's first points came from a dunk by Dereck Lively II just over three minutes into the game. On the defensive end of the floor, the Blue Devils managed to hold Oral Roberts without a point for over four minutes and took an 11-0 lead, forcing an early timeout by the Golden Eagles.
Duke extended the ORU scoreless drought to over eight minutes, forcing a 0-for-12 start from the field, and the Blue Devils picked up seven early points from Jeremy Roach to lead, 15-0, with 12:16 remaining in the first half.
Three-pointers by Dariq Whitehead and Jacob Grandison gave Duke its largest lead of the first half so far, 25-7, at the 8:35 mark. Another jumper by Whitehead three minutes later pushed the freshman into double figures.
The Blue Devils went up by 20, 38-18, off a reverse layup by Roach with just over a minute remaining in the opening frame. A late three-pointer by Oral Roberts sent the teams into halftime separated by 17, 40-23.
Similar to the first half, Duke's defense limited Oral Roberts' offense to start the second period. A 0-for-6 streak out of the break by the Golden Eagles helped the Blue Devils extend their lead, 48-23, just over four minutes into the second half.
A 15-2 scoring run by the Golden Eagles spanning four minutes of action trimmed Duke's lead to under 15, 54-40, with 8:51 to play. Tyrese Proctor responded with his first three-pointer of the night and ended ORU's burst.
Roach eclipsed 20 points for the third time in the last six games with a high-arcing floater in the lane, giving Duke a 59-42 advantage at the 7:30 mark. The Blue Devils got back to a 20-point lead, 65-45, after a layup from Kyle Filipowski.
Duke rested its starters in the final minutes as the Blue Devils closed out the 74-51 victory.
NOTES
Head coach Jon Scheyer is in his first season as Duke's head coach. His record is now 27-8, extending the Duke record for most wins by a first-year head coach.
Scheyer and Vic Bubas, who led Duke to the Elite Eight in 1960, are the only head coaches in program history to win an NCAA Tournament game in their first season.
Duke is now 119-39 all-time in the NCAA Tournament as the team with the highest all-time NCAA Tournament winning percentage (.753).•Duke is now 31-3 all-time in NCAA Tournament First Round games.
Duke is now 3-1 as the No. 5-seed in the NCAA Tournament and improved to 6-0 when facing the No. 12-seed.
Duke's 51 points allowed were its fewest allowed in an NCAA Tournament game since beating San Diego State, 68-49, in a second round game on March 22, 2015 in Charlotte.
Duke's current 10-game winning streak is a season long and the team's longest streak since opening 2017-18 with 11 straight wins.
For the season, Duke has now held 31 of 35 opponents to below their season scoring average and Duke is now 27-4 in games holding an opponent below its season scoring average.
Duke out-rebounded Oral Roberts, 46-32, the 29th time in 35 games with a rebounding advantage (25-4 in those games), including the 14th time this season with a double-digit margin in rebounds.
Duke has not lost the rebounding battle in 11 consecutive games.
Duke held ORU to 8-of-32 (.250) from three-point range – ORU entered 43rd nationally in three-point percentage (.369) and second nationally by making 10.8 threes per game. ORU became the 20th opponent this season to shoot less that .300 percentage from three.
Duke has now connected on at least one three-point field goal in 1,188 consecutive games – the nation's second longest active streak.
Now with 80 blocked shots this season, Dereck Lively II moved into second on Duke's single-season freshman list behind Mike Gminski's 90 in1977.
Kyle Filipowski's four steals were tied for second most by a Duke freshman in an NCAA Tournament game, and most since Jayson Tatum had four vs. Troy in 2017. Grant Hill's six vs. Iowa in 1991 are the team's freshman record in the NCAA Tournament.
QUOTES
"I thought we had some key responses when they made their run, which you knew they were going to make at some time. So really proud of the effort, proud of these guys right here. They did a great job. Five of them, it was their first NCAA Tournament game. You really couldn't tell, and I think that's a credit to them and their competitiveness and their ability to rise to the occasion." — head coach Jon Scheyer
It's a new season now. We wanted to lock in on Oral Roberts, and we did a good job and made it as tough as we could for him. Now we've got to lock in on Saturday and take it one game at a time." — junior Jeremy Roach