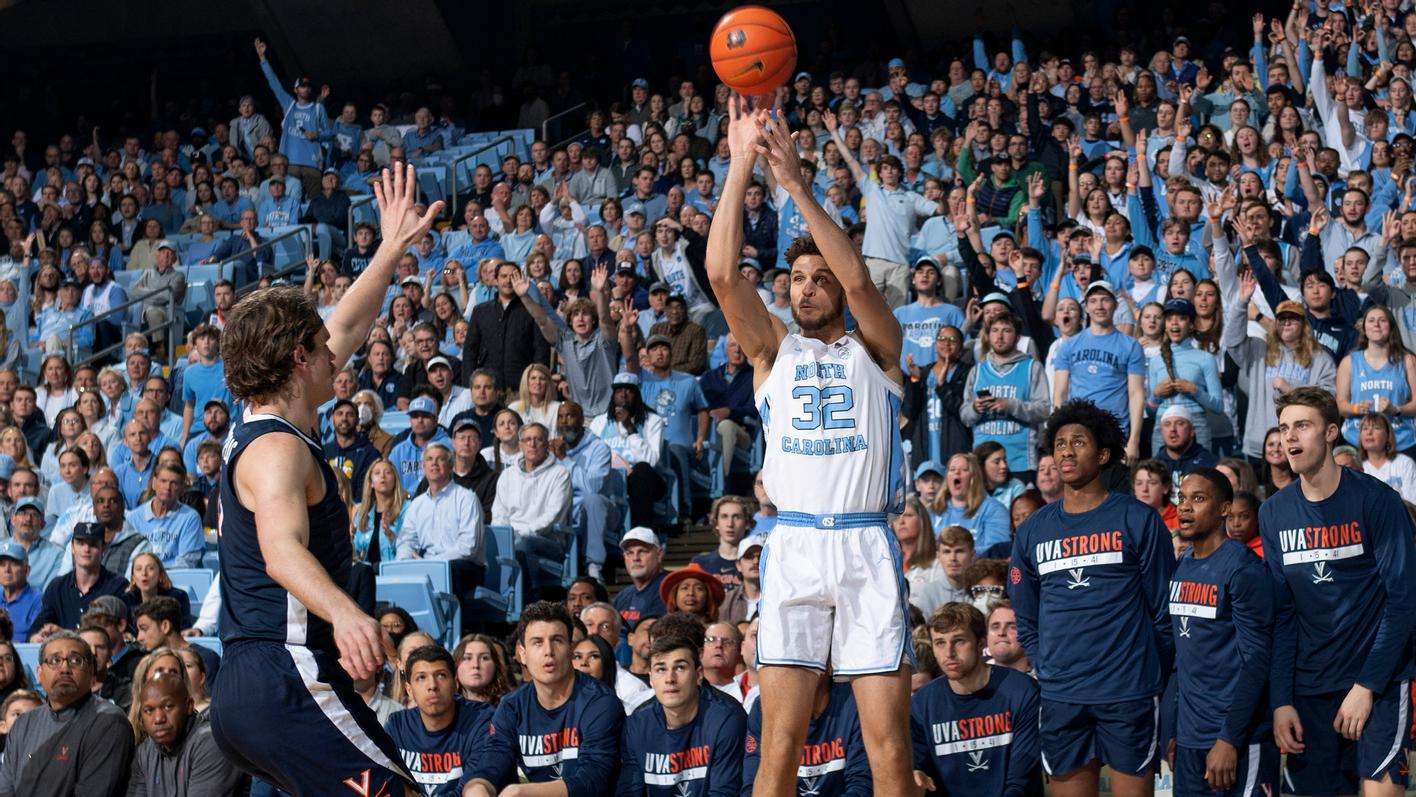 by Matt Bowers
CHAPEL HILL, N.C.—Pete Nance exploded for 22 points and RJ Davis posted a double-double as North Carolina beat sixth-ranked Virginia, 71-63, in the Smith Center on Saturday night. The Tar Heels hit a season-high nine first-half three-pointers and jumped out to a 16-point halftime lead, then held on as the Cavaliers cut the lead to single digits in the final minute.
Nance posted his first 20-point game since he scored 21 at Syracuse on January 24. His only better scoring effort as a Tar Heel came when he scored 28 against Portland on Thanksgiving. He also blocked four shots.
Davis posted his third double-double of the season and finished with 16 points, 10 rebounds and four assists.
"It's been no mystery I've been struggling from the field and from three a little bit," Nance said. "You knew, I knew. I've been working really hard at it, and I've been getting a lot of shots up. I was just waiting for the day I was gonna break through, and I feel like today was that day. Just all the credit to my teammates for having belief in me and continuing to tell me to shoot, so it's just all the credit to them."
"At the end of the day, we're gonna have to be able to knock down some perimeter jump shots," Tar Heel head coach Hubert Davis said. "It is what it is. Without us being able to shoot the ball from beyond the arc, it's just not enough space for Armando to go to work, it's not enough space for guys like RJ and Caleb to be able to attack the basket consistently. [Pete] started us off and he was really hot from three, and I'm just really happy for him."
With the victory, its second in a row, Carolina improved to 18-11 overall this season, including 10-8 in the Atlantic Coast Conference. Virginia fell to 21-6, 13-5.
UNC struggled offensively for much of the second half, scoring just 13 points in the first 13:42 after the break before a dunk by Nance made it 57-45 UNC with 6:18 remaining. Shortly thereafter, the Tar Heel defense forced Virginia to miss 14 of 15 shots as Carolina opened the lead back up to 16 in the last four minutes.
The Cavaliers refused to go away, however, cutting the lead back to as few as six points in the final minute before free throws by Davis and Caleb Love and a blocked shot by Leaky Black iced the win.
Jayden Gardner led UVA with 19 points and 12 rebounds. The Cavs hit 4 of 12 three-pointers and 5 of 11 free throws as a team
In the opening minutes, Carolina went on a 7-0 run to take an 18-10 lead and force a UVA timeout. Nance scored eight of the Tar Heels' first 18 points, hitting his first three field goal tries and his first two three-pointers. UNC's seven field goals in the first 7:23 were two more than the five it scored in the first half of Wednesday night's win at Notre Dame.
Carolina then went cold and only scored three points in the next six minutes before Puff Johnson hit back-to-back three-pointers to open the lead up to 12 at 27-15. The Tar Heels hit 9 of 16 three-point tries in the first half (56.3 percent), tying its season high for threes in a half (also in the second half in the win over Clemson).
UNC shot 57.7 percent overall from the floor in the first 20 minutes. Nance hit 5 of 6 shots, including 4 of 4 three-pointers, for 14 first-half points. The Tar Heels dropped in 42 points in the first half and led, 42-26, at the break.
Virginia ripped off seven straight points in 1:35 to start the second half. The Cavs hit 7 of their first 11 shots (63.6 percent) coming out of halftime while UNC was 4 for 12 (33.3) from the floor in the first 8:35 after the break.
The Tar Heels have a quick turnaround and will play at Florida State on Monday night at 7 p.m.