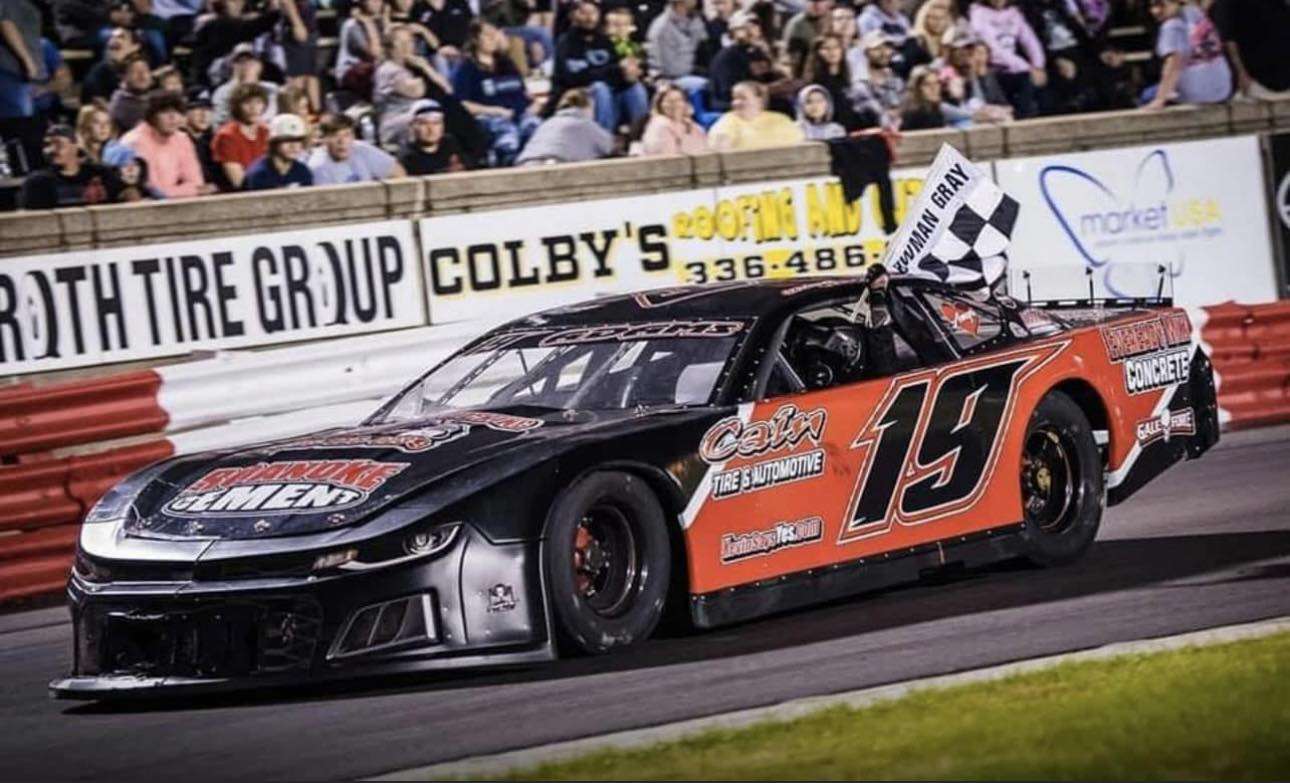 Ladies and Gentleman welcome to another installment of Driver's Q&A as I had the opportunity to chat with Sportsman driver Michael Adams. As he prepares for the McDowell Heating & Air Sportsman 100 this Saturday night. He currently has three wins this season, on top of 26 career wins.
Q: You're on a hot streak this season, three wins in five weeks. Would you say this could be your year?
A: This is definitely the best start I've ever had!! Everything is just clicking this year. Right now we're not even looking at the big picture, we're just there to win races right now.
Q: Obviously, you have the same goals and expectations as every other driver. But with your current success of three wins and multiple top five finishes, do you have any major goals you set out to accomplish?
A: Right now we're just taking it a week at a time!! This week being the 100 lapper, which are definitely my favorites, we want to win it bad!!
Q: As mentioned this coming Saturday is first of three Sportsman 100's of the season, as you look to win your fourth career 100 lapper. How special would it be for you to grab your fourth Sportsman 100 as well as your fourth win of the season?
A: Man that would be awesome!! We're going to give it everything we got!! There's so many tough competitors in our division, everything would have to fall in place to leave there with our fourth win of the season!!!
Q: When we last talked you mentioned how Dylan Ward was one of your favorite competitors to race with. He doesn't run much at the stadium anymore. Do you have a new favorite you enjoy racing along side of and against?
A: There's so many of my fellow competitors that I love racing and have a ton of respect for!! I'd have to say I have the most fun racing Amber!! We always run each other so hard, but with respect!!!
Q: What's your take of the youth movement that has taken place in Sportsman with guys like (Riley Neal, Chase Robertson, and Nate Gregg)? Not long ago it was veteran guys like yourself, Derek Stoltz, Kevin Neal, Tommy Neal, John Holleman and Zack Clifton as the guys who were running the show in Sportsman.
A: I love see the youth movement!! It's so good for our sport!! The young guns are tough in our division, very talented young men!!!
Q: I have a feeling I know the answer to this but I wanna hear it from you, what would achievement would mean more to you? Winning the title or winning all the 100 lap events this season?
A: Man that's a tough one. It would be tough to do either one of those task!! I've always wanted to have the most 100 lap wins, but I've also always dreamed of being a champion at the stadium!!
Q: Earlier this season you were able tie, then surpass your dad(David Adams) in career wins at Bowman Gray. How special was it for you to achieve that feat.
A: That's something I always dreamed about as a kid! I never thought I would achieve it. I couldn't have done it without my parents!!!
Q: You had some feuds/rivalries over the years, was there a feud/rivalry that you can say you actually enjoyed being a part of? Would you say that it has motivated you to be a better driver?
A: I'd definitely say the feud I had with John Holleman IV, it motivated me than any!! He definitely made me a better racer!!!
Q: Of all your wins, which one stands out the most to you?
A: I'd have to say the win that I tied my dad in Sportsman wins. I got very emotional that night. It hit me the hardest!!
Q: How would you describe the new asphalt compared to the old? What are the pros and what are the cons?
A: I love the new asphalt man!! It's so smooth but also very challenging!! It changes so much for week to week and even practice to practice!!
Q: Some drivers have a story behind the number they run, Is there a story behind the 19?
A: Well my dad ask me to start and park his backup car, not knowing how much I would love it!! So we just slapped a 1 with duct tape in front of his 9 and went with it.
Q: Wasn't there a time you ran 0 as well? Was there a story behind that?
A: Yeah that was back in 2016! I wanted to do a throwback of one of dads first cars to honor him and let him know how much I appreciate all he does for me!!
Q: What is some advice you would give the young kids who are wanting to become a race car driver?
A: I would definitely recommend it!! If you're going to do it, you have to put 110% into it. If not, you won't succeed!!!
Q: After every race, fans line up at your trailer to get pictures, autographs, merch or just talk to you. How special is it to see all these fans look at you as a role model?
A: Man that's what it's all about!!! To see those little kids smiles and the way they look up to us makes it all worth it!!!!
Q: Last question, has Daddy's girl asked you at all about wanting to get behind the wheel and race?
A: I would love to see her behind the wheel but then again I don't know if I could handle it lol. She hasn't showed much interest yet, so I'm not going to force her!! But she knows if she ever wants to try it that I'll be there for her through it all!!!
Michael would like to personally thank:
Eveready mix concrete
Robs trucking
Roanoke cement
Todd brothers plumbing
Randy's custom lettering
Jack Guthrie cpa
Southeastern heat and air
2 broke girls cleaning
Tee time
Galeforce
Kevin says yes dot com
Tj photography
Larry Carlton trucking
Cain tire and automotive
Next week, there will double points in all four series, and the night will be highlighted by a 100-lap race in the McDowell Heating & Air Sportsman Series. The Sportsman cars will qualify for position and use the Traffic Control Safety Services Double-File Restart Cone,
In addition, there will be the Thunder Road Grill 50, which is a 50-lap race in the Law Offices of John Barrow Street Stock Series, the longest race in that series this season. That 50-lap race was postponed from May 13.
There will be twin 25-lap races in the Brad's Golf Cars Modified Series, which will use the "Madhouse Scramble" following the first race. The winning driver of the first race will draw a number — 8, 10, 12, 14, or 16 — and that number will invert the field from that point.
There will also be one or two 15-lap races int he Q104.1 Stadium Stock Series.
Gates open at 6 pm on Saturday night, and the first race is at 8pm. Adult admission for Saturday is just $12. For children 6-11, it's only $2 and children under 5 are free.
Starting this year, you are able to get your tickets online to beat the lines at the gates.
If you can't be here to witness all the action, make sure you check out FloRacing for the live streamed action! 
Follow us on Social media for the latest news on Bowman Gray Racing!
Facebook: SportsCarolina Monthly
Twitter: SportsCarolina Monthly and Cody Heacox