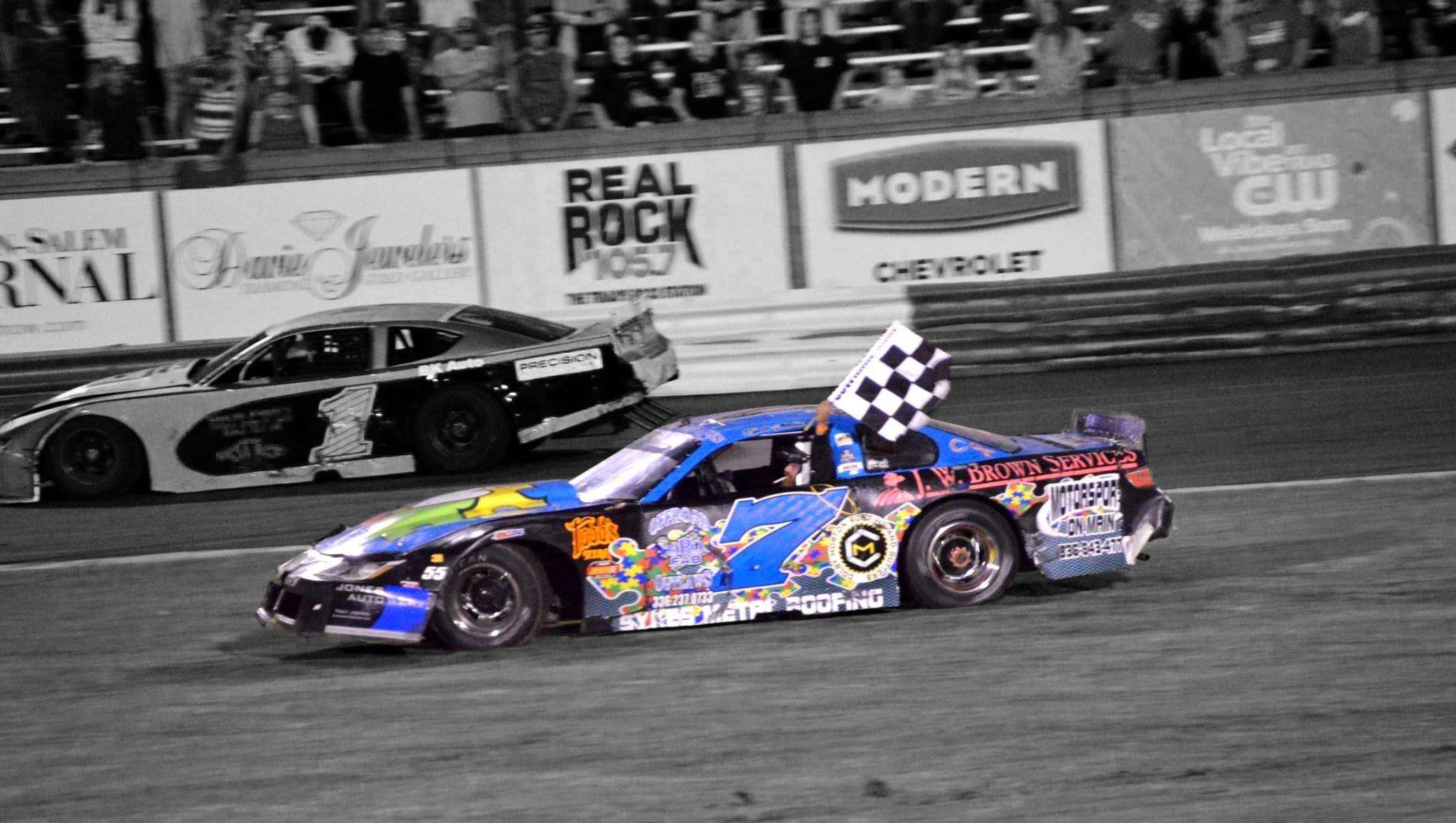 Ladies and Gentleman welcome to another installment of Driver's Q&A as I had the opportunity to chat with Street Stock driver Zack Staley as he prepares for the Thunder Road Grill 50 for Street Stock.
Q: When we last talked you were racing in the Stadium Stock, now you're in Street Stock. What would you say the biggest challenge you've had to adjust to?
A: No real challenge just better driving cars. Only adjusting is not being able to take the outside cars are much wider that the little mustangs
Q:. You were able to race against Kyler (Staley) back in the stadium stock days. Then recently in practice you two were able to run side by side. How proud are you of how much he progressed over the years?
A: Very proud of him.. he's won a race, been constantly decent he's a good kid. I can't wait to get him in street with me.
Q: Over the years you've done a lot for the fans, most importantly you put the kids first! You've taken the car to elementary schools for the kids to see, after every race you let the kids come sign your car.
A: Means the world to me. There's nothing in the world like seeing those kids smile and their eyes light up and even more when they sign it and see the car on the track. I know we're not nascar famous but Bowman Gray is nascar to the locals and those same kids get to see the car on the track with their names on it makes them feel happy and gives good energy. It's all about them for me we may not win or even have a chance at winning sometimes, but we all still win with them kids. Makes it much more fun for me at the track.
Q: You have one of your kids racing, have any of your others asked dad about racing one day?
A: My step son my middle boy Braden has made some laps in Kyler car, and he didn't do bad at all really picked it right up. He just don't want to commit to helping all week and being at the track all day on Saturday. He's got a taste of the free world and can't commit if and when he does he's got a ride.. he's 19 now, he'll be 20 this fall my youngest son Tanner is almost 7 hope to get him into karts soon and my youngest daughter will be racing next year, she's 3 almost 4. She's going to kick everyone's butt, she's pretty tough and loves cars and steering wheels.
Q: You have been racing for years, Is there a certain driver or drivers (any division) that you have leaned on for advice? And what's the best advice they've given you?
A: There's several drivers that's helped me from stadium to mods, I've leaned on more than a few. My biggest help I would say has been Zack Ore as drivers, he, Billy Gregg, and Bryan Sykes the past 2 years those 2 guys have went beyond helping me do the best I can with the equipment I have I'm no big name blank check racing team, just a dummy with a dream and a old racecar but those guys have made me look good out there on the track..
Q: With the Street Stock 50 being rescheduled and giving you more time to work on things, what would it mean for you to win it?
A: Man I'd love to win the 50, or a 20 I'm good with either one honestly! I hate I missed this past week, but we always go to bike week. I don't have a chance at the points so I didn't come back to race.
Q: Some drivers have a story behind the number they run, Is there a story behind the #7? I know you ran the 31 in Stadium Stock. Was there a story behind 31 as well?
A: Story behind the #7 man that's a touchy subject I've always been #31 my grandpa David Wall always helped Don Smith when I was a kid that yellow 31 meant so much to him and as a kid growing up watching it, seeing it I knew I wanted to be #31 just like him then came along a few years later I moved up to sportsman, one year after my stadium stock car was stolen and had to run 32, I then met a young man named KJ Stimpson. We became best friends that day, he was the nicest person I could have picked to park with his family become family to me, that day all wonderful ppl me and KJ and lots of others all hung out all the time we talked on the phone nearly everyday he would stop by my house every chance he got, we became close fast then one day I got a call that KJ had passed away, man that was a hit to the heart for me and many others. But I couldn't let him go and I wanted to do something for him, so I ran a modified at ace a few years back and put the exact same paint scheme as his on it and give him the ride in that modified he always wanted to drive. Then we decided to run the stadium in Street Stock that KJ was really good at. I asked the family if I could run the #7 in remberance of him and they said yes so I put that #7 on there and put the halo around it for him I have his name in the number. KJ that's for you homie.
Q: What motivates you to be a better driver each race?
A: Just being there is happy for me that's my happy place, everybody comes to win and is all so serious, I just wanna have fun bang doors and make friends.
Q: Obviously, you have the same goals and expectations as every other driver. But is there one in particular goal/expectation you have set for yourself this season??
A: Only goal I have is to be a better role model for the kids there our future.
Q: What would you say you enjoy most about racing?
A: I enjoy driving I enjoy it being a family thing my mom, my sister, my wife, my kids, my step dad, and everybody is involved.
Q: What is some advice you would give the young kids who are wanting to become a race car driver?
A: Advice for the kids, get a really good education, so you can get a really good job, so you can spend all your money on racecar stuff hahah. No really though dream big and work hard. The sky's the limit you can do anything you put your mind to.
Q: Like I mentioned before you've raced for years, Who would you say you've enjoyed racing with over the years? And who do you enjoy racing with these days?
A: I had the most fun in Stadium Stocks the cars fit the track so much better way better racing 3 sometimes 4 wide. Stephen Sanders and I have really had the best racing over there in my career, good hard bumper shoving door slamming tire rubbing racing and share the trophy after the race.
Q: Last question, it's something I like to ask drivers. "If you could race against any legendary driver (BGS or NASCAR) who would it be?"
A: If I could race against anyone I'd probably have to say Tim Richmond
Zack would personally like to thank his crew and sponsors:
My wife my son my buddie Travis Jamie Mike Dylan Snail Zack Ore Billy Gregg Mike Robertson Kenneth Stimpson Jamie Byrd Jr Kenny Squirrel Mack Little Sr
Motorsports on Main
Sykes Metal Roofing
Axe Hole
Todd's Tire
Burrow Dirtwork LLC
Privacy Fence Solutions
Colby Morton Roofing & Gutters
Lexington Tire & Automotive
Canine World Unlimited
Swing Race Cars
ORO FAB
Jones Autowerx
Zip-Loan
Hillbuildit Creations
Powerline Batteries
The Dispensary
Castlehouse
F&N Racing Engine
Friction Skating Rink
Nelson Motors
Twin City Synthetic
Bauer Insurance
Next week, there will double points in all four series, and the night will be highlighted by a 100-lap race in the McDowell Heating & Air Sportsman Series. The Sportsman cars will qualify for position and use the Traffic Control Safety Services Double-File Restart Cone,
In addition, there will be the Thunder Road Grill 50, which is a 50-lap race in the Law Offices of John Barrow Street Stock Series, the longest race in that series this season. That 50-lap race was postponed from May 13.
There will be twin 25-lap races in the Brad's Golf Cars Modified Series, which will use the "Madhouse Scramble" following the first race. The winning driver of the first race will draw a number — 8, 10, 12, 14, or 16 — and that number will invert the field from that point.
There will also be one or two 15-lap races int he Q104.1 Stadium Stock Series.
Gates open at 6 pm on Saturday night, and the first race is at 8pm. Adult admission for Saturday is just $12. For children 6-11, it's only $2 and children under 5 are free.
Starting this year, you are able to get your tickets online to beat the lines at the gates.
If you can't be here to witness all the action, make sure you check out FloRacing for the live streamed action!
Follow us on Social media for the latest news on Bowman Gray Racing!
Facebook: SportsCarolina Monthly
Twitter: SportsCarolina Monthly and Cody Heacox