The Hornets sank a franchise-record 22 three-pointers (22-44 3pt FG, 50%) en route to a 124-97. Kemba Walker (9-18 FG, 4-10 3pt FG, 7 assists) and Jeremy Lamb (3-6 3pt FG, 5 assists, 3 steals), led the Hornets with 23 points apiece in the victory. Collin Sexton led the Cavaliers with 18 points (8-17 FG) and 10 assists, while Cedi Osman recorded 17 points (7-13 FG) and 4 assists in the losing effort. With the win, the Hornets improve to 39-42, while the Cavaliers finish their season 19-63.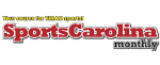 History of Bowman Gray Stadium
Carolina Panthers
Host Desmond Johnson with Rod Funderburk, Brandon Blakney, Aaron Gabriel. Kevin Avery from the...

Gerald McCoy took his talents to the Carolinas and signed with the Panthers.