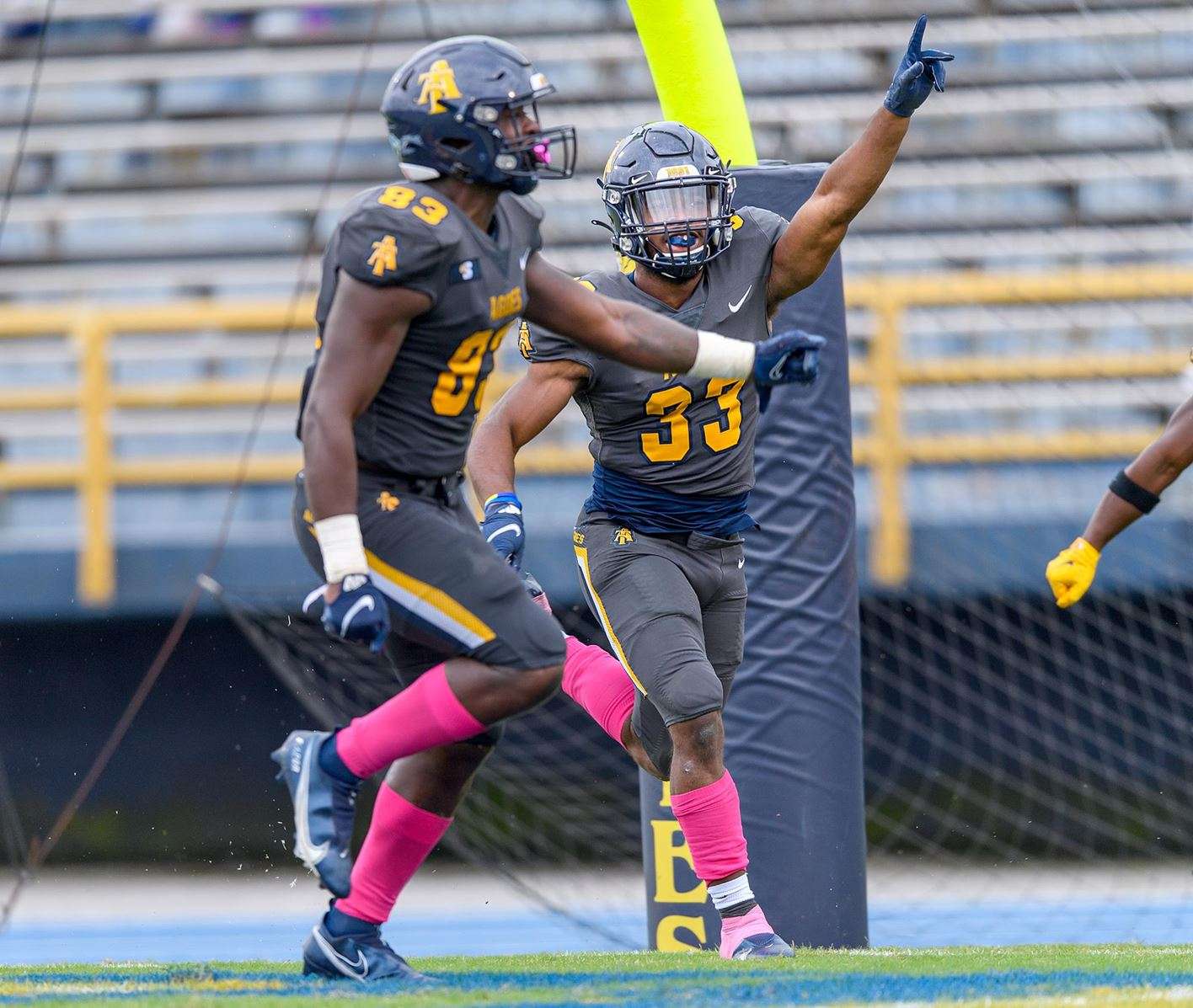 A&T STATISTICAL LEADERS: QB Jalen Fowler (14-for-20, 234 yards, 3 TDs, 1 INT; 6 rushes, 20 yards); RB Jah-Maine Martin (19 rushes, 75 yards); RB Bhayshul Tuten (6 rushes, 60 yards, 1 TD; 1 rec., 60 yards 1 TD); RB Kashon Baker (6 rushes, 51 yards, 1 TD); LB Jacob Roberts (12 tackles, 3 unassisted, 1 TFL).
UNA STATISTICAL LEADERS: QB Rett Files (21-for-31, 210 yards, 3 TDs, 1 INT); RB Parker Diggers (12 rushes, 75 yards, 2 TDs); WR Dexter Boykin (4 rec., 91 yards, 2 TDs); WR Cortez Hall (11 rec., 76 yards); DE Wallace Cowins, Jr. (6 tackles, 2 unassisted, 1 TFL).
WHY A&T GOT THE "W": The A&T running back trio of Jah-Maine Martin, Bhayshul Tuten and Kashon Baker combined for 186 yards and two touchdowns on 31 carries. But it was Tuten's spectacular 60-yard touchdown reception where he took a swing pass from quarterback Jalen Fowler and ran through five missed tackles galloped down the sideline for the winning score in the fourth quarter. He's only a freshman.
WHY UNA DIDN'T GET THE "W": The Lions took their first lead of the game in the fourth quarter when Rett Files found his tight end Nick Haynes open in the end zone for a 4-yard touchdown reception. The TD gave the Lions a 37-34 lead, but Grayson Easterling missed the extra point. When Tuten scored his go-ahead touchdown, Aggies kicker Andrew Brown did convert on his extra point to make it a 38-34 ballgame. By A&T winning the kicking game, the Lions needed a touchdown instead of having the option of kicking a field goal to stay in the game. Their attempt at a game-winning drive ended when Herbert Booker intercepted Files at the A&T 15-yard line.
CRUCIAL: UNA's offense came alive in the second half, giving the Aggies defense fits. By the end of the third quarter, UNA cut A&T's 24-7 halftime lead to 24-21. In an attempt to back on track, the Aggies offense drove the ball to the UNA 28, but it faced a 4th-and-8. Even though the Lions had all the momentum, the Aggies decided to go for it on fourth down. Fowler threw a rocket to Ron Hunt, but the ball ricocheted off a UNA defender and looked, headed toward the turf for an incompletion. Instead, the ball spun up a falling Hunt's leg and into grasp for a reception and a first down at the UNA 18. Two plays later, Kashon Baker burst into the end zone for a 16-yard touchdown that gave A&T a 31-21 lead.
THE STORY: EAST GREENSBORO – The North Carolina A&T secondary did not have its best day. The officials called seven pass interference calls on A&T defensive backs. Six were accepted. But they kept playing.
Eventually, one play outweighed all the rest. Herbert Booker (5-10, 185, R-FR, cornerback, Oak Ridge, Tenn.) intercepted University of North Alabama quarterback Rett Files with 1:37 remaining in the game. Ironically, a pass interference call on UNA clinched the Aggies 38-34 Big South Conference football win over the Lions Saturday afternoon at Truist Stadium.
The Aggies (3-2, 2-0 Big South) won their third straight. UNA (0-6, 0-2 Big South) remains winless.
"Plays happen in football," said Booker. "If they're bad, you keep playing. If they're good, you keep playing. I had a few bad plays, but you just have to keep playing, and it will turn out good. I kept playing hard, and it turned out good for me in the end."
Booker entered the game early to replace an injured Amir McNeill (5-9, 167, R-JR, CB, Laurinburg, N.C.). The Aggies have played a lot without the two men – McNeil and DJ Crossen (6-2, 190, SO, CB, Greensboro, N.C.) – they thought would be their starting corners going into the season.
UNA kept several drives alive thanks to pass interference calls. But it was a roughing the passer call in the fourth quarter on a 3rd-and-7 from the A&T 13-yard line that gave the Lions 1st-and-goal from the A&T 4. Three plays later, Files threw a 4-yard touchdown pass to Nick Haynes to provide the Lions with a 34-31 lead, their first of the game.
But UNA placekicker Grayson Easterling missed the extra point, which proved to be a big miss.
A&T responded to UNA taking the lead as Bhayshul Tuten (5-9, 191, FR, running back, Paulsboro, N.J.) took a swing pass from Jalen Fowler (6-4, 235, R-JR, quarterback, Spartanburg, S.C.) and raced down the sideline for a 60-yard TD reception. Andrew Brown (5-10, 165, FR, placekicker, Lexington, N.C.) converted his extra point to give the Aggies a 38-34 lead.
"It was a slip flat, so I caught the ball then turned upfield," said Tuten. "There was a defender right there trying to pin me to the sideline. I juked back inside, and he missed me. Then I had to make another quick reaction, juke back inside, and that's what was close to the sideline. I kept my balance in and made the last guy miss. I had a convoy of linemen coming through, so I stayed behind them, and they took me to the end zone."
The Lions took over with 6:24 remaining in the game and put together an impressive drive that included them converting a 4th-and-1. But on a 2-and-12 from the A&T 36, Files received pressure from up the middle and had to release the ball early. Booker jumped in front of the intended receiver on the underthrown pass to give the Aggies the ball.
"They were in bunch, a motion," said Booker. "We ran that play all week. I realized the quarterback faked it to the jet man. I knew they were running seam and a will. I just did my responsibility, and he threw it to me."
The Aggies faced a 3rd-and-10 from their own 15. With the threat of giving the Lions the ball back, Fowler tried to complete a pass to Korey Banks (6-0, 195, R-SR, wide receiver, Tyrone, Ga.). Evan Jones all but grabbed him and was called for pass interference, sealing the win for A&T.
"We came into the ballgame knowing it was going to be a tough ballgame," said A&T coach Sam Washington. "I told these guys all week not to look at their record. It does not indicate the caliber of play this team is capable of. I hope that sunk in. I'm sure they believe me now."
A&T led 24-7 at the half. But back-to-back turnovers on consecutive possessions led to two UNA touchdowns that quickly cut the Aggies lead to 24-21, setting up the late-game theatrics.
QUOTABLE: "That's what football players do. They show up when you need them most. I'm very proud of him (Herbert Booker). He wanted to be in the ballgame, and he gave us all he had. It was enough."
A&T coach Sam Washington on Herbert Booker's fourth-quarter interception
GAME NOTES
The Aggies completed their three-game homestand undefeated, and they improved to 43-6 at home over the past 10 seasons. Saturday marked their seventh straight win at home.
The Aggies improved to 2-0 in the Big South, and head coach Sam Washington improved to 14-3 against conference opponents since taking over in 2018.
A&T is known for its defense, but the offense has been pretty impressive thus far. The Aggies have scored 35 points or more in their last three games.
A&T does not return home until Oct. 30 for The Greatest Homecoming on Earth. The Aggies have won nine straight homecoming games but will face nationally-ranked Monmouth.
A&T linebacker Jacob Roberts had 12 tackles on Saturday. It marked just the eighth time in the last 41 games the Aggies have had a player total double-digit tackles.
The Aggies have won their last three games over schools from Alabama. In addition to Saturday's win, A&T beat Jacksonville State in 2018 and Alabama A&M in 2014.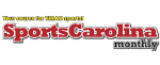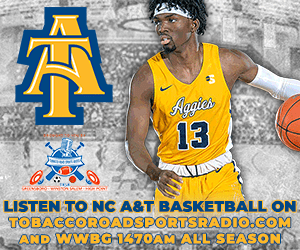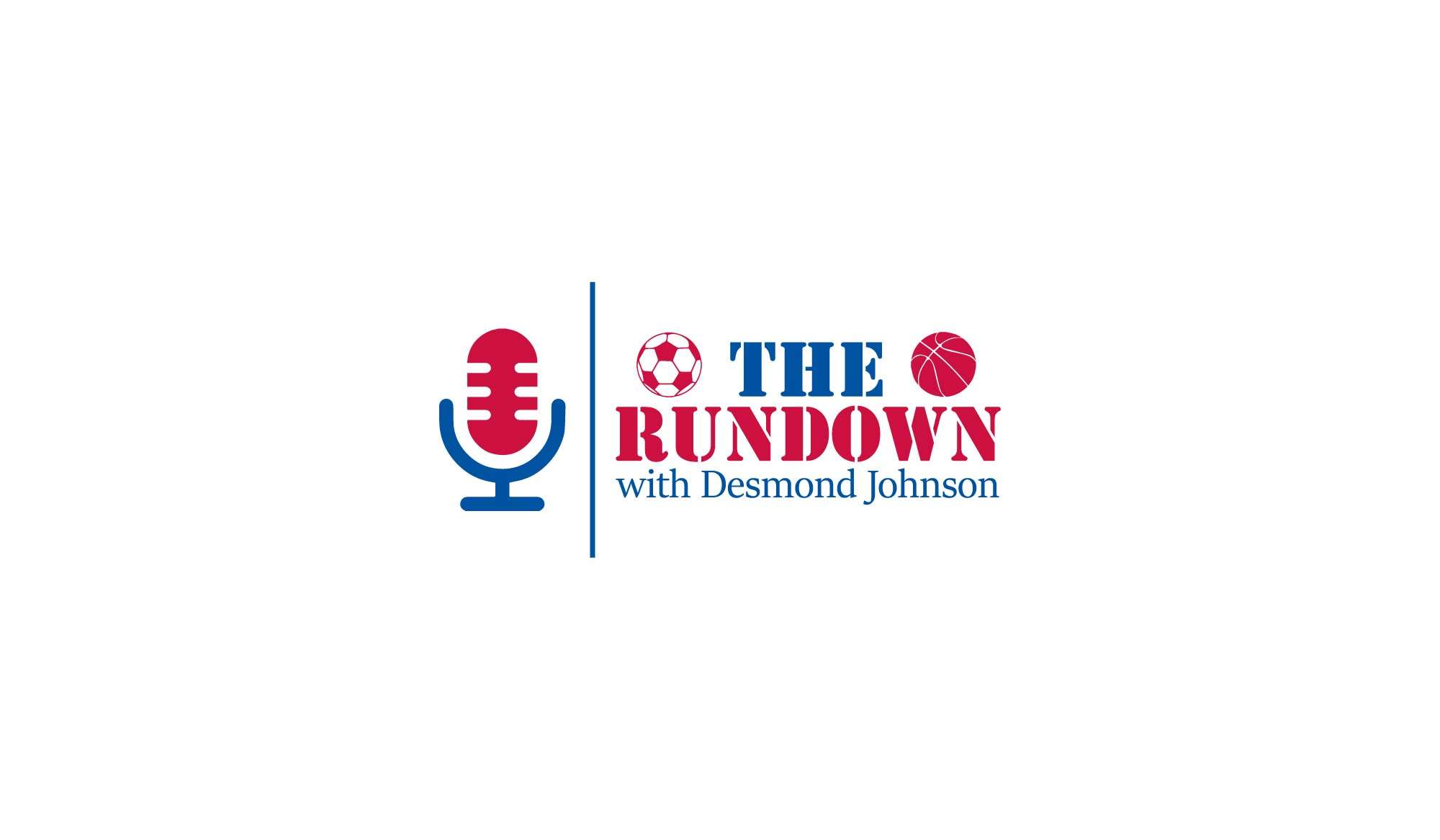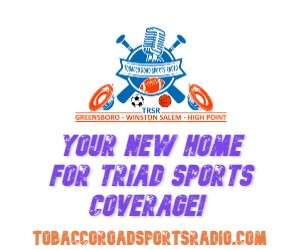 ACC Basketball
NICEVILLE, Fla. – Wake Forest dropped its first game of the 2021-22 season in...

LAS VEGAS (AP) — In a town known for major championship fights, it seemed...

courtesy GoDeacs.com WINSTON-SALEM, N.C. – Wake Forest (4-0) dropped North Carolina A&T (1-4) on...
Carolina Panthers/NFL
Published by The Charlotte Observer Panthers star running back Christian McCaffrey is heading back...

Published by The Charlotte Observer MIAMI GARDENS, Fla. — All week, Matt Rhule and...