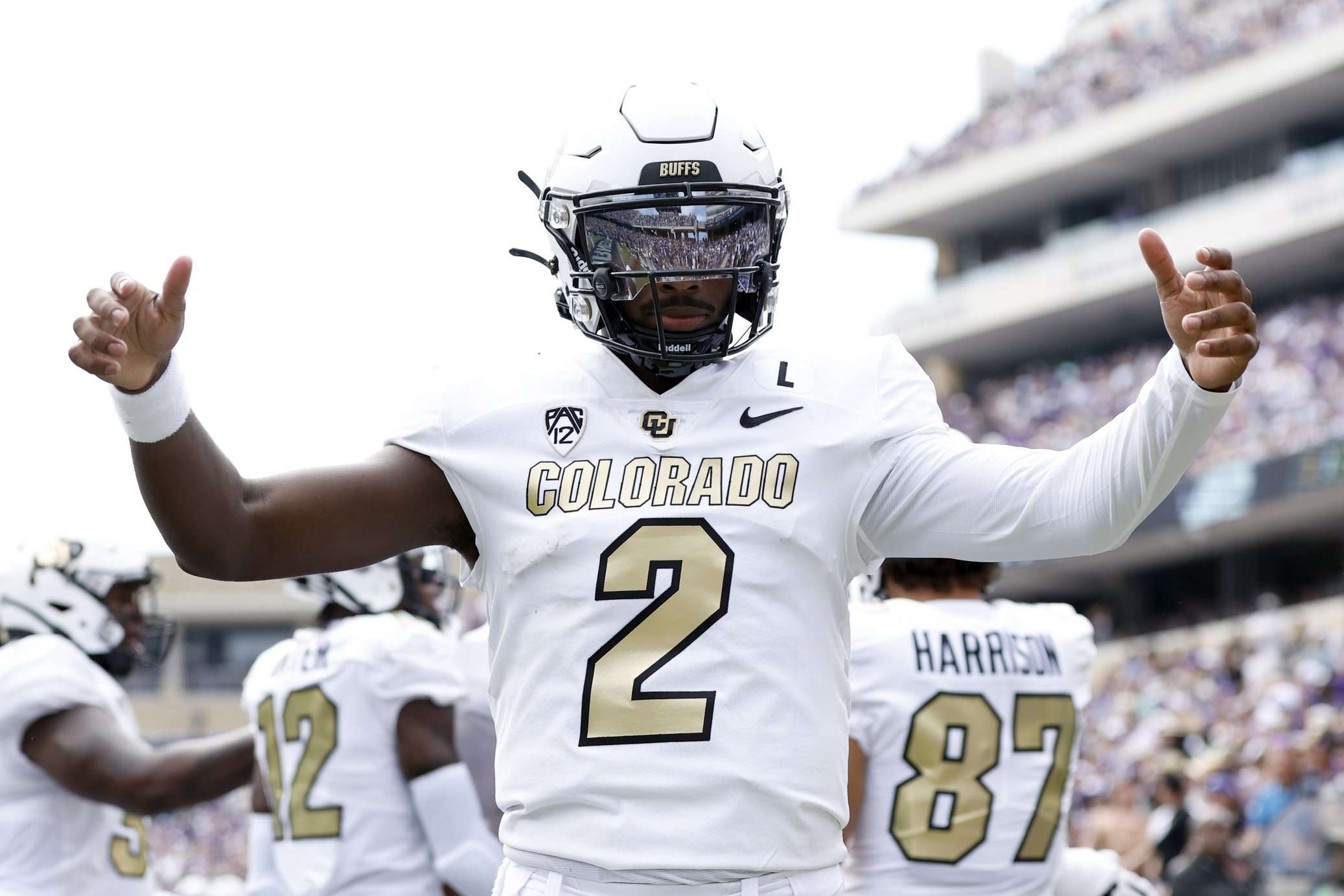 Two teams that went 1-11 a year ago stormed into the houses of Big 12 elites and stomped out with convincing victories. A team with only two 5-star recruits on its roster annihilated a dynastic program's 56 five-stars. Two top-ten teams met, but it was the result and the manner of it which rattled preseason conceptions.
No, the defining storyline of week 1 wasn't Oregon's mascot matching the Ducks 81-point barrage of FCS Portland State by enduring 546 push ups. It wasn't the Tar Heels defense taking up residency in the Gamecocks backfield in the Battle of the Carolinas. It wasn't the new clock stoppage (or non-stoppage) rule upsetting UCLA's Chip Kelly. It was the kind of thing that makes college football so special. It was teams, players, and coaches creating shocking results even the most expert predictors never saw coming.
BUFFS STAMPEDE THROUGH TCU
Coach Prime, aka Deion Sanders, took the reins of the Colorado Buffaloes last December after finishing an undefeated campaign at FCS HBCU Jackson State. He inherited a once-proud program in shambles coming off a 1-11 season. Sanders completely overhauled the values and tactics of the program, along with its roster. All in all, Coach Prime brought in 86 new players to the Buffaloes, nine of which came with him from Jackson State.
Deion's debut as head coach came against the defending national runners-up, the 17th ranked Horned Frogs of TCU. His team came in as 20-plus point underdogs. They came out with two new superstars, receipts, and a spot in the Top 25.
Deion's son, Shedeur Sanders, unleashed an aerial assault on Fort Worth, Texas as he racked up 510 yards and 4 touchdowns. However, it was another one of the Jackson State followers who had the biggest coming out party of the afternoon.
Two-way standout DB/WR Travis Hunter played 120-plus snaps in the Texas heat, and put up scorching numbers on both sides of the football. Hunter snagged 11 catches for 119 yards at wideout, and at corner snatched an interception and recorded three tackles.
In total, a whopping four Colorado wide receivers recorded over 100 yards receiving in the stunning 45-42 upset victory. Coach Prime's debut wasn't just any ordinary inaugural victory. It was a statement. The Colorado Buffaloes are here, and they are for real.
Their resounding effort served notice to the college football world that they are a complete flip of the program they have been in recent years. It was Colorado's first victor over a top-20 opponent on the road since 2002. They were 0-27 in previous attempts.
DEVILS DOWN DABO
Entering the game as the 9th ranked team in the nation and a two-touchdown favorite, the Clemson Tigers had confidence walking into Wallace Wade Stadium in Durham on Labor Day night. With a host of returning starters, Dabo Swinney's crew expected to use their season and conference opener against the Duke Blue Devils as a jumping off point. Instead, it served as a stunning setback to their College Football Playoff aspirations.
Riley Leonard quarterbacked Mike Elko's team, both in the ground and through the air, to a shocking 28-7 thrashing of the Tigers. Clemson's once-potent offense, now coordinated by Garrett Riley, was stymied in a manner unthought of to most experts.
Duke's nationally-televised demolition of the ACC preseason favorites put a serious dent in the armor and allure of Clemson coach Dabo Swinney. Now without a true superstar quarterback for the first time in his tenure, his coaching style and culture may cause the dynasty he's built to crumble.
BOBCATS BLITZ BAYLOR
Texas State, much like Colorado, overhauled their program and roster through the transfer portal after a dismal 1-11 season a year ago. They did so to the tune of 56 new Bobcats players. Two made huge impacts in the stunning 42-31 victory. Quarterback TJ Finley completed 22 of 30 passes for 298 yards and three touchdowns. One of wideout Joey Hobert's 6 catches was a one-handed snag that may have been the catch of the weekend across college football. Hobert padded that acrobatic reception with 105 yards and a touchdown in Texas State's first win over a power conference program since moving up to the FBS level in 2012.
NORVELL'S NOLES BLAST BAYOU BENGALS
The only statement that rivaled the magnitude of Colorado's was the one that the Florida State Seminoles made in their Sunday night primetime showdown with LSU. A 45-24 trouncing of the Tigers proved as a shout across the college football landscape that the Seminoles truly are back.
Jordan Travis threw for 342 yards, and Mike Norvell's defense kept JT Daniels and the Tigers offense well in check. All in all, the 'Noles amassed nearly 500 total yards against Brian Kelly's highly touted defense. With Clemson falling to Duke, Florida State has now ascended to the pedestal of the preeminent favorite in the ACC this season.