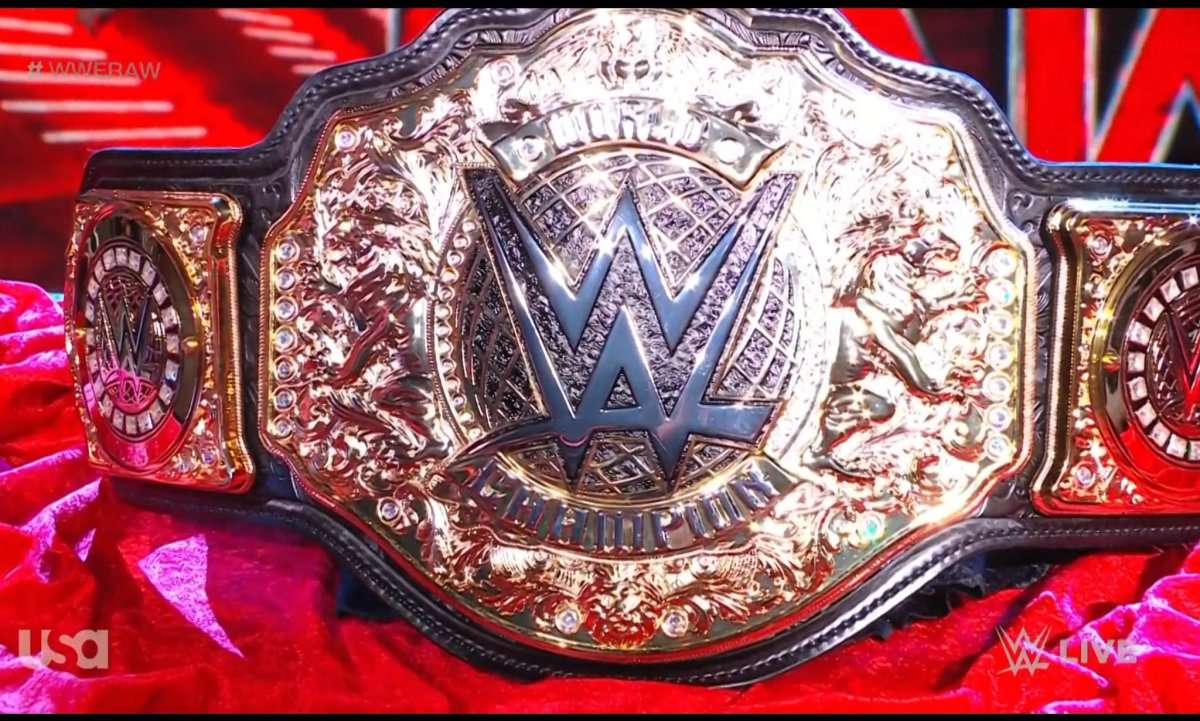 Last week on Monday Night Raw, Triple H unveiled the brand new World Heavyweight Championship where the inaugural champion will be crowned at Night of Champions later this month in Saudi Arabia.
This new championship is meant to pay homage to the World Heavyweight Champions of the past in the modern era. And with the WWE Draft concluded, the Undisputed WWE Universal Champion Roman Reigns will be exclusive to Friday nights. Meaning, Monday Night Raw will have its own world champion to appear for the Red brand.
The "winner take all" match at WrestleMania 38 between Universal Champion Roman Reigns and WWE Champion Brock Lesnar was meant to cement Roman's legacy as the greatest world champion of all-time. It helped build Roman Reigns up to the level he is now, but it left a void to the rest of the top guys. Roman hasn't lost the belts, and likely won't anytime soon, so talent didn't have a prestigious title to fight for.
Insert the brand split and the new World Heavyweight Championship.
Looking at the Monday Night Raw roster, who could be the inaugural World Heavyweight Championship?
Cody Rhodes: Cody Rhodes is the face of Monday Night Raw and the second overall pick behind Roman Reigns to SmackDown. Cody is built to be the face of Monday nights, but the gripe behind making him the World Heavyweight Champion right now is it would come across as a "consolation" prize after losing to Roman Reigns at WrestleMania. WWE booked themselves into a corner by drafting Cody and Roman to two separate shows, and how their paths cross again will be a task to the creative team. Perhaps Cody holds the title and we have (yet another) unification match at next year's WrestleMania.
Drew McIntyre: Drew McIntyre won his first WWE Championship in front of no fans in what would've been the biggest moment of his career. He carried the company through the pandemic era, put over Roman Reigns last year on his home turf in the main event of Clash at the Castle, and worked through injuries to put on a stellar triple threat Intercontinental Championship match at this year's WrestleMania. McIntyre is due for his moment and being the inaugural champion would certainly make up for it. But with his contractual uncertainty, would you want to make him the first World Heavyweight Champion only to be in AEW twelve months from now?
Shinsuke Nakamura: Nakamura recently returned and he's off to a good start this year, including being apart of The Great Muta's farewell tour in Japan. Triple H has always adored Nakamura and since his return, he's been presented like he always should have been. Nakamura almost tasted the top at WrestleMania 34, losing to AJ Styles for the WWE Championship. Five years too late, Nakamura can be the first-ever World Heavyweight Champion and you help create a star.
Finn Balor: In 2016 with the original brand split, Finn Balor became the inaugural WWE Universal Champion at SummerSlam before he would relinquish the following night due to injury. Balor has never been on top since and his current work with Judgment Day is stellar. Triple H loves Finn Balor and now they have the opportunity to rewrite history with an inaugural run for the PRINXE.
Seth Rollins: This championship was made for Seth "Freakin" Rollins. "The Visionary" has done anything the WWE has put in front of him without a world championship and hit a homeru- no, a grand slam EVERY TIME! Rollins worked with Rhodes inside Hell in a Cell, protecting his opponent from hurting his torn pec even worse. Rollins helped legitimize Austin Theory and made magic with Logan Paul at WrestleMania. Rollins is the perfect inaugural World Heavyweight Champion.
A couple people not mentioned on this list was Gunther, the current Intercontinental Champion, and Sami Zayn, one-half of the reigning Undisputed WWE Tag Team Champion. Both have championships and stories now, but will both benefit from two world titles existing rather than just one. They will taste the world championship soon, I am sure.
Who do you believe will be the first WWE World Heavyweight Champion, crowned May 27th at WWE's Night of Champions?
Follow us on Social media for the latest news on Pro Wrestling
Facebook: SportsCarolina Monthly
Twitter: SportsCarolina Monthly and Michael Davis