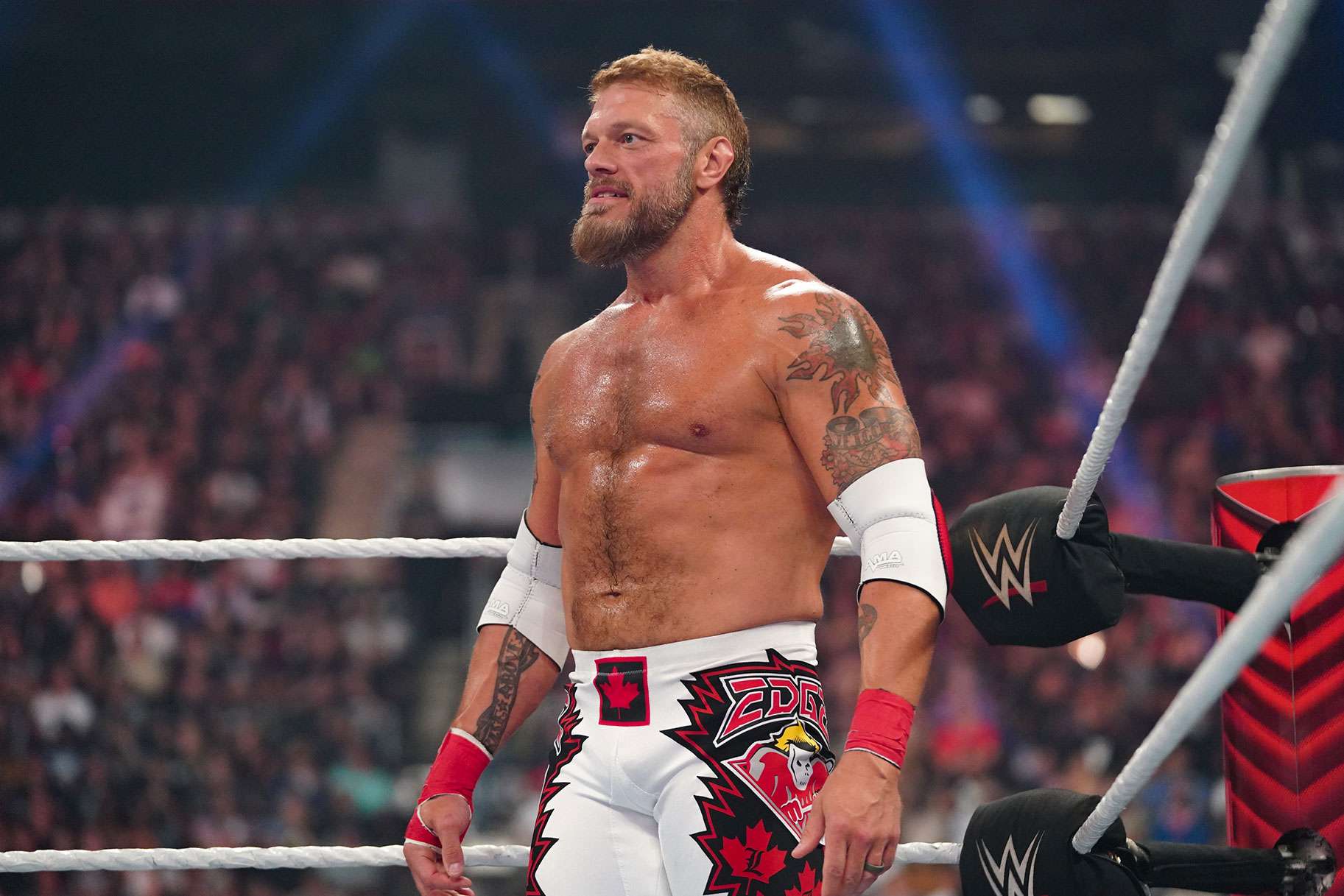 Edge wrestles Sheamus on Friday's SmackDown in Toronto in what many are considering his retirement match. The future is unclear right now, but if this is the end, the Rated-R Superstar has given us MANY moments to look back on.
As difficult as this was to narrow down, here is the Top 25 moments in the 25-year career of EDGE!
25. Edge wins his first title at a Toronto house show
There's a reason good pictures aren't available, because his first championship ever in WWE came from a 1998 house show in his Toronto hometown. While I, and most of you, didn't watch this moment – we can only imagine how cool this was for Edge to win his first title in his hometown. Edge defeated Jeff Jarrett for the Intercontinental Championship in front of his family, only to lose it on Monday Night Raw in Jarrett's rematch.
24. Edge returns and wins the 2010 Royal Rumble
Edge tore his Achilles tendon in July 2009 and was expected to be out an entire year. Edge was one-half of the WWE Tag Team Champions with Chris Jericho, but was replaced by Big Show due to injury. Fast forward to January and he's the 29th entrant to the 2010 Royal Rumble and eliminates one of his greatest career rivals John Cena to win the 30-Man match for the first time. His opponent at WrestleMania that year? Chris Jericho.
23. Edge returns at Survivor Series 2008, Wins WWE Championship
Following Edge being chokeslammed through the canvas of flames by The Undertaker at SummerSlam, Edge returned to television a few months later with Vickie Guerrero replacing Jeff Hardy with the Rated-R Superstar in a WWE Championship triple threat match. Edge beat Triple H and Vladimir Kozlov that night to win the WWE Championship for a third time.
22. Edge & Beth Phoenix Team Up for the First Time
While the IWC wants to complain about everything, this moment at Royal Rumble 2022 was special. Edge and Beth Phoenix beat The Miz and Maryse with Double Glama-Slams! This wasn't a possibility for so many years, and with Beth being his biggest support system outside the ring, they get an opportunity to do a program together. On a personal level, this is cool.
21. Elimination Chamber Double-Header
Edge began the night as WWE Champion. In the first Elimination Chamber match, Edge was the first pinned and assured we would have a new WWE Champion. Then for the ultimate opportunist, Edge attacked Kofi Kingston during his entrance and locked himself into Kofi's pod to insert himself into the match. Edge would go on to win the Chamber and become the new World Heavyweight Champion!
20. E&C Win Gold for the First Time
Edge and Christian made history constantly with The Dudley Boyz and The Hardy Boyz. At WrestleMania 2000, Edge and Christian would win their first tag team titles in a Triangle Ladder Match. This match also became the catalyst for what would come later in time: the Tables, Ladders, and Chairs Match.
19. Edge is King of the Ring
Edge defeated Kurt Angle at King of the Ring 2001 to win the tournament. More than just winning the tournament, this was a monumental victory that would propel Edge from being a "tag team specialist" to a legitimate singles competitor. Christian would be jealous and later betray Edge, and then we got the Edge/Angle storyline that elevated both guys. This was Edge's moment of arrival.
18. Edge Wins the 2021 Royal Rumble
Not many can say they've won the Royal Rumble. Not many can say they've won the Royal Rumble after entering at #1. Nobody else can say they won the Royal Rumble after entering at #1 in front of no fans and coming back from a career-ending neck injury. Edge can. Edge outlasted everyone at 58:30 and eliminates Seth Rollins and Randy Orton at the very end. Even though he didn't defeat Roman Reigns at WrestleMania, this felt like a dream.
17. Edge Shaves Kurt Angle's Head
Judgment Day had come in 2002 for Kurt Angle's hair. With both men wagering their hair, Edge came out victorious and gave fans the iconic Olympic Gold Medalist look we'd associate with Kurt Angle for the rest of time.
16. Edge's First Singles Match in Nine Years
Again, the IWC would hate this match for being "too long." Edge wrestled Randy Orton in a Last Man Standing Match, known now as the Covid Mania. This wasn't supposed to happen. We weren't supposed to watch another Edge match. We also didn't expect he'd have to do it in front of zero people and in the Performance Center. Edge and Randy Orton did the best they could, exploring the Performance Center in silence. These two made this feud personal and Edge writes a poetic finish with the Con-Chair-To on top of a production truck.
15. "You Suck"
I'm cheating and pairing two together. One week, Kurt Angle is revealing a brand new T-Shirt and is completely unaware Edge put a "You Suck" shirt under the display. Follow that up with the cue card segment backstage, Edge helped define and transform Kurt Angle's character with the introduction of the You Suck chants.
14. Edge's Wedding to Vickie Guerrero
Edge and Triple H were in a big rivalry at the time of Edge's wedding to SmackDown General Manager Vickie Guerrero. Triple H is notorious for crashing WWE weddings and it was no different back in 2008 when The Game revealed footage of Edge cheating on Vickie with the wedding planner, Alicia Fox.
13. Edge Cashes In on Undertaker
In 2007, things were wild. Money in the Bank holder Mr. Kennedy gets hurt, The Undertaker gets hurt, and the WWE front office is scrambling. Edge steps up as the answer. Edge takes the briefcase from Kennedy and shows up on SmackDown. Following a Steel Cage title defense against Batista and a Mark Henry attack, Edge came in as the Ultimate Opportunist and stole the World Heavyweight Championship away from the Deadman.
12. Lita Leaves Kane for Edge
For some reason, this is one of the more vivid Raw memories as a child. Kane and Edge were wrestling in a Gold Rush Tournament. Lita turns on her storyline-husband Kane in this match and assists Edge in beating Kane. Edge and Lita seal the deal with some French-kissing at the stage and this is when the Rated-R Superstar character got its launch.
11. The 5-Second Pose is Born
Edge and Christian were an entertaining tag team. You can look to the kazoo's but nothing says sports entertainment like a 5-Second Pose. This was meant to be a heel-thing but people enjoyed the 5-Second Pose, "for the benefit of those with flash photography," which debuted on the May 1, 2000 episode of Monday Night Raw.
10. Edge Slaps John Cena's Dad
You can point to anything Edge and John Cena did during their 2006 feud that was golden. Edge is outspoken about feeling the John Cena home segment didn't go well… but they struck gold when Edge slapped John Cena's father. People still remember this home invasion to this day and helped take this rivalry to a deeper, personal level.
9. Edge & Christian Win the First TLC Match
On Tobacco Road in Raleigh, the three teams of the Dudley Boyz, Hardy Boyz, and E&C met up for the first ever Tables, Ladders, and Chairs Match! Stemming from their Triple Ladder Match at WrestleMania 2000, just add a couple more weapons and the three teams made history. Edge and Christian would win the first TLC match at SummerSlam 2000, even though we could put the second TLC match at WrestleMania X-Seven on this list too, also won by Edge and Christian.
8. Edge Main Events WrestleMania against The Undertaker
If you ask Edge about the pinnacle of his career, he'll reference WrestleMania 24 entering last as World Heavyweight Champion against The Undertaker. It's Title versus The Streak! There were rumblings about Edge ending the Streak and the Ultimate Opportunist didn't take the opportunity, out of respect for The Undertaker and the business. It was an intense match and they both delivered on the biggest stage.
7. Live Sex Celebration
How can you make a Top 25 list without mentioning this risque moment of Monday Night Raw? 24 hours after cashing in on John Cena to win his first WWE Championship, Edge dived into the Rated-R Superstar moniker and legitimately had a bed setup in the middle of a wrestling ring. Young Michael was sent to bed early, but Ric Flair interrupted the intimate moment and it wasn't long before John Cena came out for revenge.
6. Beats Alberto Del Rio at WrestleMania 27
You never know what you have until it's gone. We didn't know at WrestleMania 27, Edge would compete in his final match. A lot was made leading up that Edge couldn't win the big one at WrestleMania. Everytime he had a world title match at the big event, he would always choke. With Christian in his corner, Edge would not choke and he'd beat the only 40-Man Royal Rumble winner in history. A week later, Edge would be forced into retirement.
5. Spears Mick Foley through a Flaming Table
Edge wanted to give Mick Foley a WrestleMania Moment… and he did. At WrestleMania 22 in Chicago, Edge and Mick Foley went to the extreme. In a match you'd see in ECW or a modern-day GCW, Edge and Mick Foley spared no expense with the use of barbed wire and thumbtacks. The exclamation point? Edge spearing Mick Foley off the apron and into a flaming table.
4. Spearing Jeff Hardy Mid-Air
This moment is played every year at WrestleMania, hyping up any ladder match you see. Edge would leap off a ladder to spear Jeff Hardy dangling in the air and both crashed to the canvas. If you have never seen this move, you're in luck!
3. Cashing In on John Cena
New Year's Revolution 2006 wasn't over quite yet. After surviving the Elimination Chamber to retain his WWE Championship, John Cena had one more title defense. With no definition of what the Money in the Bank briefcase entailed, Vince McMahon came to the ramp and announced Edge was cashing in on that moment. This not only gave Edge his first WWE Championship propelling him into the main event where he'd remain the rest of his career, but set the tone for future Money in the Bank winners to come.
2. Winning the first Money in the Bank
#3 doesn't happen without #2. At WrestleMania 21, Edge won the first ever Money in the Bank Ladder Match. Six superstars were stuck without a significant program leading into that show and without delivering that night, this might've been the final Money in the Bank Ladder Match. Now? The match has its own premium live event and has led to so many others. This match elevated Edge to be the Ultimate Opportunist and later the Rated-R Superstar.
1. Returning at Royal Rumble 2020
This moment should've never happened. Edge shocked the world entering at #21 after career-ending neck issues. The book was closed and Edge didn't accept no. Edge came back to rewrite how his career would end… on his terms. Edge wouldn't win the match, but he won something much bigger. Every emotion you felt as a fan, every emotion Edge felt, was authentic… because this was as real as it gets. The world shut down shortly after, but Edge did not, and has continued his career up until this point.
If this is the end, thank you Edge. One can only hope this isn't the end of the road.