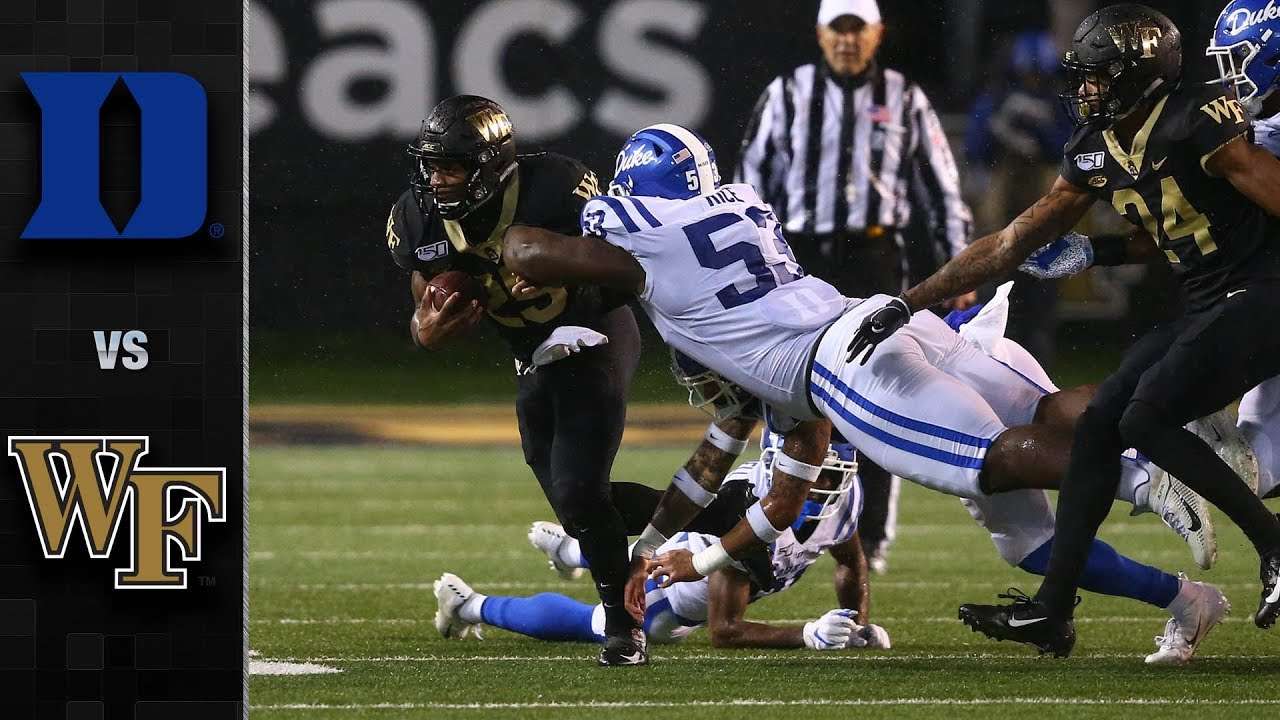 WINSTON-SALEM, N.C. – Duke football dropped a 39-27 decision at Wake Forest on Saturday night in an ACC cross-division contest.
#038;rel=1&showsearch=0&showinfo=1&iv_load_policy=1&fs=1&hl=en-US&autohide=2&wmode=transparent" allowfullscreen="true" style="border:0;" sandbox="allow-scripts allow-same-origin allow-popups allow-presentation">
The Blue Devils led 10-3 early in the second quarter but saw the Demon Deacons score 17 straight points to create a gap between the teams. Duke battled back to take the 27-26 lead midway through the fourth quarter after redshirt sophomore Damond Philyaw-Johnson ran back his second kickoff return for a touchdown of the game. Unfortunately, Wake Forest responded with a 14-yard rushing score to pull in front 32-27. The Blue Devils were never able to recover.
Philyaw-Johnson made Duke history Saturday after he found paydirt twice on kickoff returns to become the first Blue Devil to return two kickoffs for touchdowns in a single game. He also is just the second player in ACC history to return two kickoffs for a touchdown in a game (Justin Miller, Clemson vs. Florida State in 2004).
The Pensacola, Fla., native's touchdown in the first quarter got Duke on the board as he returned the kick 97 yards for the Blue Devils' first kickoff return since Shaun Wilson (96 yards) did so at Notre Dame on Sept. 24, 2016. His second return of 98 yards was the 10th-longest kickoff return for a touchdown in program lore.
Redshirt senior quarterback Quentin Harris finished the game 14-of-23 for 163 yards and one score. Mataeo Durant led the Blue Devils running game with 71 yards on seven carries. Noah Gray was Duke's top receiver with a career-high seven catches for 76 yards and one touchdown. Jalon Calhoun and Darryl Harding Jr. followed closely with 33 and 22 yards, respectively.
On the defensive side of the ball, Duke had four players register double figure tackles in a game for the first time this season. Marquis Waters posted a team-best 13 tackles. Waters' final tackles total marked his first game this year with double digit takedowns and the second of his career. Koby Quansah, Dylan Singleton and Shaka Heyward also recorded double figure tackles with 12, 11, and 11, in the contest, respectively. Quansah's performance lifted him over the 100+ tackles and 10.0+ tackles for loss threshold on the season.
Duke closes out the regular season when it hosts Miami on Saturday for an ACC contest. Kick­off between the Blue Devils and Hurricanes is set for 3:30 p.m., and the game will be broadcast live on the ESPN2.