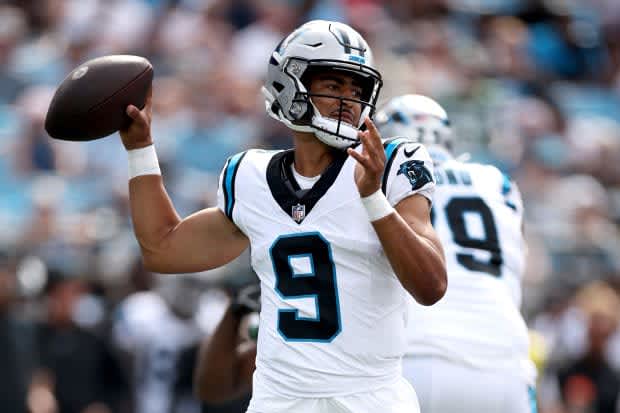 There has been a lot of unfair criticism of number one pick Bryce Young but the fact is the Carolina Panthers haven't put their franchise quarterback in a position to succeed on the field.
First off the entire offense looks chaotic from the play calling to the execution as a whole, a glaring issue is how predictable the play calling has been.
There isn't any situational awareness right now and Young has to account for it in his pre snap reads and audibles. In their Monday night contest you could hear him yelling "Kill! Kill!" multiple times, indicating that the initial play called wasn't going to work against the New Orleans Saints defensive scheme.
They aren't really taking any shots down the field, through two starts, Young is averaging 4.2 yards per attempt. This is the fewest yards per throw a quarterback has averaged through their first two career starts in the Super Bowl era, per NFL Research.
It's not just the limited deep balls though, right now the Panthers also don't have a capable playmaker who can pick up yards after the catch. There aren't any true game breakers at the skill positions and it's really limiting this unit's upside, it's also hindering Young's development.
We saw this with Trevor Lawrence in his rookie season with the Jaguars, when they lacked explosiveness and talent. The franchise put in the effort to bring in weapons, but Adam Thielen isn't a number one option at this stage in his career, Jonathan Mingo may be a couple of years away, the verdict is still out on Terrace Marshall Jr, and Hayden Hurst is more of a safety blanket.
The interior of the offensive line has been so banged up, running between the tackles isn't even an option, and Miles Sanders and Chubba Hubbard are like scat backs, taking the outside lanes and trying to turn up field and find daylight elsewhere.
When the Panthers signed Sanders it was considered a big splash, the young running back coming off his first 1000 yard season in philly, looked poised to really breakout in a featured role. However there just haven't been many holes, but the Saints also did the same thing to Derrick Henry just saying.
Head Coach Frank Reich seems confident in his offense and their ability to improve.
"Listen, head coach, quarterback, we're gonna take the heat, and that just comes with the territory, so you own that, and you understand that when you're in that position, and Bryce understands that for the position he's in," Reich said.
"I can tell you this, certainly our struggle on offense, it's not one person. Again, we'll look at the film, but I thought Bryce did some really positive things, made some plays with his feet, made some good decisions, made good throws, showed plenty of things that we want to see, so I was encouraged by that," said Reich per NFL.com.
We have seen flashes of what they're capable of, that last scoring drive against the Saints that ended with Young hitting Thielen for a touchdown.
The "Bryce Young is a bust" talk is absolutely ridiculous though, he's under constant pressure at the line and isn't taking sacks for huge losses. He's been good about throwing the ball away, and his play recognition is well beyond most rookies and some vets.
Young has also used his legs when defenses give up running lanes, he's handling these obstacles in stride and it's showing what kind of leader he will be.
The Panthers have found their guy, now they need to continue to build around him.