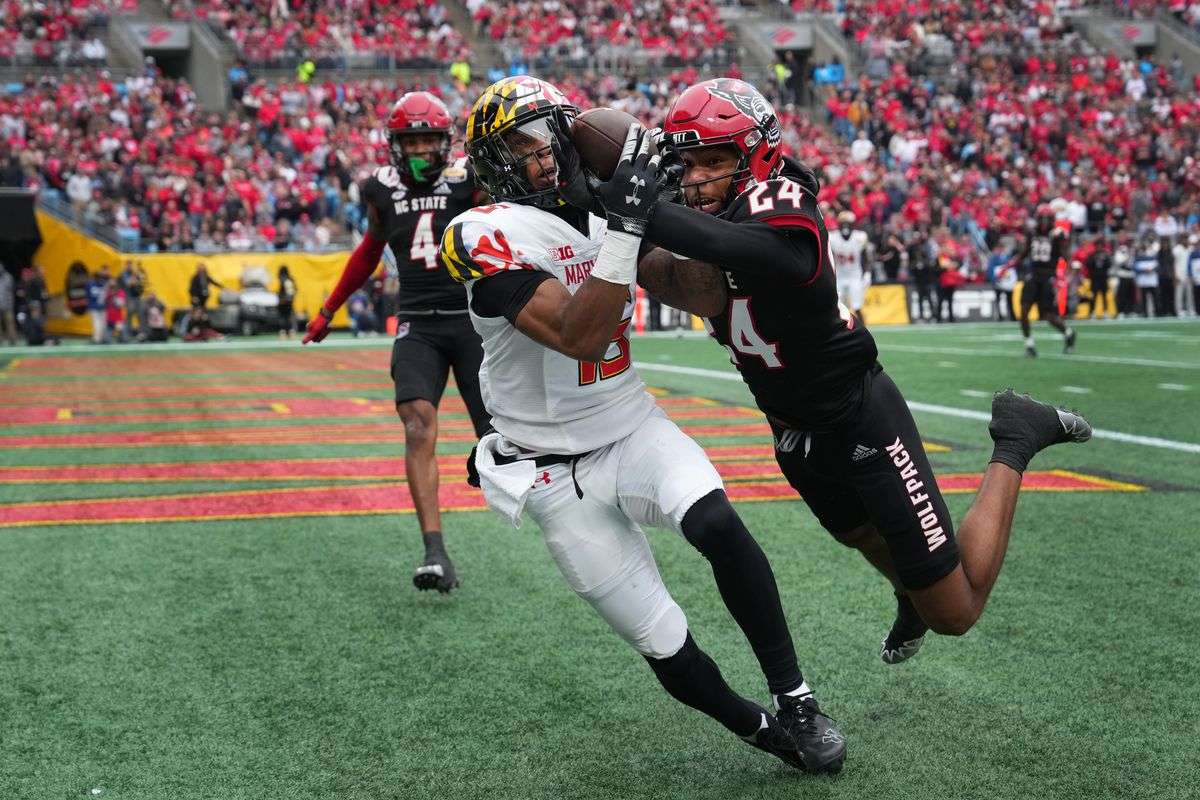 CHARLOTTE, N.C. – Christopher Dunn's leg couldn't produce enough points for NC State to top Maryland in the 2022 Duke's Mayo Bowl.
 
The Terrapins scored just one touchdown, but it was enough in their 16-12 win.
 
The Pack forced two turnovers in the game, each drive ending in a Dunn field goal.
 
Dunn's four made field goals tied a career-high and Duke's Mayo Bowl record. 
 
NC State finishes the 2022 season 8-5 overall. Maryland (8-5) and the Pack came into the game with an overall record of 33-33-4 in the series. 
 
FIRST HALF (10-9 Maryland)
Christopher Dunn connected on three field goals to account for all of NC State's first-half points.
 
NC State had four drives that ended in Maryland territory, but the Pack could not produce any touchdowns. Dunn's three makes covered 38, 19 and 38 yards, pulling NC State to within one at the half.
 
Maryland quarterback Taulia Tagovailoa connected with wide receiver Octavian Smith for a 19-yard touchdown in the second quarter for the lone touchdown of the first half.
 
NC State's defense forced one turnover, a Cyrus Fagan interception, and stopped the Terrapins on fourth down twice in the first half. The Wolfpack offense managed 203 yards of total offense in the first half.
 
Quarterback Ben Finley passed for 185 yards, hitting eight different receivers in the first half. He did throw one interception on the opening drive for NC State. The Wolfpack got the ball back when Fagan picked off Tagovailoa in the back corner of the end zone.
 
NC State's best drive started at its own 25, but the team quickly moved the ball thanks to three consecutive completions from Finley that covered 61 yards to the Maryland 2-yard line.
 
The drive ended in another field goal after three straight incomplete passes.
 
SECOND HALF (16-12 Final)
Maryland and NC State traded field goals in the second half, with the Terrapins getting two from Chad Ryland and the Pack getting one from Dunn.
 
Ryland hit field goals from 33 and 45 yards away to seal the Maryland win. Dunn made a 26-yard kick in the fourth quarter to make it a one score game (13-12).
 
On the next drive, Ryland put the Terps up four with 5:36 remaining. 
 
NC State went three-and-out on the ensuing drive, punting the ball back to Maryland with 4:30 left in the game. The Wolfpack forced a punt, getting the ball with 2:34 on the clock and a chance to drive for the win. However, on first down Jakorian Bennett picked off Finley at the 49-yard line. Maryland was able to run out the clock for the win.
 
STAT LEADERS
QB: Ben Finley
22-of-48 for 269 yards, 2 interceptions
 
RB: Jordan Houston
9 rushes for 14 yards
 
WR: Thayer Thomas
4 catches for 54 yards
 
LB: Isaiah Moore
11 tackles, 3 solo, 1.5 tackles for loss
 
LB: Drake Thomas
11 tackles, 6 solo, 1 sack, 4 tackles for loss
 
LB: Payton Wilson
10 tackles, 4 solo, 2 sacks, 3 tackles for loss
 
DB: Tanner Ingle
10 tackles, 6 solo, 1.5 tackles for loss
 
NOTABLES:
 – Kicker Christopher Dunn tied a career-high with four made field goals (also made four field goals twice – both against Florida State (2018, 2022). Dunn's four successful makes also set a new NC State bowl record.
– In their final NC State appearances, Drake Thomas (11), Isaiah Moore (11), Payton Wilson (10) and Tanner Ingle (10) all eclipsed 10 tackles. Thomas paced the Pack with four tackles for loss.
– Against his former team, wide receiver Darryl Jones snagged three passes for 49 yards.
– NC State kicker Christopher Dunn nailed all four of his field goal attempts in Friday's game. He finishes his final season with the Pack making three or more field goals in a game five times in 2022.
– In the fourth quarter, safety Rakeim Ashford grabbed his first-career interception. The pick led to a 26-yard field goal from kicker Christopher Dunn.
– NC State's defense limited Maryland to just 16 points, which was 13 fewer points than its season average of 29.17 entering bowl season.