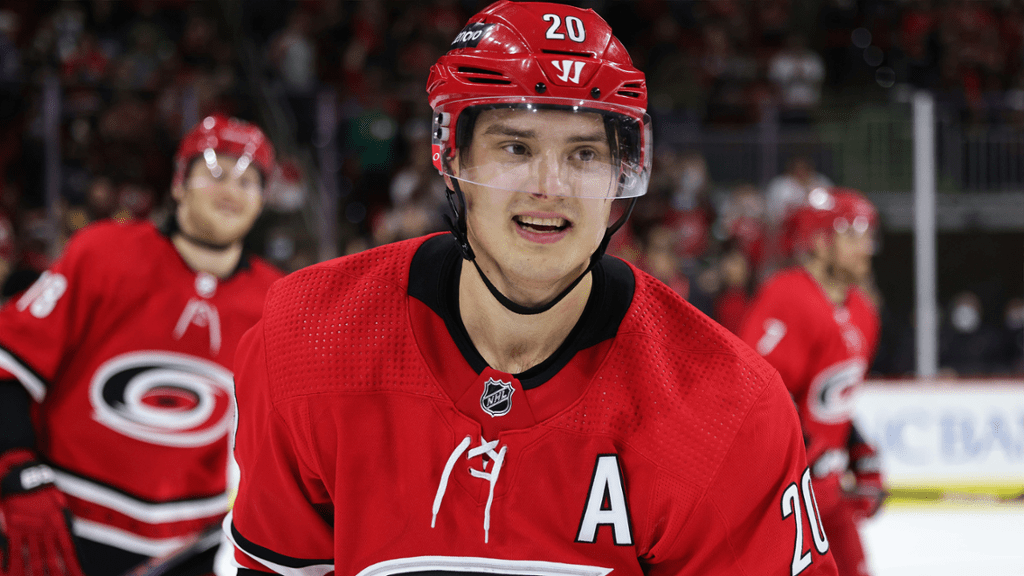 There's been a lot of great players to don a Carolina Hurricanes uniform over the years – Cam Ward, Eric Staal and current head coach Rod Brind'Amour, to name a few.
One of those greats who's emerged in recent years is Sebastian Aho, Carolina's second-round selection (35th overall) in the 2015 NHL Draft, who has 468 points (218 goals, 250 assists) through just 520 career NHL games. That's almost a full point per game – something not every franchise is lucky to find.
As a reward for his production and embodiment of everything it means to be a Cane, Carolina rewarded Aho with an 8-year, $78 million contract extension on Wednesday.
To summarize his contract, Aho is the face of the franchise and will be for years to come.
According to hurricanes.nhl.com, Canes general manager Don Waddell said "Sebastian has developed into one of the best two-way centers in hockey. He's a tremendous leader on and off the ice who sets a great example for our younger players. We're grateful that he's decided to stay in Carolina for the foreseeable future."
At his young age of 26, Aho already has the poise of a veteran. During games, he's constantly seen encouraging his teammates. Even when the Canes face large deficits, like in the Eastern Conference Finals last season against the Florida Panthers, Aho never stresses or shows his anger. Instead, he keeps to himself and really dials down on how he needs to play better.
For a team that has lacked postseason point production, Aho always seems to produce.
In the 2023 Stanley Cup Playoffs, Aho tied for the team lead with 12 points (five goals, seven assists. The year before, Aho's 11 points (four goals, seven assists) tied for the team lead with Teuvo Teravainen.
The best part of Aho's extension? It was rewarded to a guy who wants to play in Raleigh.
According to the Canes' Twitter account, Aho said "This is the place I want to play."
The Canes already added to their-already impressive defense by signing Dmitry Orlov in late June, so that spot's taken care of. Frederik Andersen and Antti Raanta re-signed in late June as well – no need to worry about goaltending.
With Aho, the defense and goaltending taken care of, Carolina can now turn its attention to filling the largest void on its roster – another top-tier goal scorer
The Canes will get Andrei Svechnikov back from injury this season, giving them an offensive star pair with Aho. They brought back Jesper Fast (2023 postseason goal leader), plus went out and snagged Michael Bunting.
Offense doesn't appear to be a question mark, right?
No, but a team can never have too many goal scorers.
DeAngelo coming back on 1-year deal
The contract hold-up is no longer – Tony DeAngelo will return to Raleigh.
DeAngelo, who played with the Canes in 2021-2022, signed a 1-year, $1.675-million contract on Monday, July 24.
Despite his on-ice controversies – suspensions, repeated unsportsmanlike conduct penalties, policy violations, DeAngelo quickly became a fan favorite in Carolina. He was productive, too, totaling 51 points (10 goals, 41 assists) in 64 games.
The Canes' defensive unit is arguably the NHL's best. They have Brent Burns, Jaccob Slavin, Orlov, Brett Pesce, Brady Skjei, Jake Gardiner and Jalen Chatfield.
Add DeAngelo to the mix – it's going to be tough deciding who the Top Six defense are on any given night.
Follow us on Social media for the latest news on the Carolina Hurricanes
Facebook: SportsCarolina Monthly
Twitter: SportsCarolina Monthly and Aidan Jensen