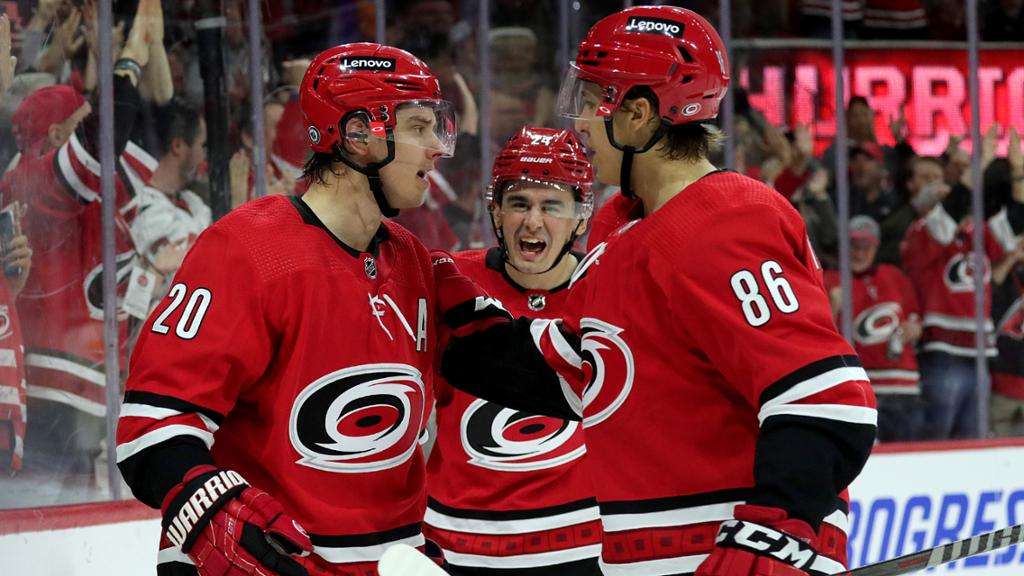 By AIDAN JENSEN
It's the best time of the offseason for a professional hockey fan – free agency.
This exciting time of year, which officially started on Saturday, July 1, gives teams a chance to bolster their roster in hopes of inching closer to a Stanley Cup title.
The Carolina Hurricanes, not a full three days into free agency, have already been busy with a flurry of signings.
Carolina locked up its top two goaltenders, Frederik Andersen and Antti Raanta, returning its formidable duo between the pipes for a second-consecutive year.
The Canes re-signed Raanta to a 1-year, $1.8-million deal, while they inked Andersen to a 2-year, $6.8 million deal.
Andersen and Raanta, arguably the NHL's best 1-2 goalie punch, combined for an impressive record of 46 wins and 24 losses between the regular season and postseason. Raanta finished third in the regular season with a 2.23 goals against average, while Andersen was 10th with a 2.48 GAA.
The duo's success carried over into the postseason – Andersen ranked second in the league with a 1.83 GAA and sixth with a .927 save percentage, while Raanta finished ninth with a 2.48 GAA.
Carolina only had one goaltender – possible goalie of the future Pyotr Kochetkov (15-7-5, 2.48 GAA, .908 save percentage in 27 NHL games) – locked in for the upcoming season before free agency hit. Rumors floated around about the possibility of the Canes signing Winnipeg Jets goaltender Connor Hellebuyck, giving them a clear-cut number one goaltender that, many fans pointed out on Twitter, would possibly help them keep pace with a hot opposing netminder in the postseason.
By locking down Raanta and Andersen, though, Carolina ended all questions about their goalie situation and locked in their plan for the next couple seasons.
Carolina makes biggest splash in early free agency with Orlov signing
When free agency started, Dmitry Orlov's name sat at the top of available players.
He's a left-handed, Stanley-Cup winning defenseman who, across his first 12 NHL seasons, totaled 66 goals and 238 assists in combined regular season and postseason action with the Washington Capitals and Boston Bruins.
Orlov's played against Carolina 27 times in his career, including the 2023 Stadium Series game at Carter-Finley Stadium in Raleigh.
Orlov is now a Carolina Hurricane, joining the NHL's top defensive unit with Jaccob Slavin, Brent Burns and Brett Pesce after signing a 2-year, $15.5 million contract.
One stat to point out is Orlov's ability to generate turnovers, as he ranks 11th since becoming a full-time NHL defenseman in the 2015-2016 campaign. He also has 205 even-strength points over the last eight seasons, ranking him 13th among all defensemen.
According to Waddell, Orlov fits Canes head coach Rod Brind'Amour's style of play, "can join the rush and bring some offense on the power play."
Orlov appears to be excited about joining Carolina. According to the Canes' website, Orlov "wants to be on a good team that has a big goal of getting to the end." He also was quoted as saying, "I think Carolina is a great opportunity to play well and win."
Canes re-sign postseason goal leader Fast, add Bunting to offense
There's a lot of curiosity surrounding Carolina's offensive unit, particularly if the team is going to sign an elite scorer who can help it get over the Eastern Conference Finals hump.
The Canes quelled some of that curiosity on the first day of free agency, re-signing 2022-2023 top postseason goal scorer Jesper Fast to a 2-year, $4.8 million contract extension.
Fast scored just 10 goals and dished out 19 assists in 80 regular-season games last year, but added more than half his goal total in the postseason with a team-high six. Fast has 82 points (30 goals, 52 assists) through 208 games in Raleigh, making him a player who knows how to play Carolina's brand of hockey.
Fast will continue to help a Canes team that is questioned at times for its lack of physicality, as he ranks fourth on the team in hits (291) since his signing on Oct. 10, 2020.
This signing is important because Carolina retains a proven, veteran, physical scorer who can step up during an offensive lull.
Michael Bunting is a name Canes fans should start getting excited about, as their team signed the former Toronto Maple Leafs winger to a 3-year, $13.5 million contract.
In Bunting, Carolina is getting a reliable, top-line winger who adds some much-welcomed offensive production.
Bunting, named a Calder Memorial Trophy Finalist (Rookie of the Year) during his 2021-2022 rookie campaign, scored 23 goals in each of his past two seasons with the Toronto Maple Leafs. Bunting also set a few-career highs in Toronto last season – power-play goals (7), power-play points (10) and game-winning goals (4).
He is described by Canes' general manager Don Waddell as a player who is an "excellent fit for our hard-working, forechecking style. Click here to watch Bunting's first 20 goals of the 2022-2023 season. He's a guy who crashes the net and can convert one-timers.