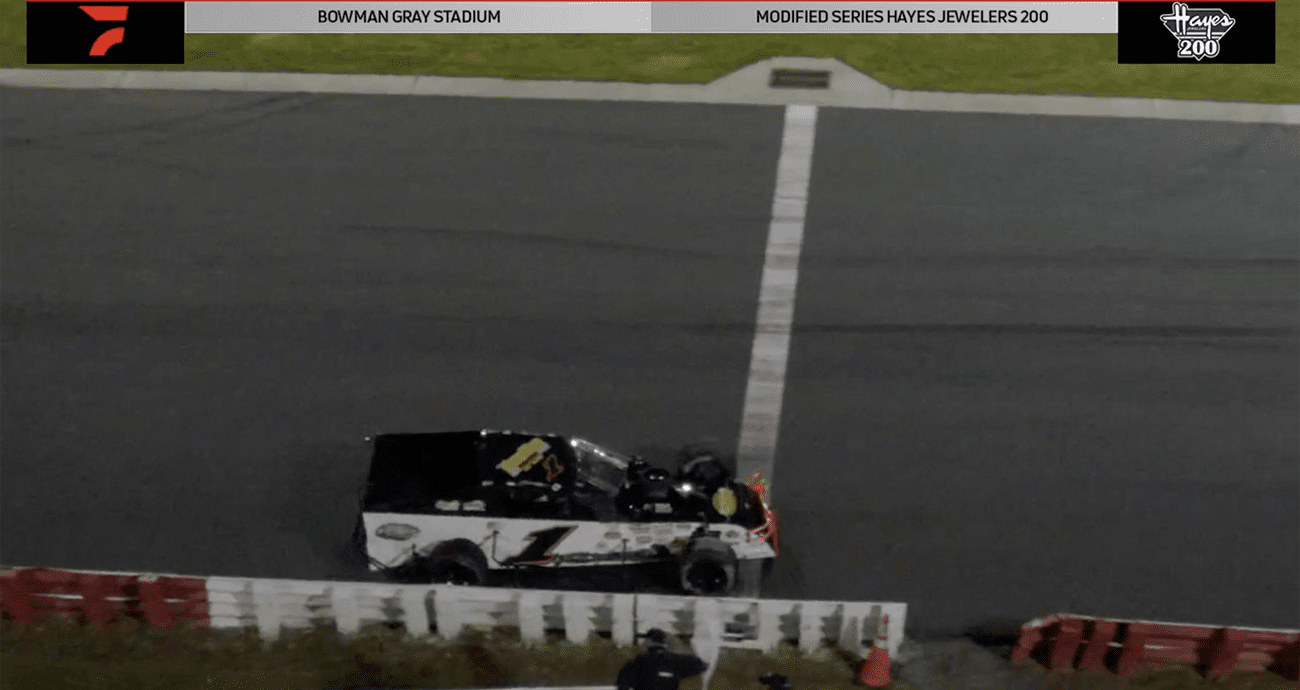 After a rainy Saturday morning and afternoon, the rain would pass in time for the season opener at the Madhouse, as the Modified and Sportsman drivers would qualify Friday evening for the Hayes Jewelers 200. Chase Robertson would snag the Sportsman Pole and defending champion 12 time champ Tim Brown would grab his 138th career pole.
Sportsman would kick the night off for the 75th of Bowman Gray Stadium racing in front of a sold out crowd of 13,500.
Chase Robertson would win the pole after the starting lineup would be reshuffled after the full field redraw. Braden Mills would be the lucky winner of drawing P1 as Riley Neal would draw outside and start second. Pole Sitter Chase Robertson would draw tenth. Early trouble as Wesley Thompson would spin bringing out the first caution. Then on lap 5 Robertson would get by Zack Ore for the lead. Lap 29 more trouble as Michael Adams would get turned with the help of Nate Gregg getting into him. Chase Robertson would go on to win his fourth career win. As the night wasn't over for Robertson as he had to hurry off to his Senior Prom.
Track announcer Randy Pulliam, asked if he was going to take his race car with him to the prom, Robertson said, "I wish, but she needs to cool down."
Robertson would hold off a hard charging Nate Gregg, who was making his debut in the Sportsman series.
Justin Taylor finished third, and Riley Neal fourth.
Next up, would be the Hayes Jewelers 200, the crown jewel of the Brad's Golf Cars Modified Series, Tim Brown and Lee Jeffreys would start on the front row.
Brown would lead 190 of the 200 laps as Danny Bohn and Burt Myers would take turns trying to pass the 83 car in what was a caution filled race. With ten laps left Danny Bohn would take advantage of the restart. Bohn would make contact with Brown, as Bohn cleared him Brown would try and get by Bohn. Leaving the door open for Burt Myers to sneak by to pick up his 89th career victory at the Madhouse. Holding off Danny Bohn, Brandon Ward third and Chris Fleming fourth. Tim Brown would finish 10th.
The first of two Stadium stock race. Kenny Dixon and Chris Allison would start on the front row. As AJ Sanders and Chuck Wall would make their ways by to take first and second. Sanders was heading toward victory until lap traffic would strike causing chaos. As Sanders, Wall would be collected giving the victory to young Issac Harris. Stephen Sanders second, Austin Cates was third, Kenny Dixon was fourth, and Chuck Wall was fifth.
Next up would be the second of two Stadium Stock race, James Allison would draw pole with Kyler Staley second. Blaine Curry (our first driver Q&A driver of this season) who would start third, would get by and take the lead in dominating fashion go on to pick up the win. Robert Strmiska would rocket through the field to finish second after starting dead last. Strmiska would catch Curry right at the line coming to the checkered and finishing just three feet shy of the win. Wyatt Sapp third, Brandon Crotts fourth and Kyler Staley fifth.
For the final event of the evening it is the Law Offices of John Barrow Street Stock Series, Bryan Sykes Jr would start on the pole. After an early spin Sykes would fall back. Giving the lead to Kevin "KTrain" Gilbert, as Gilbert would battle Zack Staley for the lead, a slow car would play a factor causing Gilbert and Staley to make contact leading to both cars having to pit. Defending champion Billy Gregg would take the lead after starting mid pack. As the laps would wind down Brad Lewis would get into Gregg leading to Gregg spinning. Lewis would go on to win.. Christian Joyce was second, Cody Gum was third, Chase Lewis was fourth, and Jordan Atkins was fifth.
Be sure to check out next week's action as the schedule includes twin 25-lap races in the Brad's Golf Cars Modified Series, and twin 20-lap races in the McDowell Heating and Air Sportsman Series. Those races will include the Madhouse Scramble where the field is inverted after the first race in each those two series.
Also, there will be a 20-lap race in the Law Offices of John Barrow Street Series, and there will be one or two 15-lap races in the Q104.1 Stadium Stock Series. The first Midway Mobile Storage Chain Race will also take place.
Gates open at 6 pm on Saturday night, and the first race is at 8pm. Adult admission for Saturday is just $12. For children 6-11, it's only $2 and children under 5 are free.
Starting this year, you are able to get your tickets online to beat the lines at the gates.
If you can't be here to witness all the action, make sure you check out FloRacing for the live streamed action!
MODIFIED: Burt Myers
SPORTSMAN: Chase Robertson
STREET STOCK: Brad Lewis
STADIUM STOCK: Isaac Harris
STADIUM STOCK: Blaine Curry
2023 POINTS STANDINGS
going into April 29

BRAD'S GOLF CARS MODIFIED SERIES
| | | | |
| --- | --- | --- | --- |
| RANK | CAR | DRIVER | POINTS |
| 1 | 1 | Burt Myers | 50 |
| 2 | 57 | Danny Bohn | 48 |
| 3 | 04 | Brandon Ward | 46 |
| 4 | 16 | Chris Fleming | 44 |
| 5 | 79 | James Civali | 42 |
| 6 | 15 | Brian Loftin | 40 |
| 7 | 10 | Dan Speeney | 38 |
| 8 | 44 | Daniel Beeson | 36 |
| 9 | 91 | Junior Snow | 34 |
| 10 | 83 | Tim Brown | 32 |
| 11 | 92 | Brody Jones | 30 |
| 12 | 75 | Lee Jeffreys | 28 |
| 13 | 4 | Jason Myers | 26 |
| 14 | 21 | Tommy Neal | 24 |
| 15 | 13 | Jordan Fleming | 22 |
| 16 | 3 | Danny Propst | 20 |
| 17 | 5 | Randy Butner | 18 |
| 18 | 39 | Gerald Robinson Jr. | 16 |
| 19 | 37 | Mike Speeney | 14 |
| 20 | 07 | John Smith | 12 |
| 21 | 70 | Andrew Harrah | 10 |
| 22 | 69 | John Holleman | 8 |
| 23 | 9 | Kyle Southern | 6 |
| 24 | 51 | Drew Moffitt | 4 |
| 25 | 50 | Ross BooBoo Dalton | 2 |
| 26 | 7 | Susan Harwell | 2 |
MCDOWELL HEATING & AIR SPORTSMAN SERIES
| | | | |
| --- | --- | --- | --- |
| RANK | CAR | DRIVER | POINTS |
| 1 | 31 | Chase Robertson | 50 |
| 2 | 28 | Nate Gregg | 48 |
| 3 | 12 | Justin Taylor | 46 |
| 4 | 07 | Riley Neal | 44 |
| 5 | 6 | Kirk Sheets | 42 |
| 6 | 2 | Amber Lynn | 40 |
| 7 | 7 | Connor Branch | 38 |
| 8 | 55 | Zack Ore | 36 |
| 9 | 38 | Mitch Gales | 34 |
| 10 | 03 | Sterling Plemmons | 32 |
| 11 | 19 | Michael Adams | 30 |
| 12 | 24 | A.J. Bernys | 28 |
| 13 | 15 | T. Dawson | 26 |
| 14 | 5 | Spencer Martin | 24 |
| 15 | 51 | Austin Taylor | 22 |
| 16 | 22 | Wesley Thompson | 20 |
| 17 | 54 | Braden Mills | 18 |
LAW OFFICES OF JOHN BARROW STREET STOCK SERIES
| | | | |
| --- | --- | --- | --- |
| RANK | CAR | DRIVER | POINTS |
| 1 | 16 | Brad Lewis | 50 |
| 2 | 1 | Christian Joyce | 48 |
| 3 | 03 | Cody Gum | 46 |
| 4 | 06 | Chase Lewis | 44 |
| 5 | 23 | Jordan Atkins | 42 |
| 6 | 00 | Donnie Martin | 40 |
| 7 | 9 | Justin Cummings | 38 |
| 8 | 7 | Zack Staley | 36 |
| 9 | 98 | Billy Gregg | 34 |
| 10 | 70 | Cale Martin | 32 |
| 11 | 4 | Emilee Lewis | 30 |
| 12 | 99 | Bryan Sykes Jr | 28 |
| 13 | 19 | Robbie White | 26 |
| 14 | 2 | Willie Wall | 24 |
| 15 | 10 | Kendell Craig Hartless | 22 |
| 16 | 24 | Austin Jones | 20 |
| 17 | 30 | Zachary Cogar | 18 |
| 18 | 25 | Cooper Lowe | 16 |
| 19 | 13 | Kevin Gilbert | 14 |
| 20 | 21 | Wes Glascoe | 12 |
Q104.1 STADIUM STOCK SERIES
| | | | |
| --- | --- | --- | --- |
| RANK | CAR | DRIVER | POINTS |
| 1 | 59 | Isaac Harris | 50 |
| | 16 | Blaine Curry | 50 |
| 3 | 8 | Stephen Sanders | 48 |
| | 90 | Robert Strmiska | 48 |
| 5 | 27 | Austin Cates | 46 |
| | 46 | Wyatt Sapp | 46 |
| 7 | 40 | Kenny Dixon | 44 |
| | 69 | Brandon Crotts | 44 |
| 9 | 81 | Chuck Wall | 42 |
| | 31 | Kyler Staley | 42 |
| 11 | 54 | Justin Owens | 40 |
| | 74 | Matt Alley | 40 |
| 13 | 18 | Billy Andrews | 38 |
| | 60 | Brad Mickalowski | 38 |
| 15 | 04 | Conner Sheets | 36 |
| | 55 | Jeremy Smith | 36 |
| 17 | 48 | Kenny Flippin | 34 |
| | 28 | Robert Mabe | 34 |
| 19 | 7 | Chris Allison | 32 |
| | 25 | Matt Goodwin | 32 |
| 21 | 26 | Ricky Wall | 30 |
| | 98 | Darrell Foster | 30 |
| 23 | 51 | Andrew Cates | 28 |
| | 56 | Andrew Mason | 28 |
| 25 | 50 | Terry Torrence | 26 |
| | 05 | Victor Flores | 26 |
| 27 | 24 | A.J. Sanders | 24 |
| | 71 | James Allison | 24 |
| 29 | 43 | Brandon Brendle | 22 |