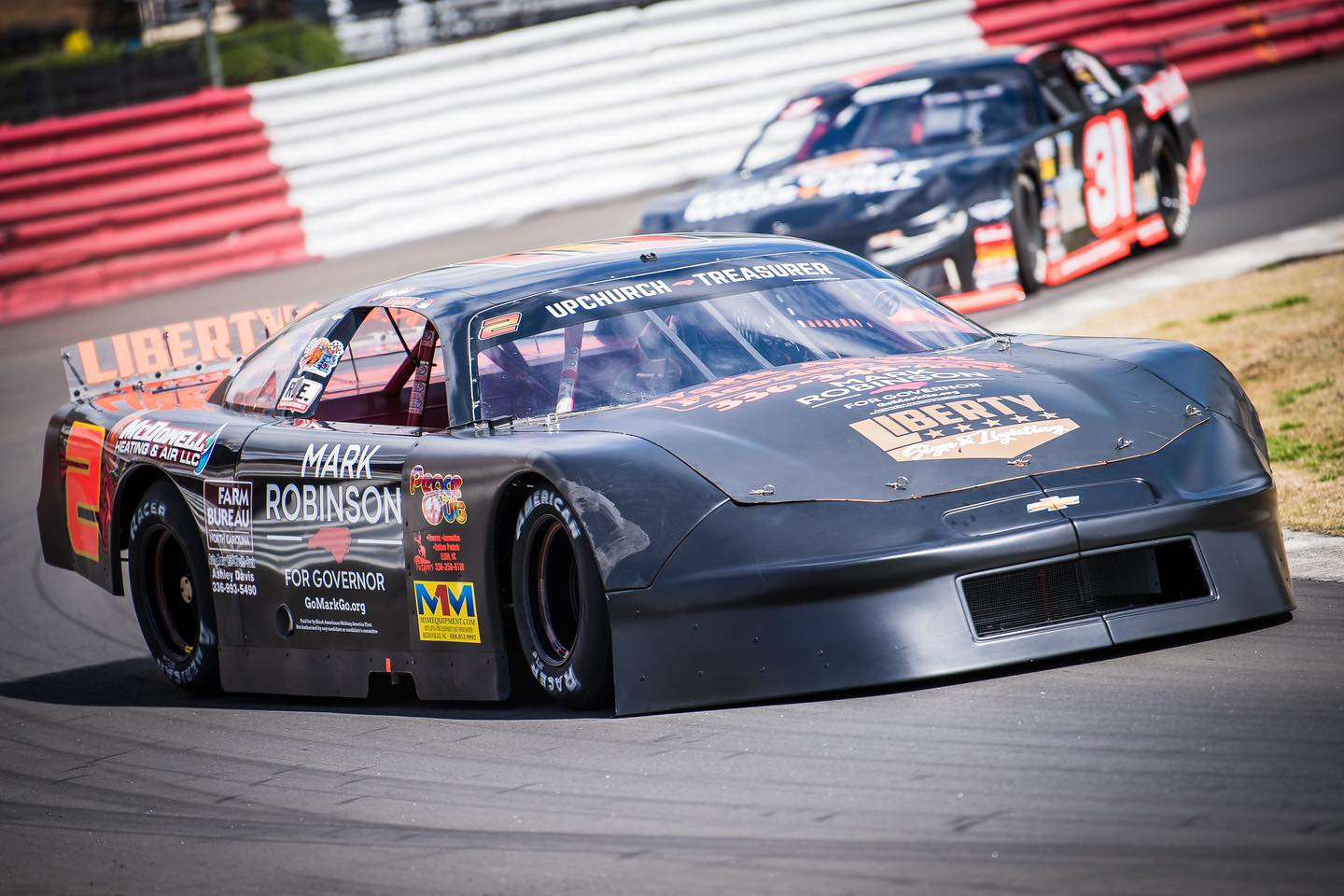 Week five is officially in the books, although it got cut short due to rain. But the threat of rain didn't stop competitors from trying to get the race in. Stadium Stock would kick the night off with a 15-lap race. 
A.J. Sanders would take lead with five laps remaining after contact with Chuck Wall. Sanders would go on and pick up the win for the 58th career win at Bowman Gray.
Sanders finished ahead of Brandon Brendle second, son Stephen Sanders third, Wyatt Sapp fourth, and Blaine Curry fifth. As Curry battled back after being involved in an early accident.
Next up was the first 20-lapper in the McDowell Heating & Air Sportsman Series, Michael Adams led flag to flag went on to pick up his third win of the season and third win in three straight weeks.
Adams held off a hard charging Chase Robertson, who has also won two races this season, Zack Ore third, and Riley Neal fourth.
This win was Adams his 26th career win, he would draw eighth for the Madhouse Scramble for the second 20 lap race.
Modified would be up next as Jason Myers would start on the pole and lead flag to flag to win his 38th of his career, tying him with his father, Gary Myers, for ninth place on the all-time wins list in the Modified Series. Giving the Myers's family a total of 165 career wins.
In the second 20 lapper Sportsman race, Wesley Thompson and Justin Taylor would start front row. Amber Lynn would take the lead after contact between Taylor, Thompson and Sterling Plemmons causing a pile up in turn two. Amber would go on to lead the remainder of the race holding off young Riley Neal for second. It was her first win of the season.
Next up would be the second Modified race, Ross "Boo Boo" Dalton would start on the pole. On lap two Brandon Ward and Boo Boo Dalton would get together causing a jam up bringing out the caution. While under caution, it began to rain and the drivers were asked to move their cars to the pit. It continued to rain, and the rest of the racing scheduled Saturday night was cancelled
Next week's action at Bowman Gray Stadium will be highlighted by the Great Clips Crash Fest. The Crash Fest consists of Midway Mobile Chain Race, a Midway Storage Skid Race, and a Midway Mobile Storage Demolition Derby.
In addition, there will also be twin 25-lap races in the Brad's Golf Cars Modified Series, twin 25-lap races in the McDowell Heating & Air Sportsman Series, a 20-lap race in the Law Offices of John Barrow Street Series, and either one or two 15-lap races in the Q104.1 Stadium Stock Series.
The Thunder Road Grill Street Stock 50 for the Law Offices of John Barrow Street Stock Series, was postponed and will be made up on May 27.
Gates open at 6 pm on Saturday night, and the first race is at 8pm. Adult admission for Saturday is just $12. For children 6-11, it's only $2 and children under 5 are free.
Starting this year, you are able to get your tickets online to beat the lines at the gates.
If you can't be here to witness all the action, make sure you check out FloRacing for the live streamed action! 
Follow us on Social media for the latest news on Bowman Gray Racing!
Facebook: SportsCarolina Monthly
Twitter: SportsCarolina Monthly and Cody Heacox
RACE RESULTS: May 13
BRAD'S GOLF CARS MODIFIED SERIES

| | | |
| --- | --- | --- |
| FINISH | CAR | DRIVER |
| 1 | 4 | Jason Myers |
| 2 | 83 | Tim Brown |
| 3 | 75 | Lee Jeffreys |
| 4 | 16 | Chris Fleming |
| 5 | 91 | Junior Snow |
| 6 | 04 | Brandon Ward |
| 7 | 1 | Burt Myers |
| 8 | 69 | John Holleman IV |
| 9 | 44 | Daniel Beeson |
| 10 | 5 | Randy Butner |
| 11 | 10 | Dan Speeney |
| 12 | 50 | Ross BooBoo Dalton |
| 13 | 3 | Danny Propst |
| 14 | 99 | William Smith |
| 15 | 49 | Lee Stimpson |
| 16 | 35 | Greg Butcher |
| 17 | 7 | Susan Harwell |
| 18 | 6 | Slate Myers |
| 19 | 88 | Ethan Stoltz |
| 20 | 14 | Cory Lovette |
MCDOWELL HEATING & AIR SPORTSMAN SERIES
race one
| | | |
| --- | --- | --- |
| FINISH | CAR | DRIVER |
| 1 | 19 | Michael Adams |
| 2 | 31 | Chase Robertson |
| 3 | 55 | Zack Ore |
| 4 | 07 | Riley Neal |
| 5 | 21 | Tommy Neal |
| 6 | 2 | Amber Lynn |
| 7 | 12 | Justin Taylor |
| 8 | 22 | Wesley Thompson |
| 9 | 6 | Kirk Sheets |
| 10 | 7 | Connor Branch |
| 11 | 38 | Mitch Gales |
| 12 | 54 | Braden Mills |
| 13 | 03 | Sterling Plemmons |
| 14 | 15 | T. Dawson |
| 15 | 51 | Austin Taylor |
| 16 | 28 | Nate Gregg |
| 17 | 8 | Casey Kepley Jr |
| 18 | 13 | Gage Williams |
MCDOWELL HEATING & AIR SPORTSMAN SERIES
race two
| | | |
| --- | --- | --- |
| FINISH | CAR | DRIVER |
| 1 | 2 | Amber Lynn |
| 2 | 07 | Riley Neal |
| 3 | 55 | Zack Ore |
| 4 | 31 | Chase Robertson |
| 5 | 19 | Michael Adams |
| 6 | 21 | Tommy Neal |
| 7 | 7 | Connor Branch |
| 8 | 12 | Justin Taylor |
| 9 | 6 | Kirk Sheets |
| 10 | 38 | Mitch Gales |
| 11 | 22 | Wesley Thompson |
| 12 | 51 | Austin Taylor |
| 13 | 13 | Gage Williams |
| 14 | 15 | T. Dawson |
| 16 | 03 | Sterling Plemmons |
LAW OFFICES OF JOHN BARROW STREET STOCK SERIES

Race Postponed Due to Rain
Q104.1 STADIUM STOCK SERIES

| | | |
| --- | --- | --- |
| FINISH | CAR | DRIVER |
| 1 | 24 | A.J. Sanders |
| 2 | 43 | Brandon Brendle |
| 3 | 8 | Stephen Sanders |
| 4 | 46 | Wyatt Sapp |
| 5 | 16 | Blaine Curry |
| 6 | 27 | Austin Cates |
| 7 | 2 | Carson Reed |
| 8 | 51 | Andrew Cates |
| 9 | 7 | Chris Allison |
| 10 | 74 | Matt Alley |
| 11 | 54 | Justin Owens |
| 12 | 59 | Isaac Harris |
| 13 | 69 | Brandon Crotts |
| 14 | 55 | Jeremy Smith |
| 15 | 14 | Ken Bridges |
| 16 | 81 | Chuck Wall |
| 17 | 5 | Connor Keaton |
| 18 | 31 | Kyler Staley |
| 19 | 56 | Andrew Mason |
| 20 | 48 | Kenny Flippin |
| 21 | 25 | Matt Goodwin |
| 22 | 04 | Conner Sheets |
| 23 | 28 | Robert Mabe |
| 24 | 58 | David Beauchamp |
| 25 | 18 | Billy Andrews |
| 26 | 60 | Brad Mickalowski |