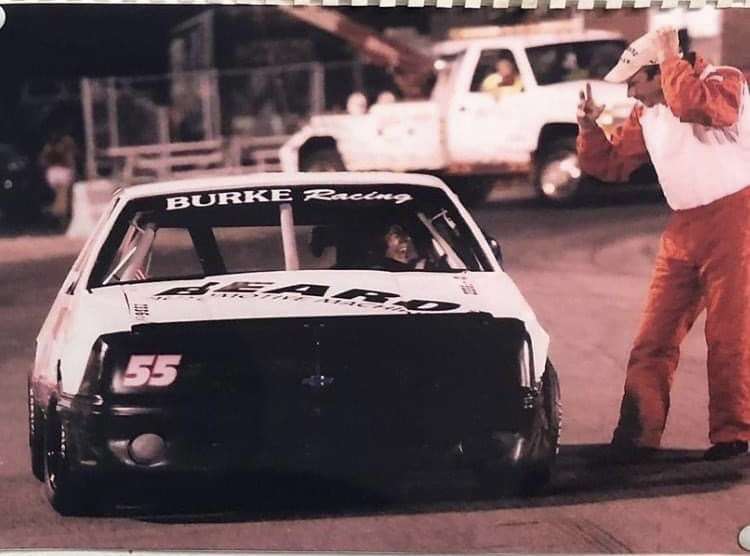 Ladies and Gentleman welcome to another installment of Driver's Q&A, I had the opportunity to talk to retired Stadium Stock Tyler Burke. While this Q&A is a little more personal and we talk about Tyler's dad's Johnny Burke's career. 
Johnny Burke Career Stats 177 Starts (8th All-Time) 26 Wins (5th All-Time) 103 Top 5's (4th All-Time) 146 Top 10's (5th All-Time) 2-Time Champion (2000 & 2008) 3-Time Stadium Stock 50 Winner (1995, 1996 & 1999)
Tyler Burke Career Stats 70 Starts (50th All-Time) 4 Wins (T-49th All-Time) 16 Top 5's (65th All-Time) 42 Top 10's (46th All-Time)
The Burke Family has 30 career wins, that ranks them 26 out of 51 families that's won a feature at Bowman Gray.
Q: I have a feeling I know the answer to this, but what got you interested in racing?
A: I grew up watching my dad, and later started helping him in the pits before I drove for myself but our family racing history goes back longer than just dad. My Great Grandfather and his immediate family owned peace heaven raceway, my dads father Johnny Sr worked on modifieds over at bowman gray during the 60s, 70s, my moms step dad (Lonnie Bennett) raced at some local dirt tracks, Caraway and Bowman Gray, he was who helped my dad get his start. So racing was just always there and normal. I was never push into it I just wanted to be involved to spend more time with dad. So I helped him a lot when he raced for Robert and Tracie Moreau which later turned into a racing career for myself.
Q: What got your dad (Johnny Burke) interested in racing?
A: From what dad told me he grew up with it when his dad would take him to races and of course watching and listening to them on the radio and tv. He always had an act for speed growing up especially in high school. He built hotrods in school and of course ran them on the street a little bit but later got really involved with a guy named Tony Hine who raced road course. Later on from that he started working with my grandpa (Lonnie Bennett) on his mini stock which started his love and career with mini stocks and short track racing.
Q: What was it like racing along side your dad?
A: It was like a butt kicking every time haha. He was patient with me most of the time, and broke down what to do and what to look for in the car. He taught me how to feel what the car wanted or didn't like. I tried to follow him one time in morning practice and spun out in 3 and 4 trying to drive it in as deep as him. I got out of the car embarrassed he just walked over and put his arm around me, smile and said "your old man ain't so slow after all is he???"
Q: What was the best advice he ever gave you that helped you?
A: I don't know about best advise but there was a few things he taught me early on that stuck
1st, don't take food off your table to go racing. Racing at our level is a hobby and we are quick to forget that. That's why relationships, marriages, friendships and partnerships suffer. We think we have to sacrifice everything for a 20 dollar trophy but in all reality your family and home life should come first.
2nd, make sure you check your attitude before you get outa the car. With us running late there was always a chance of someone's kids being near by and they don't need to see their hero's throwing a temperature tantrum. You make your self, your team, your sponsors and anyone associated with us look bad getting outta the car acting like a jerk. Don't set a bad example for minds who don't know any better.
Q: Your dad was a legend at the Madhouse, do you think he would still be racing? Or do you think he would have stepped away like most fathers and focused on helping you and your career?
A: Dad and I had lots of conversations about this. He talked about how much it had changed and that he wanted to get involved in racing in different ways. He talked about building his last car to go travel racing and run some tracks that he had found out about building engines for guys out of state and big races for mini stocks. We also talked a lot about going road course racing. He always said "road racing is getting the absolute most out of a car and not holding anything back. You use everything up and drive it like you stole it."
Q: As mentioned before your dad was a legend, and his name gets brought up a lot as a driver, the drivers who are racing these days wish they could have raced with. How much does that mean to you to know what impact your dad still has on the track and people?
A: I love the fact people aren't just forgetting about him. People tell me all the time about how much they miss him. He touched a lot of people's lives on and off the track, help create opportunities for people to be competitive and gave guidance to situations that people needed help managing. He always said "people are going to remember you for two things, how much you did and how much you didn't help them." People don't forget.
Speaking of Johnny Burke making an impact on people's lives I had an opportunity to talk to a few competitors as well as Johnny Burke's #1 fan and here's what they had to say.
Johnny Burke's #1 fan Scott McKee-
Literally the nicest dude in racing I was ever around. I made little signs and held them up for him when he passed by every lap, and he saw me at the wall, and waived to me …even under green… every single lap. Sometimes fighting for a win even, still waiving. My dad took me in the pits every week to see him after the race. I brought him some little drawings I made of his cars.
Tyler showed me a few months back, that his dad actually kept all of the stuff and really treasured it. Johnny is the reason I painted my champ cart up the colors I did, same with my 09 modified.
I remember sneaking and staying up late at night to watch the summer shootout at charlotte motor speedway on TV because they ran ministocks and could see Johnny on TV (that's when he first started using the white car).
Jimmy Absher-
I have so many memories Johnny, I actually don't know where to start.
When I first decided to get into racing, I messaged Johnny on the internet, he informed me where a good car was for sale . I went and bought it. Johnny freshened up the motor the next year for me . Was extremely helpful to me about the motor and other racing tips.
In 2008 Johnny and I were racing for the championship. I was 1st in points and Johnny was 2nd. Even though we were racing each other for championship, he would come to hang out and assist if I needed it. Well on July 20th that year, I broke my femur on a Friday afternoon. I was leaving work to go weigh the race car. As I was laying in the hospital waiting for surgery, Johnny Burke and his car owner Robert Moreau walked into my room. Johnny was visual upset, he kept saying I wish it was me and not you. That's the moment I realized how lucky I was. For a competitor to visit me that day was a great feeling. Racing at BGS is a large family. I had many other visitors from BGS as well. I will never forget that.
Well two weeks after my accident I returned to the track. Broke leg and all, Gray Garrison reached out to my family and offered us seats on the field house balcony. Johnny Burke won that night, he joined me on the balcony that night. He tried his best to give me his winning trophy. I couldn't take it, because Johnny had just got back to racing from other Cancer treatments. Johnny went on to win the championship that year. Johnny wasn't taking no for an answer. I ended up trading hats with him that night. To this day I still have Johnny's winning hat signed from that night. That hat hangs in my shop, and I think of him every time I see it. That's just a testimony to me the kind of man he was. Racing needs more Johnny Burke's.
It was tough writing that and thinking back of the memories I had with him. Johnny was a hell of a man!
Another great memory, 2012 I broke my right arm at work 3 weeks before the season started . Charlie Curry had been racing my 2nd car(61), well one night we decided to bring the 39. Johnny Burke drove the my 39 car one night. To watch two guys I grew up watching drive both my cars was awesome.
Wayne Hill-
In 1990 Johnny father in law Lonnie Bennett started racing at Caraway. Both of us our first year in racing. Lonnie couldn't make it to race one Saturday night because of work and Johnny had to run the car. We were always pitted beside each other. Far as I know it was his first time in a race car. Lol he was nervous as hell for his 7 lap heat race and we told him don't sweat it, anything happens we will pit you. Only crew he had was his wife and mother in law. He ran good that night in his heat race an in the feature. That was a start of a great friendship.
Chuck Wall-
I remember racing at Bristol in 07 or 08 and him rushing out after race to catch a plane back to the stadium. Johnny made it back in time I wasn't running the stadium that night.
Zack Staley-
I don't think I raced with Johnny much, I watched him as a kid and always remember the 55 or 56 bibs car. He was a great guy I knew him from being around race track and his son as good as he was great ppl very kind and always smiling.
Q: I know it had to be emotional to get back in the car after your dad's passing, but how special was it to be able to get the win the race after he passed?
A: That race was a lot of closure for me. Between my dads passing, and our family still hurting from his loss there was a lot of emotion. I had put a lot on myself to win because I wanted to prove I could be competitive without dad being here. When I won I remember feeling like he somehow told me that it was okay to let go and continue to move forward.
I do remember when I got out of the car in victory lane and the crowd kinda cleared I looked up and saw Randy Moore. He parked in the infield, walked toward me, gave me the biggest hug and told me how proud everyone was. It all comes full circle when your hero's tell you they are proud.
Q: Of all of the competitors you raced against, who did you enjoy racing against most?
A: I wish I would have gotten to race with dad more but his car had gotten hurt in a crash and when we pulled it apart to check for square we found the rear trialing arm mounts had pulled out of the rear subframe. Unfortunately it ended his racing career because we had trouble getting the car together between all the health problems he was having.
P-Nut Vernon (which is one of my dads best friends) and I had alot of fun times on track togather and loved racing around one another. P-Nut helped me a lot with forming my driving career and how to have car control bc he spotted for me alot of the times he wasn't racing.
But then you have Charlie Curry, Jimmy Absher, Jason Tutterow, Chuck Wall, Adam Baker, Gerald Robertson, Mike Lowery, and so many more I had great times racing with so I can't really choose one.
Q: What was the reason behind you retiring?
A: Unfortunately it's the same story with me as a lot of drivers. Cost started adding up and with both it my grand parents (who were my car owners) becoming retired it was harder to spend that kind of money. I tried to keep it going using what money I was making and credit but things added up at the end of my last year racing. I think I went through 6 Steering racks, two complete sets for bent and broke wheels and tires, along with all kinds of other fixes. Things just keep adding up and at the end of the season it just didn't make sense to continue racing.
Q: In your opinion, how would you rate the today's racing in the Stadium Stock's?
A: I think the innovation that's going on with the mini stock Division is amazing. I think the division is getting more built towards like a late model style car with purpose built chassis and no longer pulling out of a junk car from the junkyard putting a cage in and going racing, but with all racing eventually evolves into what it is today. The cars are faster, tougher, and probably a little easier to drive. But there is nothing wrong with that.
Q: What's some of your most memorable moments on track and in the pits?
A: P-Nut and I got hooked up in morning practice one time battling it out to take the lead from one another. we ran a whole 15 lap race just us battling it out not knowing we were the only ones on the track and everyone was just watching us. We got out of the car just laughing talking about how that was racing and they can't take it from us.
At Ace speedway they ran a meltdown race for the mini stocks with stadium rules. We went to test the week of the race and Dad got on to me because he thought I was HEE HAWING around. So the next practice I went out red HOT mad and broke the track record by the third lap.
Q: Do you see any similarities of yourself or better yet do you see any similarities to your dad in any of drivers out there today?
A: I do, I see some drivers with that same raw determination that Dad had like a lot of my younger years growing up watching him race. There are a lot of hungry guys out there that can wheel a car. The talent is definitely there.
Q: Who are the drivers?
A: Brandon Brendle has the drive and determination like dad had in the 90s and 2000s
Blaine Curry has become smooth fast driver and I can see a lot of dad in that.
Q: What win meant the most to you in your career?
A: My first win was the only win Dad and I were actually raced with one another in. He was driving Jimmy Absher's car and I was in the white and blue 55. There is a picture of Dad meeting me before the start finish line looking down at me grinning and adjusting his hat while I'm looking up at him with the biggest smile. It was special because my grand parents, dad, the sponsor and crew had put in so much work for me to be fast that year. We started off fast and just keep building momentum. I had finally gotten comfortable in the car and decisions I was making while driving.
Q: What was the story behind having the number 55 as well as 56?
A: So the 56 was originally ran by my Dads friend Tony Hine on the road course car. He said he always thought it looked cooler but it was also the only number available at the time he could see himself racing. So he choose the 56
Now the 55 wasn't actually my first choose. I wanted to run 26 like my grandpa (Lonnie Bennett ) but Derek Taylor had bought the number before I got over to the track to get it, so the only numbers really available was the 55 and 65. Dad said he like the 55 better so it just kinda stuck.
Q: Do you miss it?
A: Yeah I do, I miss the competition. Driving the car on the edge is a totally different feeling. I miss the cars, race family and friends. A lot of people made it enjoyable to go over there every week and I miss all that.
Q: What did it mean to you to see Ace run the Johnny Burke Memorial Race?
A: I was really shocked and excited that they put the Johnny Burke Memorial Race on for dad. It's very special when I track honors a driver and to add my dads name to that list is an honor. Our family is really appreciative of Ace for putting on the race.
Q: Do you think you will ever race at the Madhouse? I know there's some Tyler/Johnny Burke fans who would love to see you back out there out there on the track. At least one more time.
A: I don't know. I hope to maybe make it back over there again sometime but if I don't that's ok too. It takes a lot to race over there even for a one race deal. So I wouldn't say never but I just don't have the opportunity right now.
Q: Do you have any great Johnny Burke racing stories?
A: Dad always wanted to race at Bristol motor speedway growing up. An opportunity came up when he was racing for Robert and Tracie Moreau to drive mini stocks there. It just so happens dad was leading the points at the stadium, so if he was going to race at Bristol he would have to somehow make it back for the last race of the night at Bowman Gray to keep the points lead. Robert worked it out so a former driver of his (Coy Beard) to fly him back into town to run both races. Dad goes to Bristol runs the race, finishes 9th after a motor blowing up earlier in the week during testing, the track changing the tire compound when we got there to try and make the drivers lift off the throttle in the corners (we heard track insurance policies requested it) and a red flag during the race. After he finished the race we literally ripped him out of the car, threw him in Tracie's Tahoe and got him to the airport. When they got off the ground Coy had to circle the air field to gain enough altitude to clear the mountain, and when he finally did, they caught a tailwind that helped make up enough time to get to Winston Salem. Dad said when they flew over Winston he looked down and saw the street stocks on the track. They landed and dad jumps in a golf cart to taxi him off the runway. Dad said they nearly hit the automated fence as it was sliding open while they went through it. He jumps in the family car races down Liberty Street running 80mph to finally makes it to the stadium only to realize he had forgotten his wallet so he couldn't even pay entry frees. Jonathan Hawkins smiled waved him and let him jump in to racecar. The car had no heat in the motor, tires, brakes, and here he goes he goes off in the first corner and forgets to hit the brakes. Drives the car in about six car links to deep. Dad gathers himself togather turns around and finishes in the top 10 and goes on to win the championship that year. It was an awesome moment that we all got to luckily share with him.
Q: Something I like to ask "If you could race against any legendary driver (BGS or NASCAR) who would it be?"
A: Randy Moore. I never got to race against him but he was one of my dad's closest friends in the early year of racing. The Moore family are all great people and Randy was a class act. Him , Charlie Curry and Dad are just some of my hero's. I was very very fortunate to race against alot of my hero's and friends.
Q: Last question, as a close friend I have to ask one last time, are you 100% for sure absolutely positive you are done with racing?
A: No I'm not. There maybe an opportunity open up later on down the road and I just may take it, but in the last year I dabbled in some road course racing and had a blast. I got to race with some really great people and made some great memories.
I just wanna thank you for taking time to ask me about my racing. Without My Grand Parent (Johnny and Virgina Burke) My Dad, Mom, Sister, Aunt Cindy and Uncle David, P-Nut, Redneck, Haley, Jacob, Drew, Jeff, Jamie, Bibs Downtown, Twin City Towing, Ilderton Chrysler Jeep Dodge, Sweet Deal Furniture, Probiz Signs, and Beard Automotive Machine none of this would have been possible. Thank you for everything, Burke Racing