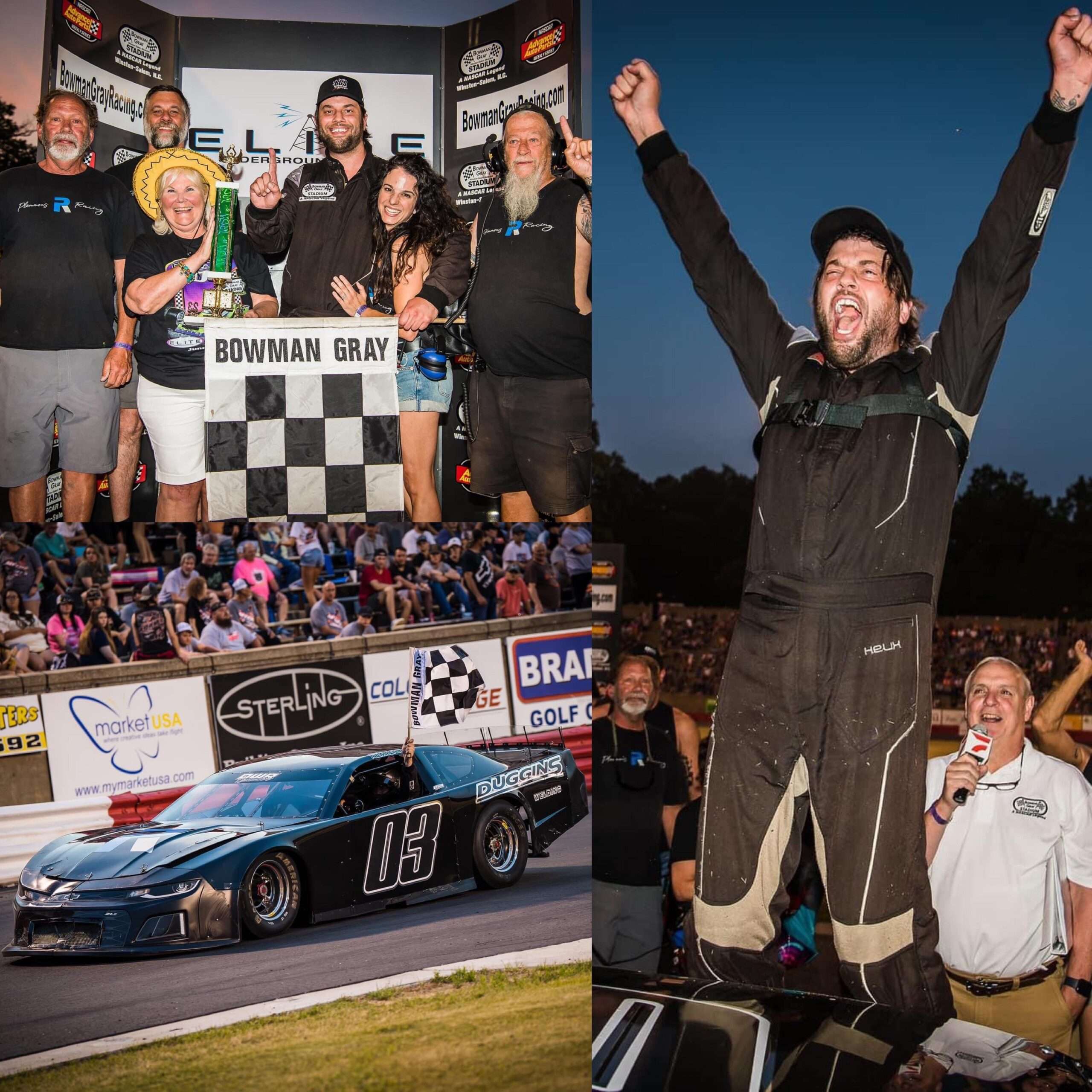 Ladies and Gentleman welcome to another installment of Driver's Q&A as I had the opportunity to chat with Sportsman driver Sterling Plemmons driver of the 03. 2023 has been a career year for Sterling as he's knocked off a handful of top five and top ten's including his first career win.
Q: What was it that got you interested in racing?
A: Watching my dad race at Bowman Gray is what first got me interested in racing. I've loved it for as long as I remember.
Q: You come from a racing family growing up did you and your dad ever go out and try to see who could run the fastest lap time?
A: Yes, we have. From go carts, to the Myrtle Beach Grand Prix cars and even at the stadium, we have always competed for fastest lap times.
Q: Some drivers have a story behind the number they run, Is there a story behind the 03?
A: The 03 was my dads number when he raced in the sportsman division. I was glad no one was using it when I started racing.
Q: You have had an incredible year so far, as you were able pick up your first career win on a very important day for you. With two weeks left in the season and being 7th in points just 109 behind. Do you plan to be aggressive and go out for wins or just points race and let things play out?
A: I'm just racing for wins this year. That was my goal, not been concerned with points racing this year.
Q: What is some advice you would give the young kids who are wanting to become a race car driver?
A: To be persistent. It takes a lot of time and effort, so just don't give up.
Q: You have two little ones, has your oldest asked you at all about wanting to race? Or has momma put a stop to it?
A: My oldest loves racing and already talks about racing himself when he is older. I don't think mama can stop it. Haha.
Q: Who would you say you enjoy racing against and along side of? And who would you says the toughest competitor?
A: I'm gonna say Micheal Adams for both answers. He's been really good this year. We have raced each other a lot and kept it clean. It's been fun and challenging.
Q: What is it about Bowman Gray that stands out to you most compared to other tracks you've ran at?
A: The atmosphere and the energy of all the fans. No other place like it.
Q: Is there a certain driver or drivers (any division) that you lean on for advice? And what's the best advice they've given you?
A: One night in my first year racing, I was loading a pretty tore up race car into my trailer, and from the pit next to me I hear Frank Fleming say to me "Leave your feelings at home, because this place will hurt your feelings". That was some solid advice on how to deal with what happens at the madhouse.
Q: I read one of your posts a few years back about how you traveled the world playing music, What would you say you enjoy most being able to play music or race your car?
A: My time in music means a lot to me. It's the reason I didn't start racing earlier in life. I got to travel all over the world and play on some amazing tours. It was a huge rush to be on some of those stages. I think racing is the same kind of rush, just a different environment and a lot more intense. After being out of music for a while, I needed a new challenge and racing was something I always wanted. I've enjoyed both chapters of my life, the thrill of that first win is hard to beat though.
Q: What's your take of the youth movement that has taken place in Sportsman with guys like (Riley Neal, Chase Robertson, and Nate Gregg)?
A: I think it's cool, I would have loved to race at those ages. All those guys are talented and I've enjoyed getting to know and race them.
Q: Obviously, you have the same goals and expectations as every other driver. But is there one in particular goal/expectation you have set for yourself this season??
A: My goal was to get my first win this year. It's a tough division with lots of potential winning cars on any given night. Hoping to get another win or two before it's over for the year.
Q: Could we see you run a modified in the future?
A: You never know but probably not. The mods are cool but I really love the sportsman division. I think it's the best racing at the stadium.
Q: Last question, it's something I like to ask drivers. "If you could race against any legendary driver (BGS or NASCAR) who would it be?"
A: It may sound cliche but I've gotta go with Earnhardt Sr. I was a huge fan growing up. Would have been cool to race him.
Be sure to check out Sterling and the rest of the Sportsman drivers as it will be the Colors Edge Sportsman 100 in the McDowell Heating & Air Series, In addition, there will be twin 25-lap races in the Brad's Golf Cars Modified Series. After the first race there will be the "Madhouse Scramble" where they will invert the field after the winning driver in the first race pulls out either 8, 10, 12, 14, or 16. There will also be a 20-lap race in the Law Offices of John Barrow Street Stock Series, and there will be either one or two 15-lap races in the Q104.1 Stadium Stock Series. The night will also include the Modifieds and the Midway Mobile Storage Skid Race.
Follow us on Social media for the latest news on Bowman Gray Racing!
Facebook: SportsCarolina Monthly
Twitter: SportsCarolina Monthly and Cody Heacox