Brandon Blakney caught up with 6'5 2020 wing Kam Edwards to chop it up about competing on the EYBL Circuit, an upcoming App State visit, and the Atlanta music scene! Edwards is one of the hottest names around the Hoop State currently, he's drawing interest from a host of mid major programs (Elon, UNCG, NC A&T, etc…), after some strong performances on the EYBL circuit.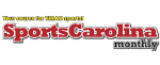 History of Bowman Gray Stadium
Carolina Panthers
Host Desmond Johnson with Rod Funderburk, Brandon Blakney, Aaron Gabriel. Kevin Avery from the...

Gerald McCoy took his talents to the Carolinas and signed with the Panthers.