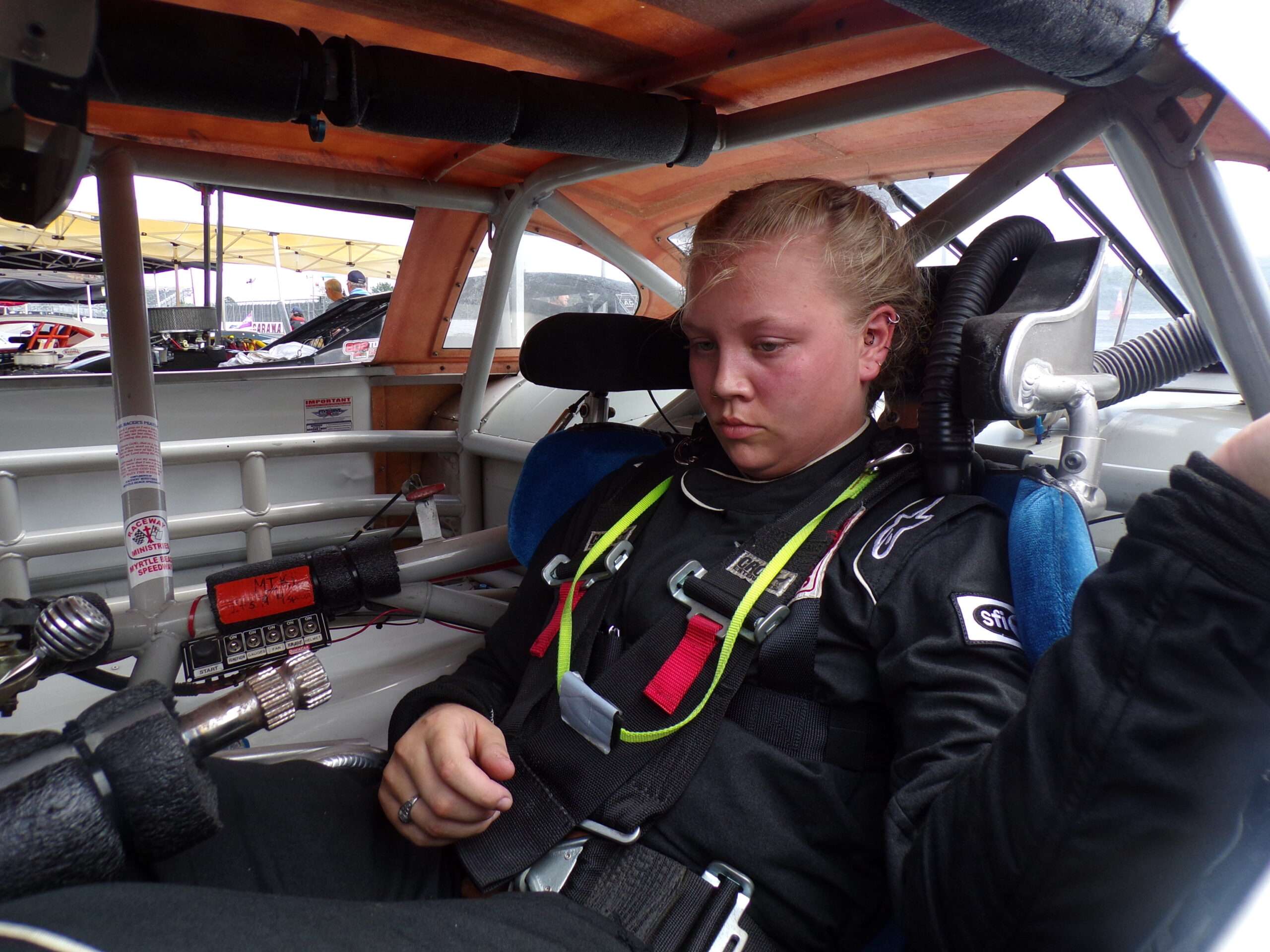 Even with several weeks to reflect upon it, Amber Lynn of Walkertown still struggles to understand the magnitude of her victory in a 20-lap Sportsman race on May 18 at Bowman Gray Stadium. It was the first time a female driver carried the checkered flag in what is considered the second-highest division of racing at the Madhouse.
"My first reaction is the whole thing was just a huge relief," said the 20-year-old daughter of Denise and Ron Burchette (a former ARCA series racer). "It was just so hard. A lot of people don't understand all the crap my family and I have dealt with in getting to this point. It just feels so awesome to finally win!"
Despite stock car racing that has continued since 1949 under the NASCAR banner, lady winners have been few and far between at the famed quarter-mile. The very first female winner at the Madhouse was Pearl Brinkley of Lexington in 1952 in a "Powder Puff" exhibition. She was the mother of eight-time Modified champion Ralph Brinkley of Lexington. Excepting the "Powder Puff" specials, the decades of the 1950s to 1970s were mostly devoid of female competitors at the Madhouse.
Glenda Merritt of Winston-Salem became the first winner of a points-paying NASCAR race at Bowman Gray. She wrestled with a mammoth-sized luxury sedan in the now defunct Blunderbust division that excited fans from 1977 to 1988. Merritt, who raced using the moniker G.R. Merritt in part to avoid the limelight, was the 1982 Blunderbust champion. She remains the only female division champion at Bowman Gray.
Prior to Lynn's milestone, the exclusive list of lady winners at Bowman Gray hit the proverbial glass ceiling in the Street Stock division. Stokes County resident Susan Kimel paved the way with 11 victories in 168 Street Stock starts, most during the 1980s and 1990s.
Taylor Robbins of Winston-Salem currently has four Street Stock triumphs and Amber Lynn had three before moving up to Sportsman in 2018. "I hope my win opens the door for other female drivers to do well at Bowman Gray," she said. "Given the chance, women can drive a race car as good as a man, maybe even better in some cases. It all starts with believing in yourself. I believed in myself, in my team and my equipment."
Lynn said the most fun part of the Bowman Gray Stadium experience for her, has been the interaction with the fans. "Winning a Sportsman race has opened my eyes a little more on some things," she reflected. "It has made me notice even more how much a lot of the younger girls and teens look up to me. Whether we run good or bad, my hauler is normally surrounded with fans at the end of the night. Many of them are females. I hope this shows my fans, especially the young girls, they can achieve their dreams. My dream just happened to be driving a race car."
A self-confessed "daddy's girl," Lynn's interest in the sport was honed when she spent time in her father's race shop. "I used to have a little four-wheeler and I would take it apart and put it back together," she said with a smile. "I was just trying to be in the shop with my daddy." Pulling away from the Automobile Racing Club of America touring series, her father raced Late Models in the Carolinas as his daughter grew up.
"I can remember going to Caraway Speedway (near Asheboro) and seeing my dad race," she said. "I would play under the bleachers with the other kids most of the time. But when he was on the track, I didn't miss a lap of it." Ron Burchette officially passed the driving genes to his daughter when she was eight years old. "One of us was going to do it, but my sisters didn't want to have anything to do with it," Amber said with a laugh. "I started out racing a go-cart on dirt tracks and I took right to it. I was beating grown ups when I was 10."
One of the most notable accomplishments of Lynn's go-carting career was her "Queen of the Concrete" title on two occasions. "That's a really huge event held about a week before Christmas every year in the Greensboro Coliseum," she explained. "There's hundreds of entries and I would say it's the biggest go-cart race in this area. It was a thrill to win it twice." Her father deliberately kept her away from the tight confines of the Madhouse when she climbed into a full-size stock car. Lynn was the "Rookie of the Year" at 12 years old during a full season in the Limited Late Model division at Motor Mile Speedway near Radford, VA.
"We started traveling around a lot when I reached 13," she said. "My dad wanted me to experience racing on a variety of tracks. The hard part was getting used to wearing a full driving suit and all the safety equipment. Heck, I was used to driving a go-cart in ripped up jeans and a t-shirt" She got her first stock car racing victory in the Limited Late Model class at Caraway Speedway. "It took us a while before we were ready to give Bowman Gray a try," said Lynn. "But I don't think anything really prepares you for all the stuff you encounter at the stadium."
Her team decided against starting out in the more expensive and (and tougher) Sportsman division and entered Lynn as a rookie candidate in the Street Stock division. She quickly became a fan favorite, winning three races and contending for a 2017 Street Stock championship ultimately won by Jacob Creed of Mount Airy. "I will bite my tongue a little and just say there were some people who could not stand the idea of a girl winning a championship," said Lynn. "But winning races has started to get me some credibility in the pits. The racing community really boils down to respect and that's all I want."
She moved up to the Sportsman division in 2018 and it did not go smoothly. "We probably had more bad nights than good ones," she lamented. "But I always believed I could do it. It took me way longer than I wanted it to, but I knew a win would come."
Early arriving fans at Caraway Speedway on July 6th perhaps got a glimpse of the future for Amber Lynn when she hopped into an open-wheel Modified car for the very first time. The experiment ended prematurely when the throttle hung and sent the car into a wall. She was not seriously injured. "I was just really sore for a few days," she said. "But it was really fun. I am starting to get some Modified car owners and sponsors asking me about moving up. Amber Lynn in a Modified, I guess that would really get people talking!"
Randy Pettitt is the Track Announcer for Bowman Gray Racing, every Saturday night. He is also the host of the Triad Racing Podcast, available on Spotify, Google Podcasts, Apple Podcasts and more.