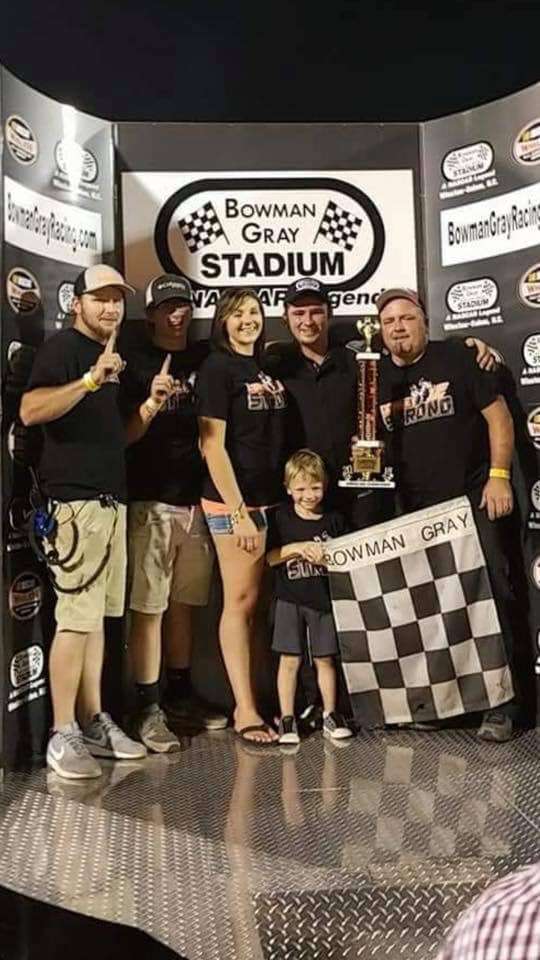 A rain-shortened first half of the Bowman Gray Stadium racing season has brought some familiar story lines and a few surprises among those contending for a 2019 championship at the Madhouse.

Perhaps the biggest surprise is found atop the McDowell Heating and Air Sportsman Series, where Justin Taylor of King has put together the finest season of his career on the famed quarter-mile.

"I'll have to give credit to Randy Armstrong at After Hours Speed Shop and my dad," said Taylor, a resident of King. "I can pick up the phone and tell the shop what the car is doing in practice and they are able to give me the perfect adjustments. We've had a fantastic season so far."

Taylor has a career-best three victories and nine top five finishes in 11 starts so far this season. He leads Kyle Southern of Rural Hall (another surprise contender) by 16 points with just six events left in the 2019 Bowman Gray schedule.

"Our next race (July 13th) is for double points and that one is really going to tell the tale as far as the championship goes," said Taylor, a five-time Sportsman winner during his career at the Madhouse.

He added: "I'm really not focused on a championship just yet. I still want to win the most races, that was our goal at the very beginning of the season. I said I wanted to be the one everybody wanted to beat and so far, I feel like we have been there."

Perhaps the biggest surprise in the Sportsman division lies in a list of drivers who have NOT won so far in 2019. That list includes 2018 champion Kevin Neal (11 BGS victories); Michael Adams (19 career victories) and John Holleman IV (17 victories).

Two drivers seeking their first championship are just four points apart in the Law Offices of John Barrow Street Stock division at the Madhouse. Winston-Salem's Jeremy Warren has one race victory and seven top 10 finishes in seven starts. Warren leads Jacob Creed of Mount Airy, the division's only repeat winner, by the difference of just one finish position in the upcoming double points event.

Brian Wall, with 12 career Street Stock victories, and four-time race winner Taylor Robbins have yet to visit the Carolina Wood Floors Winner's Circle at the Madhouse this season.

Familiar foes Burt Myers of Walnut Cove and Tim Brown of Tobaccoville each got their second victories of the season recently and are locked in a tight battle for the Brad's Golf Cars Modified championship.

Myers laid down the fastest qualifying lap of the season (13.217 seconds) on June 29 and led all the way in the first of two 25-lap races. It was defending champion Myers' 80th Modified victory at the Madhouse. Title contender James Civali wrecked early and dropped from second to fifth in the standings.

Brown finished seventh in the first race and won the second 25-lap event thanks to a favorable start in the "Madhouse Scramble" inversion. It was his 91st Modified triumph at Bowman Gray and helped him increase his point lead to 10 over Myers.

"Two double points nights left, so there is a lot of racing left to decide it," said Brown of his quest for a record 11th Bowman Gray track title.

Jonathan Brown of Winston-Salem, the breakout driver of the 2018 season, has surprisingly been shut out of the winner's circle so far. Brown got five of his 16 Bowman Gray victories in 2018. He has finished second (twice) and has seven top-five finishes in 10 starts. "We've been so close," he lamented.

In the same winless boat for 2019 are frequent Modified winners Jason Myers (33 career victories), Lee Jeffreys (21 victories); and Randy Butner and John Smith (both 17-time winners).

The all-time winning-est driver in the Q-104.1 Stadium Stock division, AJ Sanders of Mocksville, holds a 10-point lead over Lexington's Chuck Wall. Two-time track champion Sanders got his record 48th Stadium Stock victory at Bowman Gray on May 18th. Wall is a three-time champion and has one 2019 victory, his 19th at the Madhouse overall.

"Chuck Wall is one of the toughest competitors around," said Sanders. "We've been mixing it up on Friday nights at Ace Speedway (near Burlington) and both us are in the hunt at the Stadium this year. It's going to be a heck of a points battle at both places."

The O'Reilly Auto Parts 100 Modified race will be the main event of a $2 Ladies Night event when racing resumes on Saturday night, July 13th for the 1051st race event at the historic arena.