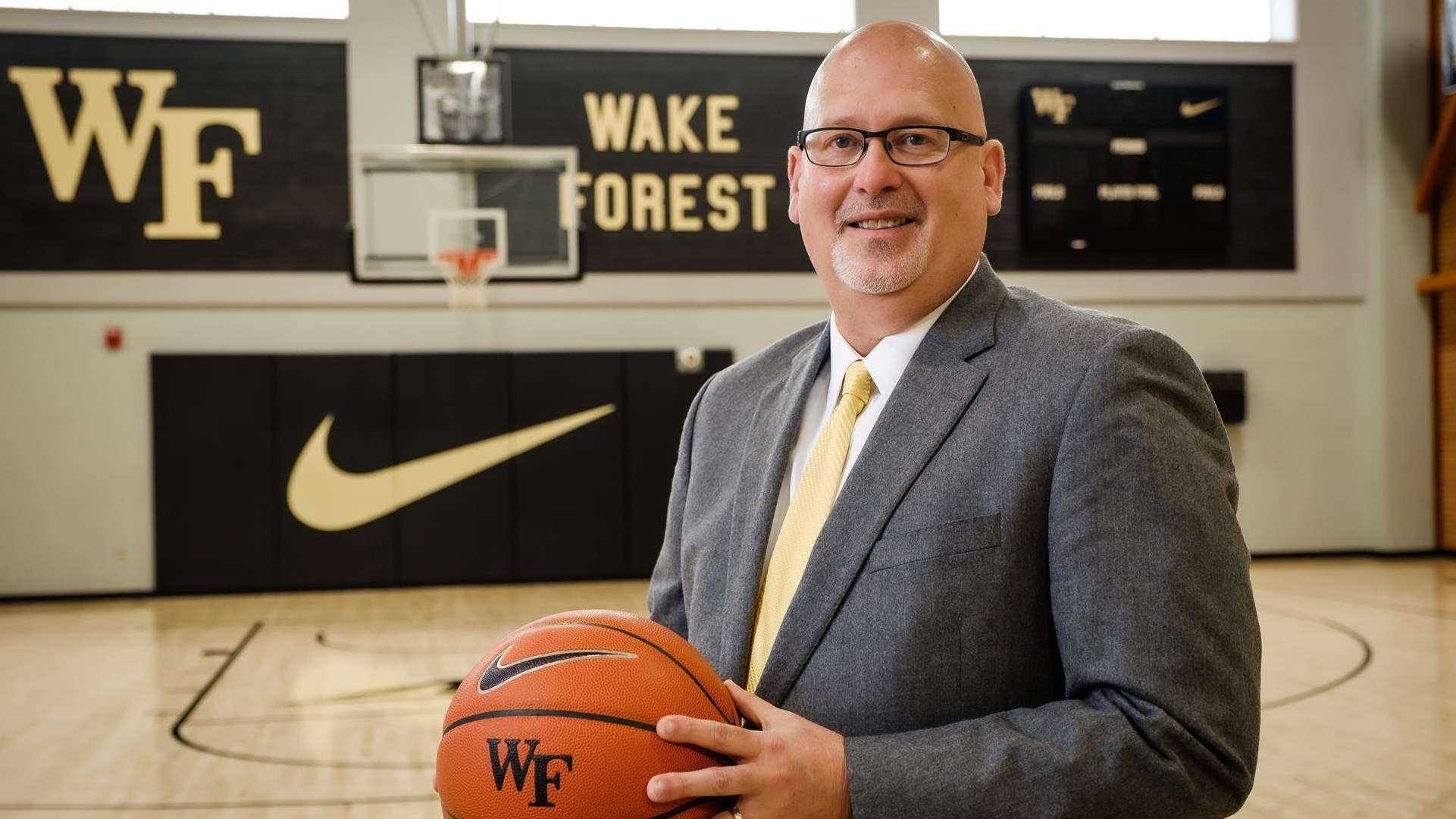 BY JAY SPIVEY
Change is in the air throughout Wake Forest and its men's basketball team.
After six seasons with Coach Danny Manning at the helm Manning was fired by Athletic Director John Currie in the spring and Coach Steve Forbes has taken over after coaching at East Tennessee for five seasons.
Manning was let go in April after an overall record of 78-111 at Wake Forest, including 13-18 overall and 6-14 the ACC. Forbes, 55, won 130 games at East Tennessee in his five seasons in Johnson City, Tenn., including going 30-4 and winning the regular-season and conference-tournament championships in the Southern Conference in March before the NCAA canceled the season that month because of COVD-19 concerns.
While coaching at East Tennessee Forbes won at least 24 games, and arguably just as important, he graduated all 22 of his seniors.
So after a disappointing last six seasons with Manning, having only one winning season when the Deacons finished 19-14 and 9-9 in the ACC in 2016-17. That season the Deacons reached its lone NCAA Tournament with Manning, but they lost in the First Four to Kansas State. And before Manning arrived the Deacons Jeff Bzdelik was the head coach for the Deacons for four seasons and finished with an overall record of 51-76 and 17-51 in the ACC. With Bzdelik, the Deacons only had one winning season, his final season of 2013-14 in Winston-Salem, finishing 17-16 overall and 6-12 in the ACC.
So with only two winning seasons in the previous 10 seasons under two head coaches there is a lot excitement in the air with Forbes taking over. He has a winning pedigree, and things have pretty much hit rock bottom for Wake Forest men's basketball. In addition he's the lone first-year coach in the ACC.
In addition to being a first-year coach having to do much of the offseason workouts through Zoom because of COVID-19, Forbes has only five returners — 6-8 Isaiah Mucius, 6-3 Jahcobi Neath, 6-9 Ody Oguama, 6-8 Sunday Okeke and 6-8 Ismael Massoud — who saw any significant playing time from last season. Mucius is the leading returning scorer (7.3 ppg), followed by Johnson (5.6), Neath (5.3), Massoud (4.8) and Oguama (2.9). Okeke missed most of last season with an Achilles injury.
The Deacons lost their top four scorers from last season — senior Brandon Childress (15.6), who played at East Forsyth and High Point Wesleyan, an is also the son of Wake Forest assistant coach and Wake Forest Hall of Famer Randolph Childress, Olivier Sarr (13.7), who transferred to Kentucky, Chaundee Brown (12.1), who transferred to Michigan, and senior Andrien White (9.0).
As far as new players at Wake Forest, those who follow high school basketball in the Triad, especially Winston-Salem and Forsyth County, will remember the names of former Mount Tabor player Isaiah Wilkins and former Winston-Salem Prep player Davien Williamson.
Wilkins, a 6-4 junior, played at Virginia Tech for three seasons before transferring to Wake Forest. Wilkins played in all 32 game last season as a sophomore for the Hokies and finished with 4.3 pig and 2.6 rebounds per game in 14.4 minutes per game.
Williamson, a 6-2 junior, played for Forbes for two seasons at East Tennessee before transferring to Wake Forest. Williamson started all 34 games last season for the Buccaneers and finished with 10.4 ppg, 2.6 assists per game, and 2 rpg in 27.9 minutes. Williamson was also named to the All-Southern Conference Tournament team.
In addition to both being from Winston-Salem Wilkins and Williamson both have something else in common. They both won the Winston-Salem Journal's Frank Spencer Award as being the top boys basketball player in Northwest North Carolina for a given season. Wilkins won in 2017 and Williamson won in 2018.
Wake Forest does have some recruited freshmen on the roster. Redshirt freshman Tariq Ingraham, from Philadelphia, missed all of last season with an Achilles injury. Freshman Emmanuel Okpomo, from Jackson, Miss., comes to Wake Forest after playing in high school at Oak Hill Academy in Mouth of Wilson, Va. He helped Oak Hill to a 37-3 record and averaged 7.6 ppg, 7.1 rpg and 3.1 blocks per game. Freshman Quadry Adams, 6-3, is from Piscataway, N.J. and played high school basketball at St. Thonas Aquinas. He finished 15.3 ppg, 4.3 rpg and 3.0 apg.
Wake Forest also has graduate transfers Jalen Johnson, Ian Dubose and Jonah Antonio. Johnson, 6-6, played at Tennessee, Dubose, 6-4, played at Houston Baptist, and Antonio, 6-5, is from Australia and played at UNLV.
The schedule won't be easy as it never is in the ACC, The league announced its schedule on Wednesday, with each of the 15 teams scheduled to play 20 conference games. The Deacons open the ACC schedule at home on Dec. 16 with a game against Associated Press preseason No. 4 Virginia, followed by another home game on Dec. 29 against perennial power Syracuse. The Deacons then have three straight road games against Georgia Tech, Virginia and Duke before coming home to play home games against Louisville and Virginia Tech.
Wake Forest does play home-and-away against Duke and N.C. State, but it only has one game against North Carolina, Jan. 19 in Chapel Hill.
Wake Forest's conference schedule is slated to end on either March 5 or 6 with a home game against Georgia Tech. The ACC Tournament is scheduled March 9-13 at Capital One Arena in Washington, D.C.