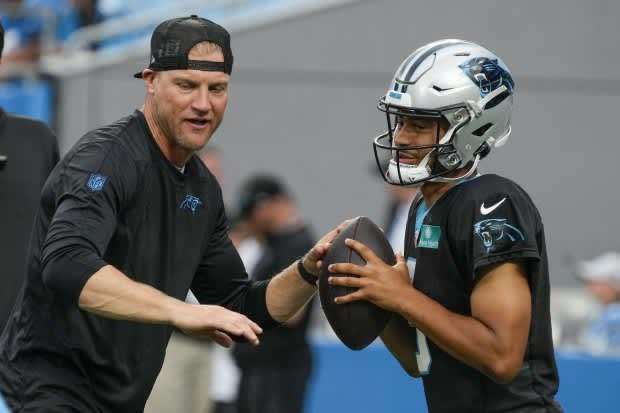 Some Panthers fans are ready to jump ship in week one!
Carolina blew a 10-7 lead against one of their divisional rivals the Atlanta Falcons, who capitalized on some Panthers mistakes to take a 24-10 opening day win. 
However, before you head for the lifeboats, let's look at four keys to victory for the Panthers in their second matchup!
Take care of the ball
There were a lot of expectations heading into 2023 number one pick Bryce Young's regular season debut.
There were some ups like his first career passing touchdown to tight end Hayden Hurst, there were also some lows like Young's two interceptions.
Newly acquired running back Miles Sanders also lost a fumble, which was a big momentum killer for a unit that had success moving the ball, especially on the ground.
The Panthers held a 10-7 lead late into the third quarter, but turnovers gave the Falcons opportune field position to tie the game, and eventually pull away in the fourth quarter. 
Looking ahead at the Saints matchup, if the Panthers can take care of the ball it will give this offense a chance to flourish.
The offense has to stay resilient 
After Bryce Young's first interception he came out the next drive and delivered a touchdown strike to Hurst. Young could've pouted and easily got down on himself, but mentally he's giving off veteran vibes.
You have to respect a young signal caller who stays resilient and pushes through the early struggles, the entire offense will have to mirror that mentality. This group had opportunities to put up more points but didn't capitalize in key moments.
The Panthers were effective moving the ball, they had 281 total yards, 154 of those were on the ground, they have a chance to follow that up with another solid performance.
 They have to establish the tone in the trenches, getting right tackle Taylor Moten back would be pivotal. 
Derrick Henry was held to just 63 yards last week when the Tennessee Titans matched up with New Orleans. This Saints defense will be a major challenge, but the Panthers did run for 171 yards the last time these squads matched up.
The receivers will have to create some separation, New Orleans came up with three interceptions last week, they obviously have some serious ballhawks. If receiver DJ Chalk is able to go, the Panthers will have a capable field stretcher to open things up. 
Defense has to keep doing what they're doing
The Panthers defense did their job for three quarters, holding Atlanta to just 10 points before giving up two touchdowns in the fourth quarter. The front seven has to lead the way, Brian Burns and Derrick Brown have to cause havoc. The Saints O-line gave up three sacks, they look a little suspect to say the least. 
Carolina absolutely can't let Derek Carr get comfortable and pick apart the secondary, he threw for 305 yards and a touchdown last week.  Jaycee Horn is a tough blow but CJ Henderson and company could be up for the challenge. 
Play four quarters  
Lastly they have to play a full game, four quarters of competitive football. This is a group still learning how to be consistent and how to win, but they are in a division that's seemingly up for grabs. So this is as good a time as any to learn.
If the Panthers can put together a full game and avoid shooting themselves in the foot, they have a fighting chance at walking away from this game one and one.
Follow Brandon Blakney on Twitter at @BrandonLeeTV and subscribe to his Youtube Channel HERE