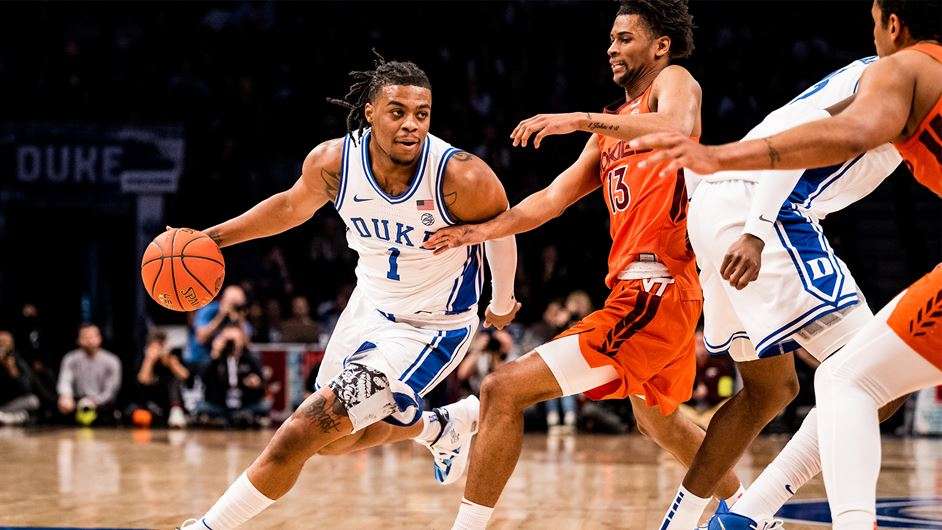 BROOKLYN, N.Y. – No. 7 Duke shot 49 percent from the field and closed numerous deficits throughout the second half, but Virginia Tech's hot shooting was too much to overcome as the Blue Devils fell to the Hokies, 82-67, in the ACC Championship game Saturday night at Barclays Center.
Freshman Paolo Banchero finished with 20 points on 8-of-10 shooting for Duke (28-6), which was seeking its 22nd ACC Tournament title. Virginia Tech (23-12) had other plans, and led by a 31-point eruption from Hunter Cattoor, the Hokies were able to increase their second-half advantage and earn the program's first ACC Tournament crown.
Cattoor was sensational all night, knocking down seven three-pointers on nine attempts. The Blue Devils cut the Tech lead to 67-60 with 6:30 left, but Cattoor answered with a deep step-back three to make it a double-digit contest once again. That proved to be too tall a hill to climb for Duke, which never got it closer than eight the rest of the way.
Junior Wendell Moore Jr., added 11 points for Duke, while freshman AJ Griffin scored 10. Keve Aluma had 19 points and a game-high seven assists for the Hokies. While Virginia Tech had a memorable night from three-point range (10-of-22), the Blue Devils struggled, finishing 4-of-20.
Duke also found itself in foul trouble early, as sophomore Jeremy Roach was called for three in the first half and Mark Williams picked up his fourth midway through the second.
The Blue Devils now await the NCAA Tournament Selection Show, which is set for Sunday at 6 p.m. ET on CBS.