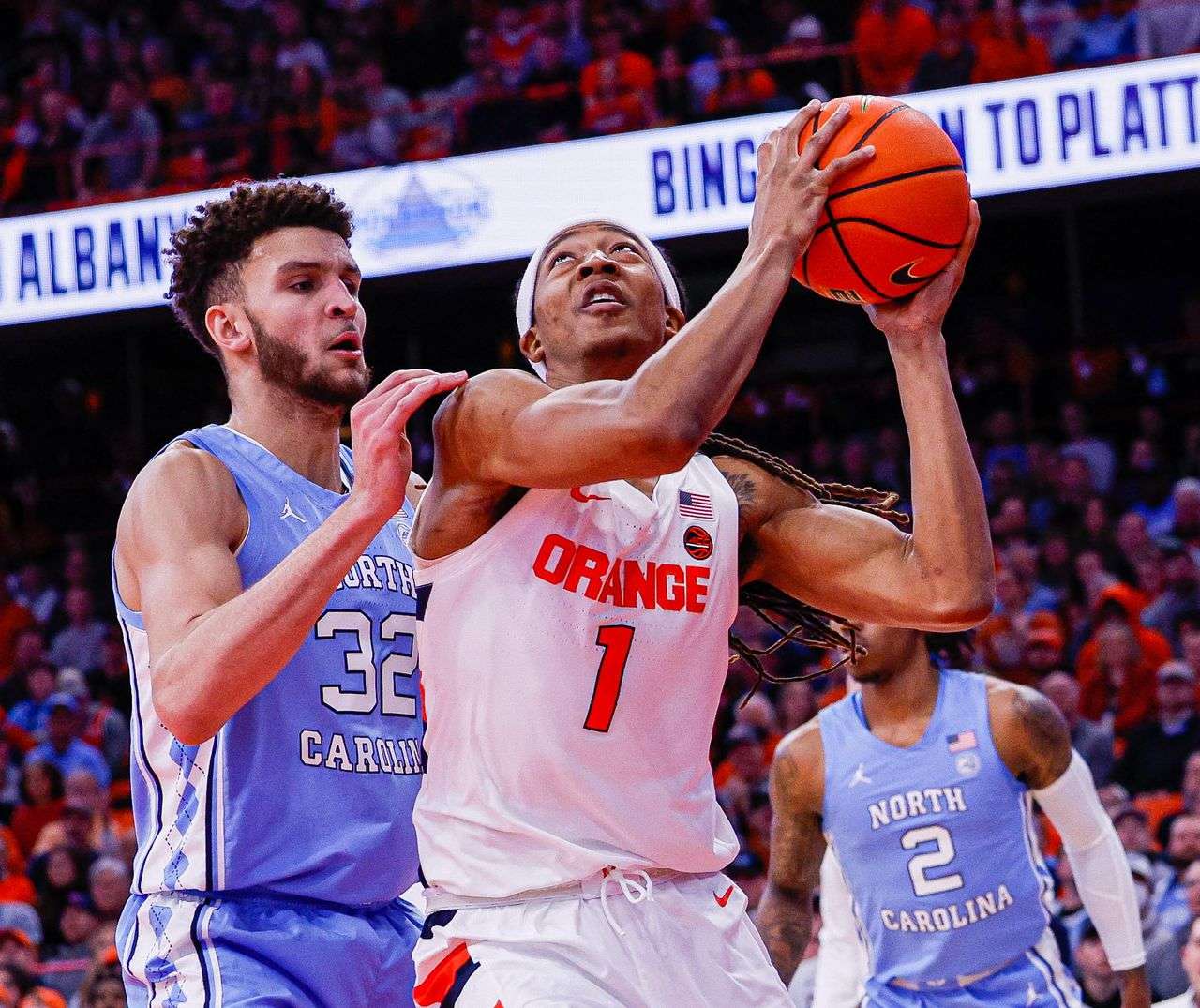 by Matt Bowers
SYRACUSE, N.Y.—North Carolina got big games from Pete Nance, Armando Bacot and Caleb Love on its way to a 72-68 win at Syracuse on Tuesday night at the JMA Wireless Dome.
Nance scored a game-high 21 points, hitting 8 of 10 free throws and connecting on two key, late-game buckets to seal the win. Bacot finished with 18 points and eight rebounds, and Love hit 3 of 5 three-pointers on his way to 15 points and five assists.
Carolina led by as many as 10 points with 12:43 remaining in the second half, only to see the Orange rally to take a 63-62 lead after Bacot picked up his fourth foul with 4:14 remaining. Nance responded with a layup 24 seconds later for a 64-63 UNC advantage.
RJ Davis came up big defensively in the final 11 seconds to seal the win for the Tar Heels. With 10.7 seconds left, Davis drew a charge from Syracuse's Judah Mintz in the lane. Mintz's elbow hit Davis in the face, sending him to the locker room with an injury. The officials whistled Mintz for a flagrant 1 foul, and Love hit one of two free throws in Davis' place to help seal the victory.
The Tar Heels (15-6, 7-3 ACC) have won four in a row and 10 of their last 12 games. Syracuse, which had won five of seven entering Tuesday night, dropped to 13-8, 6-4.
Carolina has won 16 of the last 21 in the series, including four in a row in Syracuse. UNC is 16-6 against the Orange overall, including 12-3 since Syracuse joined the ACC.
After dishing out just four assists in last Saturday's win over NC State, Carolina had 20 assists on 26 baskets in the win over Syracuse.
UNC closed the game on a 6-0 run in the final 21 seconds.
Despite missing nine of 23 free throw attempts against the Orange after hitting 36 of 39 in last Saturday's win over NC State, UNC held Syracuse to just 2 of 3 shooting from the charity stripe and led for 36:42 of the game's 40 minutes.
The Tar Heels have a week off between games and will return to action on Wednesday February 1 at home against Pittsburgh.