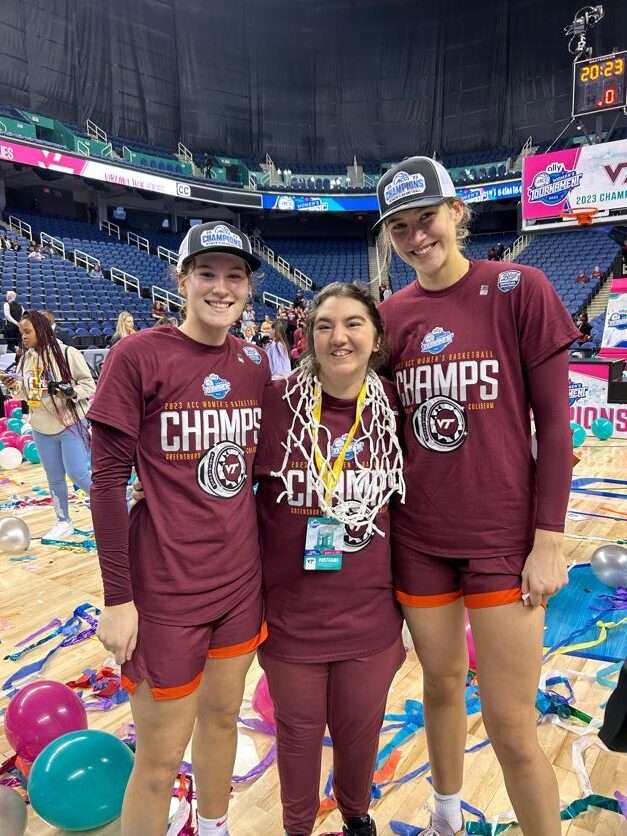 Cayla King,Liz Kitley end ACC season with Virginia Tech's first tournament championship
The year was 2016, March 12 to be exact and Cayla King was on the floor in pain. Not physical pain, but emotional anguish after Northwest Guilford fell to Raleigh Millbrook on a last-second shot to win the NCHSAA 4-A state championship. The tears in the press room following the game flowed freely from King and her fellow freshman, Elizabeth Kitley. What followed that moment was a run of some of the best and most dominant basketball the Triad (and the state) has ever seen in women's hoops.
Northwest Guilford rattled off two straight state championship seasons before losing in Kitley and King's final year, with Kitley battling an ACL injury and King with an injured ankle. Nonetheless the two friends headed to Blacksburg to join the Virginia Tech program. In four seasons, the duo has help lift a once-beleaguered program to national heights, none higher than a resounding 75-67 win over Louisville to win the 2023 Ally ACC Women's Tournament in Greensboro.
Kitley finished with 20 points and 5 rebounds while King snatched 7 rebounds, scored 4 points, and generally made Louisville star Haley Van Lith's life miserable with suffocating defense. To be fair, King has always been the coolest person in the room, even in high school. She never talks about herself (and hates doing serious interviews) and would much rather be dancing around and being silly. Kitley is the same way. Watch both of them in warmups and you'll notice little comments and giggling. Following the game, Cayla even grabbed a photographer's camera.
This is not new. However, she was serious when reflecting on Kitley's and her journey to this moment.
"I think it shows that we've both put in all the work," she said. "And we have a team that plays the right way so I feel like we really deserved it. Growing up, we came and watched the ACC tournament- it's almost like the full circle of life…watching it, being in it, and now finally winning it."
I caught up to the Giggler-in-Chief, Liz Kitley, wandering the floor afterward hand-in-hand with her sister, Raven. Raven is almost as big a star as her little sister in Blacksburg, as father Ralph told me prior to the game. Raven frequently gets stopped and and asked for selfies when the family is around, and the ACC Network just did a fantastic piece on the Kitley's strong familial bond.
"I'm extremely proud of my sister," an ebullient Raven said following the game.
"I wouldn't have been able to get to this point without their support," Kitley said of her family. I just appreciate them supporting me every single game, every single year. You know, I was eight years old when I started this so it's awesome."