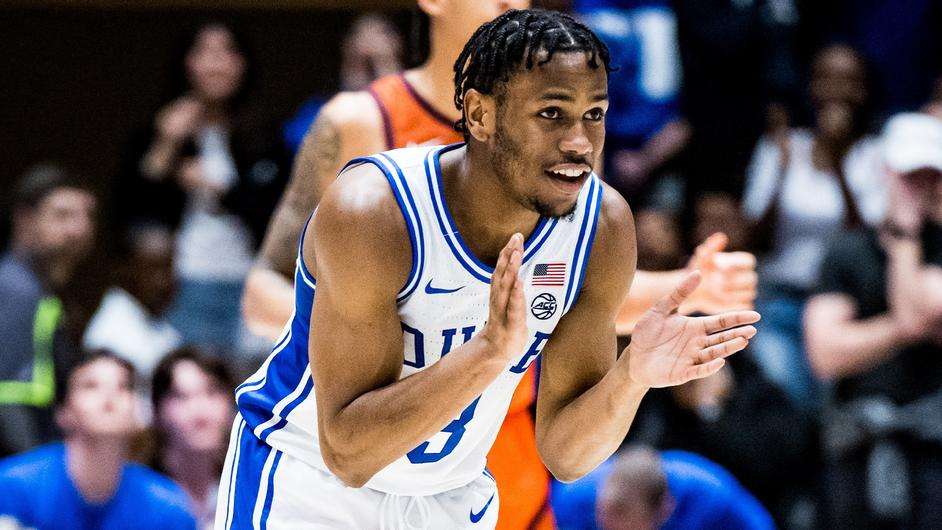 DURHAM – All five Duke starters scored at least 10 points for the second consecutive game as the Blue Devils (21-8, 12-6) defeated Virginia Tech, 81-65, on Saturday night. Jeremy Roach led the scoring efforts for the third consecutive game with 19 points on 8-of-13 shooting from the field and capped off his first career double-double with a career-high 11 assists. On the boards, Mark Mitchell led the Blue Devils with eight rebounds to help Duke out-rebound Virginia Tech, 37-26, marking the 24th time in 29 games that Duke has out-rebounded its opponent.
The five starters in double figures marked the first time since 2016 that Duke has done so in back-to-back games. The last time was against Rhode Island and William Mary on Nov. 20 and Nov. 23. Roach's 11 assists were the most by a Blue Devil player since Tre Jones had 11 against North Carolina on March 7, 2020.
HOW IT HAPPENED
After allowing a three-pointer on Virginia Tech's first possession of the game, Duke's defense responded by holding the visitors scoreless for the next four minutes. Two dunks by Dereck Lively II and an eight-point scoring run gave the Blue Devils the lead, 10-3, at the first media timeout of the night.
Duke extended its scoring run over the next three minutes, with a Jacob Grandison three-pointer making it a 14-point advantage, 19-5, forcing a Virginia Tech timeout with 13:07 remaining in the first half.
The visitors cut Duke's lead to six, 22-16, with just under 11 minutes on the clock. Duke responded with a 7-2 scoring burst to regain its double-digit advantage, 29-18.
Mitchell and Dariq Whitehead both connected on shots from beyond the arc and Duke remained in control, 37-28, at the final media timeout of the first half. The Blue Devils stayed steady heading into halftime, leading 43-32.
Jeremy Roach made a three-pointer less than two minutes into the second half, pushing the junior into double-digits. Roach has scored at least 10 points in eight of Duke's last nine games and in 15 total games this season.
Another shot from deep, this time courtesy of Tyrese Proctor, made it a 12-0 run and stretched Duke's lead to 20 points for the first time, 57–37, with 14:41 left in the game.
A quick six-point run by Virginia Tech led to a Duke timeout with 8:46 on the clock, with the Blue Devils still leading by double-digits, 64-47.
With his two free throws at the 5:10 mark, Filipowski became the fifth Duke player to reach 10 points and marked the second-straight game that all five starters for the Blue Devils finished in double figures. Lively's dunk with 2:20 remaining was his sixth of the game and gave the freshman a new career-high 12 points.
NOTES
Head coach Jon Scheyer now holds the Duke record for most wins by a first-year head coach, breaking the mark of 20 wins held by Harold Bradley (20-13 in 1950-51) and Gerry Gerard (20-6 in 1942-43).
Duke has won each of its first 15 home games as Scheyer extends the ACC record for longest home winning streak by a first-year head coach.
Duke's current four-game winning streak matches a season long – Duke also won four games between Nov. 18 and Nov. 25 and between Nov. 30 and Dec. 12.
Duke has recorded back-to-back games with all five starters scoring in double figures – it is the first time that has happened at Duke since games vs. Rhode Island (Nov. 20, 2016) and William & Mary (Nov. 23, 2016).
It was the fifth time this season that at least five Blue Devils scored in double figures.
Duke finished with 19 assists on 30 field goals – it has recorded 76 assists over its last four games (19.0 per game).
Duke has assisted on 67 percent of its field goals over the last four games – 76 of 114.
Duke is now 21-4 in games holding an opponent below its season scoring average.
Duke out-rebounded Virginia Tech, 37-26, the 24th time in 29 games that Duke has had a rebounding advantage. Duke is now 20-4 this season when out-rebounding the opponent. Since the start of 2020-21, Duke is now 52-8 when out-rebounding the opponent.
Duke is unbeaten at Cameron Indoor Stadium this season (15-0) and has posted an all-time record of 945-171 at Cameron Indoor.
Duke is the only Division I school with both its men's and women's basketball teams undefeated at home this season.
Junior Jeremy Roach has led Duke in scoring in each of the last three games – in four of the last five and six of the last eight — and is averaging 14.4 points over his last 11 games since returning from injury.
Roach's 11 assists were the most by a Blue Devils since Tre Jones has 11 vs. North Carolina on March 7, 2020.
Over the last two games, Roach has totaled 17 assists against three turnovers.
The five dunks were a season high for Dereck Lively II.
Including the game-winning three in the closing seconds versus Notre Dame, Mark Mitchell is 16 of his last 25 from the field (.640).
QUOTES
"It has been really important for us. Throughout the years, whether it was injury, whether it was adversity with a loss or a setback, we just kept saying 'stick together, stick together, let's be our best when it really matters.' I give these guys a lot of credit because they haven't pointed the finger and they continue to work. Each of them has gotten better." — head coach Jon Scheyer
"I think we were just really locked in on the personnel, locked in on the scout [report]. We know they run a lot of zoom actions and stuff like that. The first time, in Blacksburg, we kind of got caught up not talking and giving guys wide open threes in the first half, and that gives them confidence. So I kind of wanted to take their confidence away early and not give them anything easy, anything open, and I think we did that tonight." — junior guard Jeremy Roach
To stay up to date with Blue Devils men's basketball, follow the team on Twitter, Instagram and Facebook by searching "DukeMBB".