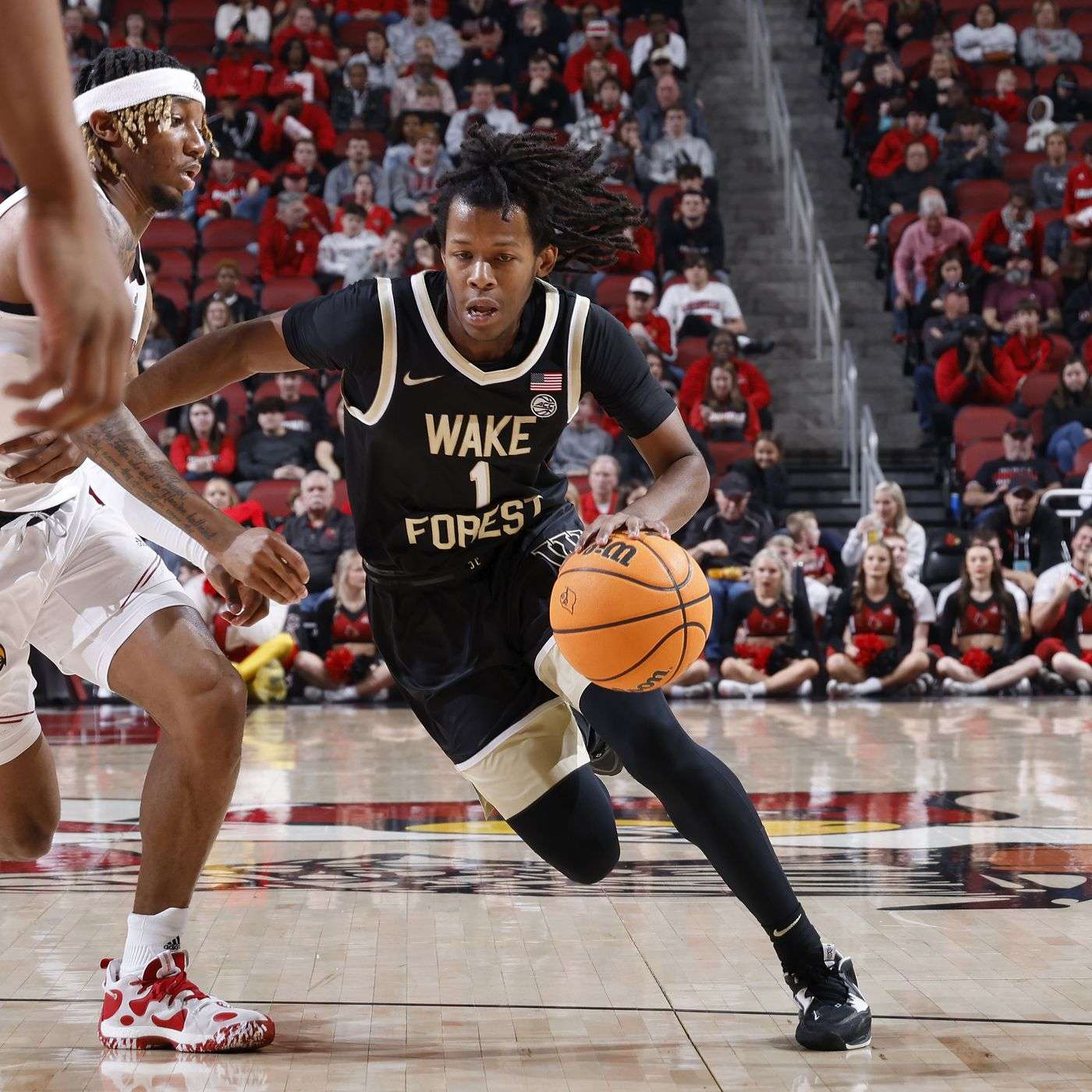 LOUISVILLE, Ky. – Out of state for the first time in the new year, the Wake Forest men's basketball team notched its third Atlantic Coast Conference win this season, defeating Louisville (2-14, 0-5) in an 80-72 decision on Saturday afternoon (Jan. 7).
The road win over the Cardinals marked the Deacs' first-ever victory inside KFC Yum! Center. Additionally, Wake Forest has now beaten the Cardinals in back-to-back contests, following a 99-77 last season in Lawrence Joel Veterans Memorial Coliseum. This is the first time Wake Forest has downed Louisville in consecutive matchups.
Saturday included a third straight performance of 10 or more three-pointers made as a unit by the Demon Deacons (11-5, 3-2). The group ultimately made 13 attempts from the outside, the second-most in a game this season. Wake Forest also tallied a collective field goal percentage of 53 percent (29-of-55) and went 41 percent from beyond the arc.
Damari Monsanto played as a spark in Wake Forest's strong shooting, as the redshirt junior poured in a team-high 21 points while succeeding on eight of 16 field goal attempts. Five of Monsanto's made shots were triples. It was his third season showing of 20 or more points.
Giving hustle on both ends, Cameron Hildreth had his most efficient performance of the 2022-23 campaign. The Worthing, England native stacked 19 points on 8-of-10 shooting while hauling in eight rebounds in 31 minutes. Hildreth's point total tied a career high.
Tyree Appleby and Daivien Williamson chipped in 13 points apiece, as Wake Forest had four individuals score in double-digits for the second contest in a row. Appleby also orchestrated the offense with a game-high eight assists. Matthew Marsh contributed six points and eight rebounds in 23 minutes.
Wake Forest returns to its home floor on Wednesday (Jan. 11) for a midweek meeting against the Florida State Seminoles. Tipoff is slated for 9 p.m. ET and the game will be broadcasted on ACC Network.

Standout Stats
Opponents were shooting 34 percent from downtown against the Cardinals. Wake Forest shot 40.6 percent (13-of-32) from three-point range on Saturday.

The Deacs' 13 makes are the second most in a game this season.
Wake Forest held the Cardinals to just 32.1 percent from three Saturday.

Wake Forest's 78 points in the KFC Yum! Center Saturday was the most allowed by the Cardinals this season and the most the Deacs have ever scored in that arena.
Cameron Hildreth's 19 points tied a career high.
Damari Monsanto reached over 20 points for the third time in 2022-23. Each of those such performances has involved five or more made three-pointers.

How It Happened
Marsh kick-started an 8-0 Wake Forest run to open the game as he slammed home a lob from Appleby just 13 seconds into the contest.

Carr knocked down a three pointer after a Monsanto steal before the redshirt junior guard hit a triple of his own at the 17:59 mark and forced Louisville into an early timeout.
Appleby recorded assists on the first three baskets of the game.

Appleby earned his first points with a layup before Monsanto took advantage of another Louisville turnover with his second three-pointer as Wake Forest took a 13-5 advantage into the first media timeout.
The Demon Deacons went on a 14-0 run over 6:11 minutes of action.

Williamson knocked down his first basket of the contest with a three as Appleby picked up his fourth assist on the first six made baskets.

Wake Forest tallied 12 points off four forced turnovers in the first five and a half minutes of action.

The Winston-Salem native connected on his second-straight basket to extend the lead to 11 with 12:04 remaining in the first half.
Hildreth turned two more Cardinal turnovers into six points as he hit a three and converted on a three-point play on back-to-back possessions.
Appleby closed out the run with a pull-up three-pointer to give Wake Forest a 27-7 lead.

The Florida transfer picked up his sixth assist of the half as he found Williamson open in the corner for the Deacs' seventh three-pointer with 7:04 remaining in the half.
Klintman became the fifth Demon Deacon with a triple as he knocked one down from the corner following a pass from Williamson.
Appleby and Hildreth each had a driving layup on back-to-back possessions to put Wake Forest up 40-23 with 1:32 to go in the half.
Williamson closed out the first half scoring for Wake Forest with a team season-high ninth three-pointer.
Wake Forest went into the locker room with a 43-26 advantage.

Williamson led Wake Forest in scoring in the first half with 11 on 4-of-6 shooting (3-of-5 for three).
Appleby closed out the half with seven points, seven assists and three rebounds.
As a team, the Deacs shot 55 percent from the floor and 45 percent from beyond-the-arc. Defensively, Wake Forest forced 10 turnovers and held Lousivlle to just 3-for-14 (21 percent) from three.

Monsanto opened the second-half scoring for Wake Forest with a pullup jumper.
Appleby knocked down a pullup three at the 18:54 mark for the Deacs' 10th of the contest.
Wake Forest used a 5-0 run, including consecutive baskets by Monsanto and Hildreth, to build its largest lead of the contest (53-31) with 14:50 remaining.
Hildreth became the fourth Demon Deacon to reach double digits with a layup with 14 minutes to go.
Monsanto hit his third triple of the game at the 12:22 mark as Wake Forest took an 18-point advantage into the media timeout.
Carr got the Deacs' back on the board with a second-chance hook shot with nine minutes left.
Appleby picked up his eighth assist as he found Marsh for an alley-oop for the second time in the game with 5:59 remaining.
Hildreth made a driving layup with three minutes to go and gave Wake Forest a six-point lead.
Monsanto knocked down his fourth three of the game and Appleby connected on a pair of free throws to regain an eight-point lead with just under two minutes to go.

The Florida native hit another three-pointer with 1:26 left in the contest to give the Deacs' a nine-point advantage.

Williamson closed out the game as he went 2-for-2 from the line to secure the 80-72 Wake Forest victory.

Coach's Comments
"I'm really proud of my team, to come in here today and get a win. We played great in the first half. With about 7:53 seconds left in the game, I think they had 44 points and to their credit, they put on the gas and they did a great job of putting pressure on the rim. They got a bunch of offensive rebounds. We fouled too much. That's the two worst things that can happen when we have a big lead, is when they could score when the clock's not moving and then the offensive rebounds. Mike James played really well. It hurt us when Ty got in foul trouble. I had to put him on the bench. They made a game of it. We were doubling the post, because our bigs didn't play very well and so that kind of helped them to get some open shots. Credit to my team for staying tough-minded when it was getting hard in there. I called a timeout and I think we scored five-straight times after that. Hildreth made some big shots and Monsanto made some big threes. Our guards played great. Our bigs did not play well, and so that's got to change moving forward." – head coach Steve Forbes

Upcoming
Wednesday, January 11 – vs Florida State – 9 p.m. ET – ACC Network
Saturday, January 14 – at Boston College – 8 p.m. ET – ESPN2/U
Tuesday, Jan. 17 – vs Clemson – 9 p.m. ET – regional Bally Sports networks