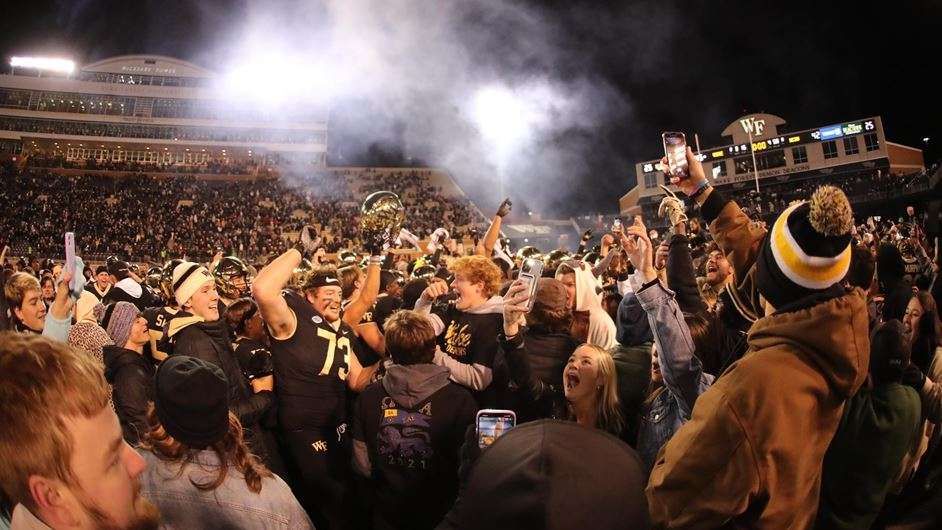 WINSTON-SALEM, N.C. — In front of the 11th-largest crowd in program lore (34,503) and the highest student attendance in Wake Forest history (4,584), the No. 12 Demon Deacons earned a hard-fought victory on Saturday night over No. 16 NC State inside Truist Field, 45-42.
Wake Forest is an astounding 15-2 at home since the start of the 2019 season and the Deacs have now won a program record nine-straight contests dating back to last season. Wake Forest's perfect 6-0 mark in 2021 is the program's first undefeated home record since 1979 and it is just the third time that this feat has been accomplished since its 1970 ACC Championship team.
The Wake Forest (9-1, 5-0 ACC) offense was fueled by a three-touchdown effort from Justice Ellison, while Sam Hartman set the new program record for career (63) and single-season (30) passing touchdowns. Meanwhile on Senior Day, tight end Brandon Chapman caught his first-career touchdown in the third quarter.
Defensively, Wake Forest collected a trio of turnovers as Nick Andersen and J.J. Roberts each recorded an interception while Traveon Redd collected a 47-yard fumble recovery that led to a five-yard rushing touchdown from Hartman.
Wake Forest has now had 14 different student-athletes record a turnover this season.
While Saturday marked the 115th meeting between both programs, it was just the second when each institution was ranked. Saturday's win over the No. 16 NC State Wolfpack marked Wake Forest's first win over a ranked opponent since Oct. 24, 2020 when the Deacs downed No. 19 Virginia Tech.
The last time Wake Forest defeated a team ranked higher than No. 16 was in 2018, when Dave Clawson's Demon Deacons downed No. 14 NC State on Nov. 8, 2018.
HOW IT HAPPENED
NC State took an early 3-0 lead after a successful 28-yard field goal less than four minutes into the contest.
A 24-yard contested touchdown reception from Sam Hartman to A.T. Perry gave Wake Forest their first lead (7-3) of the game halfway through the first quarter.
Wake Forest's defense forced its first three and out of the contest as the Wolfpack didn't gain a single yard on the drive.
The Wolfpack added their second field goal of the game from 46 yards to cut Wake Forest's lead to just one with two and a half minutes left in the first period.
Wake Forest found the end zone for the second-straight drive as Justice Ellison powered his way into the end zone from one yard out on the second play of the second quarter.
The Deacs used a 10-play, 75-yard drive to increase their lead (14-6) to eight, highlighted by a 34-yard pitch and catch from Sam Hartman to Ke'Shawn Williams on 3rd and 10 on NC State's 35-yard line.
Rondell Bothroyd and Jasheen Davis combined for Wake Forest's first sack of the game for a loss of seven yards to force NC State's second punt of the night following Ellison's rushing TD.
After a three-and-out by the Demon Deacon offense, JJ Roberts intercepted a pass on 2nd and 10 as Wake Forest maintained their lead 14-6 with possession on their own 49-yard line.
The Wolfpack intercepted a Hartman pass with 7:51 left in the first half. Undaunted, the Demon Deacon defense forced a three-and-out to maintain their eight-point lead with just over seven minutes remaining in the half.
The teams traded punts on their next two possessions. After a missed field goal by Nick Sciba, Traveon Redd recovered a fumble forced by JJ Roberts and added a 47-yard return to give Wake Forest the ball on NC State's five-yard line with 1:47 remaining in the first half.
Hartman increased the Demon Deacon lead to 21-6 with a five-yard touchdown rush on the very next play.
Wake Forest's lead was cut to 21-13 with a 28-yard touchdown pass by NC State following a 72-yard kickoff return by the Wolfpack.
The Wolfpack added another passing TD with just 28 seconds remaining in the first half as Wake Forest held a one-point lead.
Nick Sciba split the uprights on a 45-yard field goal to give Wake Forest a 24-20 halftime lead. The Deacs regained offensive possession following a 43-yard kickoff return by Taylor Morin.
NC State opened the second half with a 100-yard kickoff return for a touchdown, regaining the lead (27-24) for the first time since the first quarter.
Wake Forest produced a 12-play drive to regain the lead (31-27) as Hartman scrambled and found Brandon Chapman in the end zone at the 11-minute mark of the third frame.
The drive was kept alive on 4th down and nine as Hartman connected with Donald Stewart for a 26-yard gain through the air.
After trading three-and-outs, Nick Andersen made a diving interception with seven minutes left in the third quarter. On the next play, Hartman was picked off as NC State regained possession at their 31-yard line.
Wake Forest strung together an impressive 13-play, 75-yard drive that took 6:20 off the clock late in the fourth quarter, capped by Ellison's third touchdown of the game on a four-yard run.
NC State struck back with its own touchdown drive, also going 75 yards to cut the Demon Deacons' lead to 45-42.
The Wolfpack had one last attempt at a comeback cut short, as their onside kick was unsuccessful.
IN THE SPOTLIGHT
Wake Forest honored 21 football seniors prior to Saturday night's contest. The class includes veterans Brandon Chapman, Ja'Sir Taylor, Miles Fox, Sulaiman Kamara, Luke Masterson, Traveon Redd, Jaquarii Roberson, Nick Sciba and Zach Tom.
"It has been an honor and a privilege to be able to recruit and coach this amazing group of young men," head coach Dave Clawson said in a statement on Friday. "Their accomplishments on the field speak for themselves, but they can't just be measured in wins and losses. The relationships we have built with them over these past four, five and six years has been incredibly rewarding. Additionally, being able to witness their development off the field in the classroom and in the community has been so special. I look forward to honoring them before the game on Saturday."
During the game on Saturday evening, Traveon Redd recovered a fumble that added a 47-yard return to give Wake Forest the ball on NC State's five-yard line with 1:47 remaining in the first half. Meanwhile, it was a career night for Chapman as he recorded his first career touchdown on a 12-play drive that regained the Wake Forest lead, 31-27 at the 11-minute mark of the third frame.
STAGGERING STATISTIC
With 34,503 fans in attendance, the largest crowd since 2011 against Notre Dame, Wake Forest Athletics sold out its second-straight home game at Truist Field for the first time since 2006.
Oct. 7 vs. Clemson — 35,920
Nov. 4 vs. Boston College — 32,633
Nov. 18 vs. Virginia Tech — 36,723
This is the first time since the 2017 season that Wake Forest has sold out two games in the same season
Sept. 30 vs. Florida State — 31,588
Nov. 18 vs. NC State — 31,803
Additionally, 4,584 Wake Forest University students were in attendance, the largest student crowd ever.
FROM COACH CLAWSON
"I am proud of our team. This wasn't our cleanest game; we turned the ball over, we had some special teams miscues, but that may be the hardest I've had a football team play for 60 minutes. That was a high-level football game with two really good teams with great players and it came down to the final play. This game took a complete team effort. It's fun to play in games like this, and it's even more fun to win them. I am proud of our guys, but we have work in front of us. We will enjoy this one and then we have to get ready for Clemson."
UP NEXT
Wake Forest heads back on the road for their penultimate regular season contest of the 2021 season on Saturday, Nov. 20 against Clemson on ESPN inside Memorial Stadium. Kickoff is slated for 12:00 p.m.