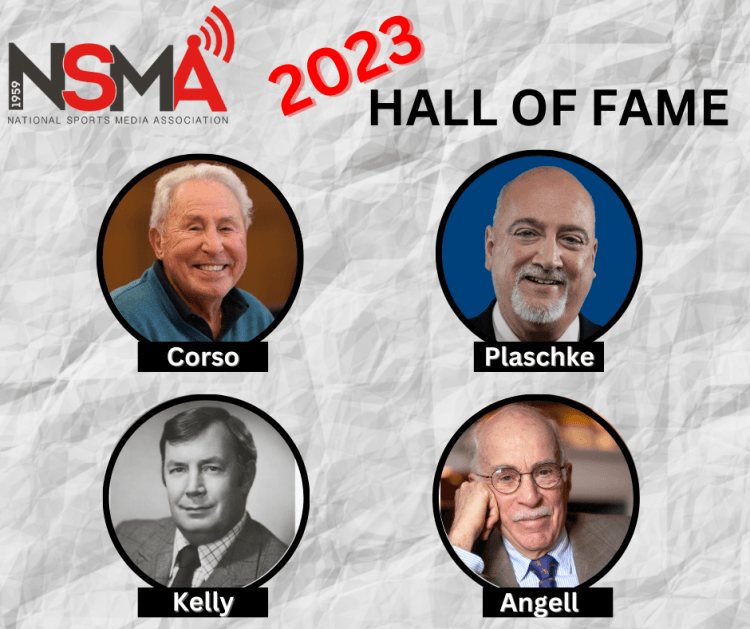 Winston-Salem, N.C. – The National Sports Media Association (NSMA) hosts its 63rd Awards Weekend & National Convention in Winston-Salem, June 24-26. The weekend features both educational, and celebratory events throughout the weekend.
More than 300 are people are expected to attend from all over the country, including Hall of Fame inductees Lee Corso (ESPN) and Bill Plaschke (LA Times, ESPN), National award winners Ian Eagle (CBS), Ken Rosenthal (The Athletic, FOX), and Pete Thamel (ESPN.com), and state sportscasters and sportswriters of the year from 36 states, plus the District of Columbia.
Additionally, the NSMA will honor:
Sports Journalism Institute and co-founders Leon Carter and Sandy Rosenbush, with the Roone Arledge Award for Innovation;
two-time Pulitzer Prize winner, David Maraniss for his 2022 Best Sports Book (Path Lit by Lightning);
2022 Best Sideline Reporter, Lisa Salters (ESPN);
2022 Best Young (Under 30) Reporter Andraya Carter (ESPN);
Big House Gaines College Basketball Coach of the Year (Div. I), Rodney Terry (University of Texas);
Big House Gaines College Basketball Coach of the Year (Div. II), Tynesha Lewis (Elizabeth City State University).
Festivities kick off with a welcome reception and dinner at the Winston-Salem Marriott on June 24.
On June 25, the first seven of 17 Sports Media Convergence Summit seminars will be held at the Marriott. The Sports Books Festival (free) follows at Bookmarks, 634 W 4th Street. Some of the award winners and guests will then be treated to a tour of Wake Forest University's athletics facilities, before returning downtown for Legacy Night at Gallery at the Benton. That event features the presentation of the Arledge, Best Sports Book, Best Sideline Reporter and Best Young Reporter awards.
Ten more Convergence Summit seminars are on tap for Monday, June 26. Attendees will then break for the 63rd NSMA Awards Reception and Banquet at Benton Convention Center, beginning at 5:00 p.m. NSMA board president, Wes Durham (Atlanta Falcons radio and ACC Network play-by-play announcer), is the night's master of ceremonies.
The Awards Weekend & National Convention is open to the public. Reservations may be made before June 16 at: https://bit.ly/3QM6qSh.