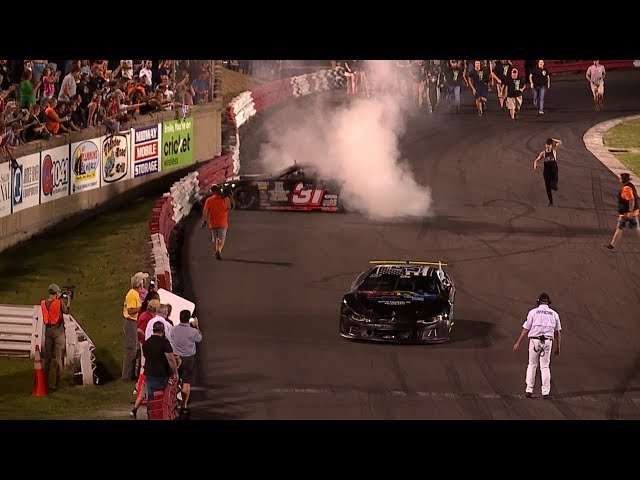 The 2023 Bowman Gray season is officially a wrap, while it was a championship night for the ages with tons of action. Coming into the night all four divisions were a three person race. With the closest battle being in the Street Stock with Christian Joyce holding a four point lead over Austin Jones. The second closest being in modified with Tim Brown with a seven point lead over Brandon Ward. While in the other two divisions, Chase Robertson held a 19 point lead over Zach Ore, and AJ Sanders held a 20 point lead over Brandon Brendle.
Sportsman would kick the night off with a 40 lapper to crown their champion. Riley Neal would start on the pole. Caution would come out lap five as Zack Ore would go spinning after contact from Michael Adams. Lap 21 more issues between Amber Lynn and Tommy Neal and they touch sending Neal into the water barrels.
Tommy would get out and show his displeasure with Amber, at first he would try and get on the mule until he was stopped by officials then second he would throw a water bottle at her window. Lap 39 Zack Ore would grab the lead from Riley Neal and go on to win the race. While Chase Robertson would claim his first championship.
Nate Gregg would finish the race third, followed by Chase Robertson in fourth, and Billy Gregg finished fifth.
Next up would be the AgSouth Farm Credit 150 for Modified. Lee Jeffreys and Burt Myers held the front row. Lap five Myers would take the lead, Lap 42 trouble for one of the championship favorites Chris Fleming would go on top of Dan Speeney's car ending his day, also involved would be James Civali.
Then on lap 61 a scary crash as Dan Speeney would make contact with Slate Myers sending Speeney flying over the guardrail. Speeney would return to the track afterwards. Late in the race, contact between Jr Snow and Tim Brown sent Snow around. Snow would then go on to retaliate against Brown multiple times, putting an end to Tim Browns quest for a three peat and his 13th Bowman Gray Championship.
Back to racing, with Burt Myers going on to win for the 91st of his career. And for the first time since 2015 someone not named Brown or Myers will win the Brad's Golf Car's Championship as Brandon Ward is your Modified champion.
Over in the Law Offices of John Barrow Street Stock division, the points race came down to three drivers Christian Joyce, Austin Jones and Brad Lewis as they were separated by just eight points. With double points night, meant four points per position, so the championship was pretty much up in the air.
Austin Jones looked like the clear favorite with starting up front but early trouble ended his chances. As Donnie Martin and Chase Lewis would battle for the lead, Zack Staley would get momentum and work his way to take the lead to go on and score the victory.
However, Staley failed post race inspection and would be disqualified, giving Chase Lewis, who finished runner up of the race, the win.
Christian Joyce would finish second, just behind Chase Lewis, to secure his points lead and the championship.
The Q104.1 Stadium Stock Series would close out the 75th season and 2023 season at the famed quarter mile track. A.J. Sanders led second place Brandon Brendle by 20 points coming into Saturday's race, finished in fourth to hold on for his fourth championship and second consecutive.
Brandon Brendle would win his third consecutive race and picking up his sixth win of the season, one ahead of Chuck Wall for the most wins in Stadium Stock.
Isaac Harris finished runner up, followed by Chuck Wall third, AJ Sanders fourth, and Stephen Sanders fifth.
Follow us on Social media for the latest news on Bowman Gray Racing!
Facebook: SportsCarolina Monthly
Twitter: SportsCarolina Monthly and Cody Heacox
RACE RESULTS: August 19
BRAD'S GOLF CARS MODIFIED SERIES
AgSouth Farm Credit 150
| | | |
| --- | --- | --- |
| FINISH | CAR | DRIVER |
| 1 | 1 | Burt Myers |
| 2 | 04 | Brandon Ward |
| 3 | 4 | Jason Myers |
| 4 | 57 | Danny Bohn |
| 5 | 9 | Kyle Southern |
| 6 | 79 | James Civali |
| 7 | 69 | John Holleman IV |
| 8 | 44 | Daniel Beeson |
| 9 | 99 | William Smith |
| 10 | 83 | Tim Brown |
| 11 | 3 | Danny Propst |
| 12 | 91 | Junior Snow |
| 13 | 75 | Lee Jeffreys |
| 14 | 10 | Dan Speeney |
| 15 | 77 | Susan Harwell |
| 16 | 37 | Mike Speeney |
| 17 | 39 | Gerald Robinson Jr. |
| 18 | 68 | Dave Matthews |
| 19 | 6 | Slate Myers |
| 20 | 16 | Chris Fleming |
| 21 | 45 | Lee Stimpson |
| 22 | 35 | Brandon Butner |
| 23 | 89 | Eddie Collins |
| 24 | 5 | Randy Butner |
| 25 | 88 | Ethan Stoltz |
| 26 | 14 | Cory Lovette |
MCDOWELL HEATING & AIR SPORTSMAN SERIES

| | | |
| --- | --- | --- |
| FINISH | CAR | DRIVER |
| 1 | 55 | Zack Ore |
| 2 | 07 | Riley Neal |
| 3 | 28 | Nate Gregg |
| 4 | 31 | Chase Robertson |
| 5 | 98 | Billy Gregg |
| 6 | 7 | Connor Branch |
| 7 | 19 | Michael Adams |
| 8 | 12 | Justin Taylor |
| 9 | 54 | Braden Mills |
| 10 | 24 | A.J. Bernys |
| 11 | 99 | Tyler Ashley |
| 12 | 2 | Amber Lynn |
| 13 | 38 | Mitch Gales |
| 14 | 51 | Austin Taylor |
| 15 | 22 | Wesley Thompson |
| 16 | 15 | T. Dawson |
| 17 | 21 | Tommy Neal |
| 18 | 37 | Chris Massie |
| 19 | 77 | Spencer Martin |
LAW OFFICES OF JOHN BARROW STREET STOCK SERIES

| | | |
| --- | --- | --- |
| FINISH | CAR | DRIVER |
| 1 | 06 | Chase Lewis |
| 2 | 1 | Christian Joyce |
| 3 | 16 | Brad Lewis |
| 4 | 13 | Kevin Gilbert |
| 5 | 24 | Austin Jones |
| 6 | 00 | Donnie Martin |
| 7 | 03 | Cody Gum |
| 8 | 02 | David Creed |
| 9 | 10 | Craig Hartless |
| 10 | 0 | Kirk Sheets |
| 11 | 23 | Jordan Atkins |
| 12 | 9 | Justin Cummings |
| 13 | 77 | Evan Ingleston |
| 14 | 25 | Cooper Lowe |
| 15 | 4 | Emilee Lewis |
| 16 | 30 | Zachary Cogar |
| 17 | 21 | Wes Glascoe |
| 18 | 19 | Robbie White |
| 19 | 12 | Nick Wall |
Q104.1 STADIUM STOCK SERIES
"A" Race
| | | |
| --- | --- | --- |
| FINISH | CAR | DRIVER |
| 1 | 43 | Brandon Brendle |
| 2 | 59 | Isaac Harris |
| 3 | 81 | Chuck Wall |
| 4 | 24 | A.J. Sanders |
| 5 | 8 | Stephen Sanders |
| 6 | 69 | Brandon Crotts |
| 7 | 40 | Kenny Dixon |
| 8 | 54 | Justin Owens |
| 9 | 16 | Blaine Curry |
| 10 | 60 | Brad Mickalowski |
| 11 | 27 | Austin Cates |
| 12 | 7 | James Allison |
| 13 | 74 | Matt Alley |
| 14 | 14 | Ken Bridges |
| 15 | 25 | Matt Goodwin |
| 16 | 26 | Ricky Wall |
| 17 | 46 | Wyatt Sapp |
2023 FINAL POINTS STANDINGS

BRAD'S GOLF CARS MODIFIED SERIES
| | | | |
| --- | --- | --- | --- |
| RANK | CAR | DRIVER | POINTS |
| 1 | 04 | Brandon Ward | 708 |
| 2 | 83 | Tim Brown | 683 |
| 3 | 1 | Burt Myers | 671 |
| 4 | 75 | Lee Jeffreys | 629 |
| 5 | 16 | Chris Fleming | 622 |
| 6 | 4 | Jason Myers | 614 |
| 7 | 91 | Junior Snow | 605 |
| 8 | 69 | John Holleman IV | 556 |
| 9 | 44 | Daniel Beeson | 535 |
| 10 | 5 | Randy Butner | 457 |
| 11 | 3 | Danny Propst | 429 |
| 12 | 10 | Dan Speeney | 426 |
| 13 | 57 | Danny Bohn | 402 |
| 14 | 99 | William Smith | 309 |
| 15 | 37 | Mike Speeney | 286 |
| 16 | 39 | Gerald Robinson Jr. | 273 |
| 17 | 77 | Susan Harwell | 262 |
| 18 | 9 | Kyle Southern | 249 |
| 19 | 79 | James Civali | 188 |
| 20 | 14 | Cory Lovette | 137 |
| 21 | 89 | Eddie Collins | 134 |
| 22 | 35 | Brandon Butner | 118 |
| 23 | 13 | Jordan Fleming | 108 |
| 24 | 45 | Lee Stimpson | 105 |
| 25 | 15 | Brian Loftin | 104 |
| 26 | 72 | Bryant Robertson | 98 |
| 27 | 6 | Greg Butcher | 88 |
| 28 | 21 | Jonathan Brown | 87 |
| 29 | 88 | Ethan Stoltz | 87 |
| 30 | 51 | Drew Moffitt | 80 |
| 31 | 6 | Slate Myers | 67 |
| 32 | 6 | Luke Smith | 62 |
| 33 | 92 | Brody Jones | 52 |
| 34 | 07 | John Smith | 46 |
| 35 | 50 | Ross BooBoo Dalton | 40 |
| 36 | 40 | Luke Fleming | 38 |
| 37 | 81 | Zack Clifton | 32 |
| 38 | 68 | Dave Matthews | 32 |
| 39 | 55 | Jeremy Gerstner | 26 |
| 40 | 21 | Dylan Ward | 26 |
| 41 | 70 | Andrew Harrah | 26 |
| 42 | 99 | Frank Fleming | 24 |
| 43 | 21 | Tommy Neal | 24 |
| 44 | 41 | Brad Robbins | 20 |
| 45 | 49 | Junior Reeves | 20 |
MCDOWELL HEATING & AIR SPORTSMAN SERIES
| | | | |
| --- | --- | --- | --- |
| RANK | CAR | DRIVER | POINTS |
| 1 | 31 | Chase Robertson | 754 |
| 2 | 55 | Zack Ore | 747 |
| 3 | 07 | Riley Neal | 738 |
| 4 | 19 | Michael Adams | 682 |
| 5 | 2 | Amber Lynn | 646 |
| 6 | 12 | Justin Taylor | 641 |
| 7 | 7 | Connor Branch | 561 |
| 8 | 03 | Sterling Plemmons | 553 |
| 9 | 21 | Tommy Neal | 504 |
| 10 | 38 | Mitch Gales | 493 |
| 11 | 28 | Nate Gregg | 483 |
| 12 | 22 | Wesley Thompson | 456 |
| 13 | 15 | T. Dawson | 450 |
| 14 | 54 | Braden Mills | 436 |
| 15 | 51 | Austin Taylor | 346 |
| 16 | 6 | Kirk Sheets | 304 |
| 17 | 98 | Billy Gregg | 278 |
| 18 | 24 | A.J. Bernys | 186 |
| 19 | 77 | Spencer Martin | 145 |
| 20 | 13 | Tucker Myers | 122 |
| 21 | 37 | Chris Massie | 99 |
| 22 | 99 | Tyler Ashley | 82 |
| 23 | 13 | Gage Williams | 40 |
| 24 | 13 | Blake Shinault | 40 |
| 25 | 88 | Chris Taylor | 32 |
| 26 | 66 | Dean Blevins | 25 |
| 27 | 1 | Nick Wall | 10 |
| 28 | 8 | Casey Kepley Jr | 9 |
LAW OFFICES OF JOHN BARROW STREET STOCK SERIES
| | | | |
| --- | --- | --- | --- |
| RANK | CAR | DRIVER | POINTS |
| 1 | 1 | Christian Joyce | 702 |
| 2 | 16 | Brad Lewis | 690 |
| 3 | 24 | Austin Jones | 686 |
| 4 | 00 | Donnie Martin | 584 |
| 5 | 23 | Jordan Atkins | 558 |
| 6 | 10 | Craig Hartless | 540 |
| 7 | 70 | Cale Martin | 536 |
| 8 | 13 | Kevin Gilbert | 530 |
| 9 | 06 | Chase Lewis | 514 |
| 10 | 03 | Cody Gum | 480 |
| 11 | 30 | Zachary Cogar | 412 |
| 12 | 21 | Wes Glascoe | 400 |
| 13 | 25 | Cooper Lowe | 386 |
| 14 | 99 | Bryan Sykes Jr | 382 |
| 15 | 19 | Robbie White | 376 |
| 16 | 9 | Justin Cummings | 314 |
| 17 | 4 | Emilee Lewis | 314 |
| 18 | 7 | Zack Staley | 290 |
| 19 | 12 | Nick Wall | 184 |
| 20 | 02 | David Creed | 184 |
| 21 | 77 | Evan Ingleston | 150 |
| 22 | 98 | Billy Gregg | 100 |
| 23 | 0 | Kirk Sheets | 96 |
| 24 | 79 | Conner Shaw | 66 |
| 25 | 2 | Willie Wall | 48 |
| 26 | 9 | Jim Shoaf | 30 |
| 27 | 17 | Aaron Stoltz | 22 |
| 28 | 17 | Travis Teague | 14 |
Q104.1 STADIUM STOCK SERIES
| | | | |
| --- | --- | --- | --- |
| RANK | CAR | DRIVER | POINTS |
| 1 | 24 | A.J. Sanders | 780 |
| 2 | 43 | Brandon Brendle | 772 |
| 3 | 59 | Isaac Harris | 736 |
| 4 | 81 | Chuck Wall | 734 |
| 5 | 16 | Blaine Curry | 692 |
| 6 | 8 | Stephen Sanders | 678 |
| 7 | 69 | Brandon Crotts | 620 |
| 8 | 54 | Justin Owens | 532 |
| 9 | 27 | Austin Cates | 508 |
| 10 | 74 | Matt Alley | 474 |
| 11 | 60 | Brad Mickalowski | 462 |
| 12 | 25 | Matt Goodwin | 426 |
| 13 | 40 | Kenny Dixon | 424 |
| 14 | 18 | Billy Andrews | 412 |
| 15 | 26 | Ricky Wall | 406 |
| 16 | 46 | Wyatt Sapp | 406 |
| 17 | 14 | Ken Bridges | 392 |
| 18 | 7 | Chris Allison | 386 |
| 19 | 7 | James Allison | 374 |
| 20 | 50 | Terry Torrence | 342 |
| 21 | 98 | Darrell Foster | 340 |
| 22 | 2 | Carson Reed | 318 |
| 23 | 51 | Andrew Cates | 294 |
| 24 | 01 | Joel Stewart | 256 |
| 25 | 55 | Jeremy Smith | 252 |
| 26 | 90 | Robert Strmiska | 244 |
| 27 | 5 | Connor Keaton | 242 |
| 28 | 41 | Austin Shumate | 240 |
| 29 | 28 | Robert Mabe | 234 |
| 30 | 48 | Junior Smith | 230 |
| 31 | 17 | Andy Southern | 228 |
| 32 | 58 | David Beauchamp | 196 |
| 33 | 48 | Kenny Flippin | 186 |
| 34 | 56 | Drew Mason | 164 |
| 35 | 97 | Zac Cameron | 164 |
| 36 | 95 | Billy Cameron Jr | 162 |
| 37 | 31 | Kyler Staley | 150 |
| 38 | 46 | Tyler Bush | 148 |
| 39 | 05 | Victor Flores | 146 |
| 40 | 04 | Conner Sheets | 126 |
| 41 | 52 | Nick Bell | 124 |
| 42 | 23 | Blake Spears | 106 |
| 43 | 11 | Sydney Sanders | 104 |
| 44 | 7 | Brandon Clements | 96 |
| 45 | 46 | Luke Smith | 86 |
| 46 | 49 | Shawn Hayes | 56 |
| 47 | 2 | Bobby Reed | 42 |
| 48 | 33 | DJ Dean | 36 |
| 49 | 26 | Jody Tingler | 36 |
| 50 | 52 | Jonathan Call | 28 |
| 51 | 58 | Cody Arrington | 24 |
| 52 | 95 | Levi Holt | 16 |