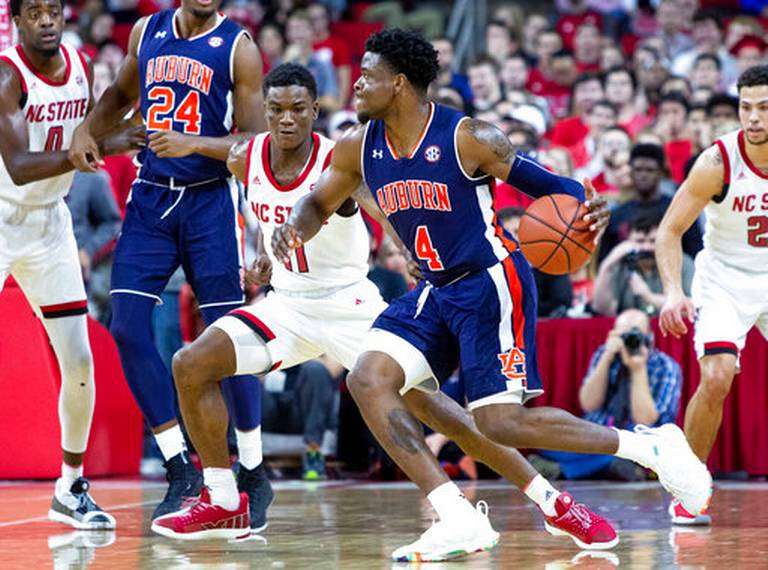 Markell Johnson has career night, leads the Wolfpack to victory with 27 points
RALEIGH, NC – The NC State men's basketball team defeated the No. 7 Auburn Tigers, 78-71, Wednesday night inside PNC Arena to improve to 10-1 on the season.
NC State is off to a best start to a season since the 2005-06 team started 12-1.
The Pack is now 4-1 under head coach Kevin Keatts against top-10 ranked teams.
NC State made five of its last six field goals in the closing minutes and shot 57.7% from the floor in the second half.
Markell Johnson led the Wolfpack in a career-high night with 27 points. Devon Daniels (15 points) and Braxton Beverly (15 points) followed suit as Beverly put up his third-straight double-digit game. Igniting the Pack in the second half, Johnson rattled off 13 points in the first 12 minutes of the closing half to give NC State a 57-49 advantage.
Shooting 50% from three-point range in the second half as a team, Johnson and Beverly went 9-for-13 from beyond the arc in the game.
Braxton Beverly and Markell Johnson started the night off hot for the Pack, combining for the team's first 13 points of the game, with 8 points and 5 points respectively. During that surge, NC State went on an 8-0 run over a three-minute span to gain a 15-4 lead.
Auburn responded with a 16-3 run over five minutes to claim the lead, 26-25. The Tigers would only hold the lead for 44 seconds in the game.
Struggling from beyond the arc, Auburn went 0-for-5 from long range in the first half, but posted 24 points in the paint compared to NC State's 6 points.
Beverly tallied 14 points in the half to steady the Pack, including shooting 4-for-5 from 3-point range.