Wake Forest vs. NC State: Demon Deacons quarterback hit tight end Jack Freudenthal over the middle for a 32-yard, game-winning touchdown pass with: 30 seconds to play to help Wake Forest upset No. 14 NC State on the road in Raleigh 27-23. Wide receiver Sage Surratt caught 8 passes for 109 yards in the win for Wake. Pack quarterback Ryan Finley finished with 374 yards passing and a touchdown in the loss.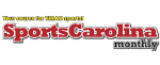 History of Bowman Gray Stadium
Carolina Panthers
Host Desmond Johnson with Rod Funderburk, Brandon Blakney, Aaron Gabriel. Kevin Avery from the...

Gerald McCoy took his talents to the Carolinas and signed with the Panthers.