Wake Forest vs. NC State: Demon Deacons quarterback hit tight end Jack Freudenthal over the middle for a 32-yard, game-winning touchdown pass with: 30 seconds to play to help Wake Forest upset No. 14 NC State on the road in Raleigh 27-23. Wide receiver Sage Surratt caught 8 passes for 109 yards in the win for Wake. Pack quarterback Ryan Finley finished with 374 yards passing and a touchdown in the loss.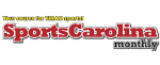 History of Bowman Gray Stadium
Carolina Panthers
Episode 5- -AAF signings and player visits. -Julius Peppers community contributions on and off...

Welcome to the 4 man rush podcast. Kevin Avery, Kevin Trice, Will Harris, and...