Wake Forest vs. Miami: The Hurricanes took care of the Demon Deacons in the first round of the 2019 New York Life ACC Tournament, 79-71. Anthony Lawrence led Miami with 20 points and 10 rebounds. Brandon Childress and Jaylen Hoard each had 16 points for the Demon Deacons. Miami will next face No. 16 Virginia Tech in the second round.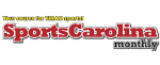 History of Bowman Gray Stadium
Carolina Panthers
How the Raptors have come back from a 2-0 deficit, Will Kawhi stay?, did...

Tight end Greg Olsen said he's been "cleared for everything for a while now,"...