Wake Forest vs. Miami: The Hurricanes took care of the Demon Deacons in the first round of the 2019 New York Life ACC Tournament, 79-71. Anthony Lawrence led Miami with 20 points and 10 rebounds. Brandon Childress and Jaylen Hoard each had 16 points for the Demon Deacons. Miami will next face No. 16 Virginia Tech in the second round.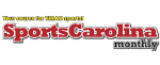 The Rundown – Most Hated UNC/Duke players
Carolina Panthers
Kevin, Larry and Will talk about The new Panthers signings from last week, take...

Carolina passed on Irvin early in 2012 draft in favor of Luke Kuechly; now...