Houston Baptist vs. Wake Forest: The Huskies beat Wake Forest 93-91 in overtime. Ian DuBose hit a game-tying 3 pointer with under a second to play in regulation before Houston Baptist came out on top in the extra period. Brandon Childress scored a game-high 27 points for the Deacs, while Jaylen Hoard added 22 in the loss.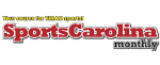 Live with Brandon Blakney
Carolina Panthers
What should the Cowboys pay Dak Prescott? When should the rookie QBs start? Jay-Z...

Now available on all major podcast outlets.