Houston Baptist vs. Wake Forest: The Huskies beat Wake Forest 93-91 in overtime. Ian DuBose hit a game-tying 3 pointer with under a second to play in regulation before Houston Baptist came out on top in the extra period. Brandon Childress scored a game-high 27 points for the Deacs, while Jaylen Hoard added 22 in the loss.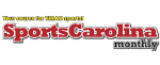 The Rundown – When will Harper and Machado sign
Carolina Panthers
The Carolina Panthers believe Cam Newton could be ready for training camp after last...

CHARLOTTE, N.C. — Carolina Panthers defensive end Julius Peppers, fourth on the NFL's career...