Houston Baptist vs. Wake Forest: The Huskies beat Wake Forest 93-91 in overtime. Ian DuBose hit a game-tying 3 pointer with under a second to play in regulation before Houston Baptist came out on top in the extra period. Brandon Childress scored a game-high 27 points for the Deacs, while Jaylen Hoard added 22 in the loss.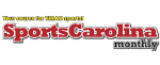 History of Bowman Gray Stadium
Carolina Panthers
After breakfast with Ron Rivera and lunch with several future teammates, McCoy started feeling...

Did the Raptors miss a golden opportunity in Game 2 of the NBA Finals…Why...