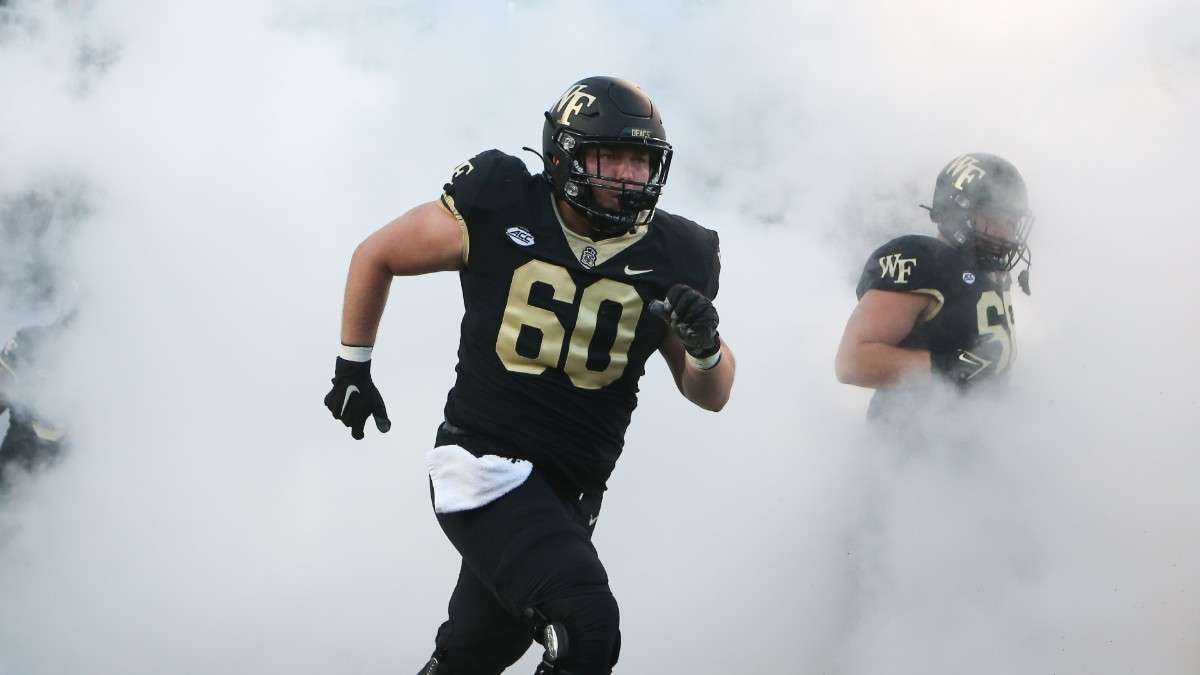 courtesy GoDeacs.com
WINSTON-SALEM, N.C. — The Wake Forest football team (3-0) secured a 37-36 Homecoming victory over Liberty on Saturday, Sept. 17 at Truist Field. The hard-fought win was witnessed by a crowd of 32,891 – the second-largest crowd in the head coach Dave Clawson era.

Additionally, Saturday's sellout marked Wake Forest's first in the month of September since 2006 when the Deacs hosted Syracuse (Sept. 2, 2006). Overall, this is just the third sellout in the month of September this century. The victory on Saturday marked the Deacs 11th-straight victory inside Truist Field, which is the longest home winning streak in program history.

Wake Forest earned its seventh-consecutive victory over a Virginia based opponent with the win and Coach Clawson holds a combined record of 9-1 against Virginia based programs during his tenure in Winston-Salem.

Offensively, the Demon Deacons were led by redshirt junior quarterback Sam Hartman as he finished 26-of-44 passing for 325 yards and three passing touchdowns. Two of his passing touchdowns went to sophomore Jamal Banks and one to redshirt junior Blake Whiteheart.

Hartman broke the Wake Forest all-time passing mark, eclipsing Riley Skinner (2006-09) with a five-yard pass to Ke'Shawn Williams in the third quarter against. Following Saturday, he has now thrown for 9,891 career passing yards, moving into the top 10 in ACC history. The Charlotte, N.C. native will look to become the 131st player in NCAA history and just the ninth passer in the history of the ACC to eclipse the 10,000-yard passing barrier next week against No. 4 Clemson.

Defensively, Wake Forest forced four turnovers including interceptions from redshirt senior Isaiah Wingfield and juniors Chelen Garnes and Chase Jones. Additionally, sophomore cornerback forced the game's decisive fumble that senior linebacker Ryan Smenda, Jr. recovered late in the fourth quarter. That aforementioned turnover led to Hartman's third touchdown pass of the game.

Since the start of the 2016 season, Wake Forest holds a record of 20-5 (.800) in September. This includes eight of the nine seasons in the Dave Clawson era with multiple wins in the month.

The Deacs return to Truist Field next weekend against No. 4 Clemson on Saturday, Sept. 24 at 12 p.m. Tickets are available here and there are limited tickets available so fans are encouraged to buy now. The contest will be broadcast on ABC.

Additionally, this will be the first WEAR BLACK SATURDAY game of the season as Demon Deacon fans are encouraged to dawn their best black Wake Forest gear.

HOW IT HAPPENED
After winning the coin toss and choosing to defer, Wake Forest forced a Liberty turnover on downs, as Wake Forest sophomore defensive back Malik Mustapha sacked Flames quarterback Kaidon Slater on 4th-and-7.
On the ensuing possession, Wake Forest would get the first points of the night on a 33-yard field goal, as redshirt junior quarterback Sam Hartman completed two 10-plus-yard passes to Donavan Greene.
Liberty attempted to tie the game at 3-3 on the Flames' second possession of the game, but Nick Brown's 52-yard attempt went wide.
The two sides would then each be forced into a three-and-out (with Wake Forest containing Liberty for three-straight negative plays including a sack by sophomore defensive lineman Jasheen Davis) before the Demon Deacons tallied their first touchdown of the night with 13:19 to go in the second quarter, as Hartman found sophomore wide receiver Jahmal Banks in the corner of the end zone.

The touchdown marked his second of the season, as the Washington, D.C., native also scored against VMI in Wake Forest's opener and put the Old Gold & Black up, 10-0.

Just three plays after Banks' touchdown, redshirt senior defensive back Isaiah Wingfield recorded his first interception as a Demon Deacon as he jumped a pass to pick off Liberty quarterback Johnathan Bennett.
Liberty, however, would secure an interception of its own on the very next play and the Flames drove to the Wake Forest 29-yard line. LU got its first points of the night on a 47-yard field goal.
Wake Forest would respond quickly with three points of its own as Hartman twice connected with sophomore wide receiver Ke'Shawn Williams, including a 42-yard reception.
Junior defensive back Chelen Garnes recorded his first-career interception with 5:40 left in the second quarter.
The Demon Deacons were unable to move the chains following the pick before they had a punt blocked that went out of the back of the end zone for a safety.
Wake Forest would then secure its third interception of the first half, as junior linebacker Chase Jones took advantage of a tipped pass to give the offense the ball back.

The interception was the first for Jones in 31 career games.

The turnover would result in a second Demon Deacon touchdown of the opening half, as Wake Forest would need just five plays to drive 63 yards as Hartman found redshirt junior tight end Blake Whitehart for the score.

It was the fifth-career touchdown for the Winston-Salem native and his second of the 2022 campaign.

Liberty concluded the first half with a 28-yard field goal as time expired to make it a 20-8 advantage for Wake Forest going into the break.

Wake Forest held Liberty to 71 yards of total offense in the opening half including just 21 passing yards, a new season-low for the Demon Deacon defense.

On Hartman's first pass completion of the second half – a 5-yard out-route to Williams – he became Wake Forest's all-time passing leader at 9,763 yards, surpassing Wake Forest Sports Hall of Famer Riley Skinner.

Skinner's record had stood since the 2009 season.

Following a Wake Forest three-and-out to open the second half, the Flames would cut into the Demon Deacons lead further as Kaidon Slater's 43-yard keeper found the end zone.
Another Wake Forest three-and-out opened the door for Liberty to take its first lead of the night, as Dae Dae Hunter also found the end zone on a 43-yard run.

The Flames would convert on their two-point conversion attempt to make it 23-20.

Wake Forest was forced into his second interception of the night midway through the third quarter, Liberty's Robert Rahimi got in front of a pass intended for Whitehart.
After forcing a Liberty punt, Wake Forest orchestrated a 16-play, 61-yard drive that was capped off by a 46-yard field goal by Dennis to tie the game back up at 23 apiece.
On Liberty's ensuing possession, the Deacs forced the Flames into their fourth turnover of the night as Mustapha forced the ball free before senior linebacker Ryan Smenda Jr. scooped up the ball and returned it 18 yards to the four-yard line.
Hartman would find Banks for the second time in the game on a three-yard score with Dennis' extra point putting Wake Forest back in front 30-23.

The score marked the first multi-touchdown game of Banks' career.

Liberty once again tied it up with 5:50 remaining in the fourth quarter, as the Flames converted on a 4th-and-7 play for a 38-yard touchdown.
Wake Forest surged back in front for good with 3:39 remaining, as sophomore running back Justice Ellison punched in a one-yard touchdown run to cap off a six-play, 75 yard drive.

The touchdown was Ellison's first of the season and 10th of his career.

In the waning minutes of the fourth quarter, Liberty marched down the field before a spectacular 18-yard catch in the end zone on 4th-and-4 pulled the Flames back within one with 1:11 left.
Liberty would go for a two-point conversion and the win, but a collective effort stopped CJ Yarbough in his tracks and short of the game-winning points.
Wake Forest would secure the ensuing onsides kick before getting into victory formation.
IN THE SPOTLIGHT
Redshirt junior Sam Hartman has now broken the Wake Forest all-time passing mark, eclipsing Riley Skinner (2006-09) with a five-yard pass to Ke'Shawn Williams in the third quarter against Liberty on Saturday. He has thrown for 9,891 career passing yards.
Sam Hartman (2018-present), 9,891.
Riley Skinner (2006-09), 9,762
Tanner Price (2010-13), 8,899
John Wolford (2014-17), 8,794
Brian Kuklick (1994-98), 8,017
Hartman is looking to become the 131st player in NCAA history and just the ninth passer in the history of the ACC to eclipse the 10,000-yard passing barrier for his career, joining elite company. Additionally with his performance Saturday, Hartman has moved into the top 10 in career passing yards in conference history:
Philip Rivers, NC State (2000-03) — 13,484
Kenny Pickett, Pitt (2017-21) — 12,303
Tajh Boyd, Clemson (2010-13) — 11,904
Ryan Finley, NC State (2014-18) — 10,501
Sam Howell, North Carolina (2019-21) — 10,283
Deshaun Watson, Clemson (2014-16) — 10,168
Trevor Lawrence, Clemson (2018-20) — 10,098
Thaddeus Lewis, Duke (2006-09) — 10,065
Brad Kaaya, Miami (2014-16) — 9,968
Sam Hartman, Wake Forest (2018-Pres.) — 9,891
STAGGERING STATISTICS
Wake Forest University announced a sellout for Saturday's game on Friday afternoon. With 32,891 people in attendance, this marked Truist Field's highest attended crowd since the 2021 regular season in a 45-42 victory over No. 16 NC State.

Additionally, Saturday's sellout marked Wake Forest's first in the month of September since 2006 when the Deacs hosted Syracuse (Sept. 2, 2006).

Overall, this is just the third sellout in the month of September this century.

FROM COACH CLAWSON
"It's hard to win. It's very hard to win, and that was a gritty four-quarter team win. There were about four or five plays there that if you don't make one of them, we don't win the game. The play Jacorey Johns made on the reverse, the catch Ke'Shawn (Williams) made on the 2nd-and-18 down the middle, the touchdown pass to Jahmal twice on third down. Our guys played hard. Give Liberty a lot of credit. In a lot of ways, they outplayed us. They moved the ball. They had a great plan of taking clock off and shortening the game. They really designed some good things. They did a great job on defense, they really did. They blitzed us, and got after us and did a nice job covering us. We just made so many mistakes. The blocked punt, we missed a lot of tackles, we had false starts, holds and just too many penalties. But, it always comes down to if you can win turnover margin by three or four. We won the turnover margin by two and Ryan Smenda's play to get the thing down there. But we found a way and that is one of the signs of a good team when you don't have your fastball and you still can figure out a way to win. We figured out a way to win. Barely, but we'll take it. It was great to have a great homecoming crowd. It was our first September sellout since 2006. Certainly, congratulations to Sam being Wake Forest's all-time leading passer and our defensive effort was really good. We just couldn't get them off the field on fourth down and that's why it became a game. So again, a lot of credit to Liberty and Coach Freeze. Those guys coached and played their butts off. Like I said, a lot of ways they outplayed us. All those turnovers proved to be the difference in the game. Clearly, we have a lot to work on before next Saturday."

UP NEXT
The Deacs return to Truist Field next weekend against No. 4 Clemson on Saturday, Sept. 24 at 12 p.m. Tickets are available here and there are limited tickets available so fans are encouraged to buy now. The contest will be broadcast on ABC.

Additionally, this will be the first WEAR BLACK SATURDAY game of the season as Demon Deacon fans are encouraged to dawn their best black Wake Forest gear.