Memphis vs. Wake Forest: Demon Deacons quarterback Jamie Newman racked up 419 total yards and was responsible for 4 touchdowns in a 37-34 win over the Tigers at the Birmingham Bowl. Newman rushed for the eventual game-winning touchdown with under 1:00 to play before a game-tying Memphis field goal attempt missed to the right. Wide receiver Alex Bachman caught 7 passes for 171 yards in the win that was Wake's 3rd consecutive bowl victory.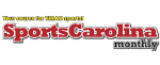 History of Bowman Gray Stadium
Carolina Panthers
Host Desmond Johnson with Rod Funderburk, Brandon Blakney, Aaron Gabriel. Kevin Avery from the...

Gerald McCoy took his talents to the Carolinas and signed with the Panthers.