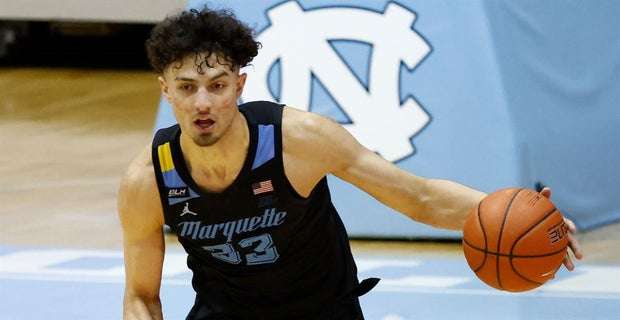 New Tar Heels Head Coach Hubert Davis has been busy.
Marquette transfer and former four-star big man, Dawson Garcia, announced he will be transferring to North Carolina on Thursday, according to a report from 247Sports.
"I will be going to North Carolina," Garcia told 247Sports. "Just because Hubert's plan for me and just being around the team. I really enjoyed the whole atmosphere around the campus as well. I'm going to be on the biggest stage and I think that we're going to have a chance to win the National Championship."
Garcia, a 6-foot-11, 220-pound big man, was ranked as the No. 32 overall prospect in the 2020 recruiting class. Garcia chose UNC over Illinois, Marquette and Arizona.
When asked what led to his choice of North Carolina, Garcia explained, "It's not that one school is bad but that it's great versus great versus great. But, I would say what separated North Carolina was just the stage and Hubert's plan on how he was going to use me, just those two things combined."
Garcia will provide size and ability for Davis as he enters his first season as the Tar Heels basketball Head Coach.
"I think I will bring my playmaking and scoring ability," he said. "Coming back with some experience in year two, I would say some leadership as well and just my competitiveness as well."
Garcia is North Carolina's fifth addition to their 2021 class in this cycle, joining transfers Justin McKoy and Brady Manek as well as incoming freshmen Dontrez Styles and D'Marco Dunn.
Garcia averaged 13-points and 6.6-rebounds in 29.7 minutes a game, during his freshman season at Marquette.