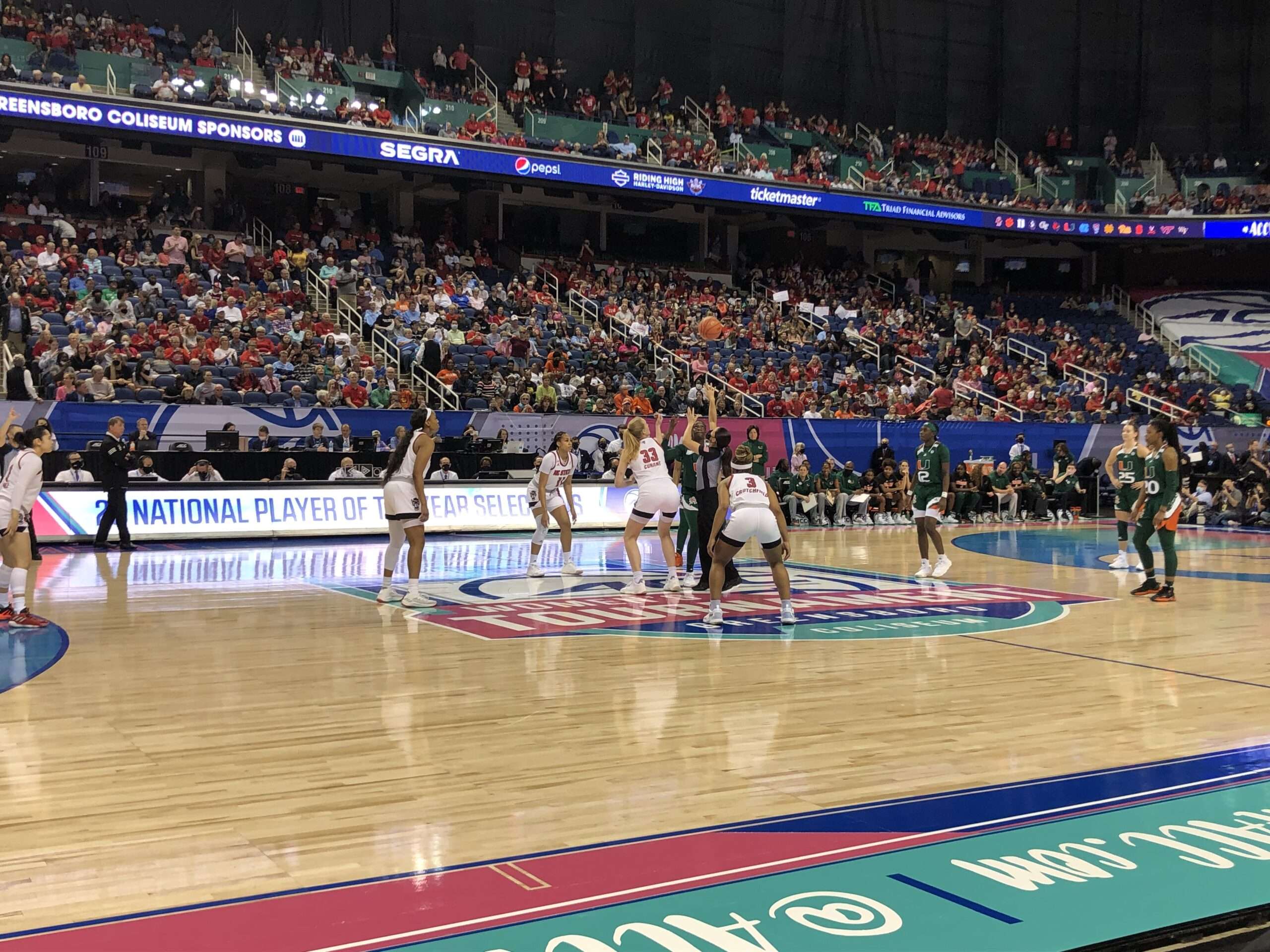 GREENSBORO — Summerfield native Elissa Cunane scored 17 points and took home the tournament Most Valuable Player award while leading third-ranked N.C. State (29-3) to a 60-47 win over Miami to sweep both the ACC regular season and tournament titles. The Northern Guilford product scored in double figures in each game the Wolfpack played in Greensboro, and added some (unneeded) drama by tumbling to the floor and tweaking her ankle in the third quarter. Cunane hobbled off the court and left the arena floor with a trainer, only returning at the quarter break. With the Pack up big without her presence, she rode a stationary bike for a few minutes until she re-entered the game to a thunderous roar from the Pack faithful in attendance. Cunane quelled any lingering fears about her health after the game, saying she would be ready for the NCAA tournament.
"I just took a bad fall, but I'm good and I'll be back out there," she said. "Get a little treatment the next couple days and be back out there."
Tournament organizers had to be overjoyed that the Wolfpack made the final again, considering how quickly the other three "Big Four" teams were eliminated this year. Throw in the absence of the good-traveling Louisville and Notre Dame fans, and there would normally be some concern about attendance for the weekend's showcase event. Instead, cars were lined up trying to get into the coliseum parking lot 30 minutes before tip time, and almost all available seating was occupied by someone wearing red – and likely making a racket.
"Greensboro has been unbelievable," Wolfpack coach Wes Moore said. "I'm trying to see if we can be maybe a No. 2 seed and get sent to Greensboro. We'll see if we can talk to the committee about that."
Miami (20-12) was playing its fourth game in as many days, having survived down-to-the-wire finishes in each. In one of the biggest upsets in recent tournament history, Miami took down fourth-ranked Louisville in the quarterfinal round, cutting short a large Louisville crowd's weekend in Louisville. Coach Katie Meier was concerned about her team's collective legs for the semifinal against Notre Dame, and after dispatching the Irish had to be questioning where the energy would come from. Meier said following the game that she saw the fatigue set in, and it manifested itself in different ways.
"I just saw behavior in my team a little bit of — like staring at the ref and asking for a foul, she said. "We haven't acted like that all year. And some of those runs were fueled by our immaturity, a little bit of an emotional — yeah. If you're ever going to have an empty fuel tank, I think it is on the fourth day after playing three amazing teams to get here and then playing the best team in the conference on the last day and asking your kids to defend their brains out."
The Wolfpack wore down the Hurricanes, using their tremendous depth to wear down the Miami roster. Raina Perez added 12 points, while Diamond Johnson scored 11, including some big free throws down stretch when Miami once again threatened a comeback. The Wolfpack lead stretched to 21 with 9:46 left in the fourth quarter, before Miami closed ranks and trimmed the margin to 11 with just over two minutes remaining. Alas, that Kelsey Marshall (24 points) bucket was the last for the Hurricanes, who now wait to see where they are seeded in the NCAA tournament. Any doubts that Miami was a tournament team dissolved after their second round win over Duke and their potential seed skyrocketed after upsetting Louisville. The ACC should get 9 teams into the NCAA tournament, and could potentially snag an astounding 10 bids.