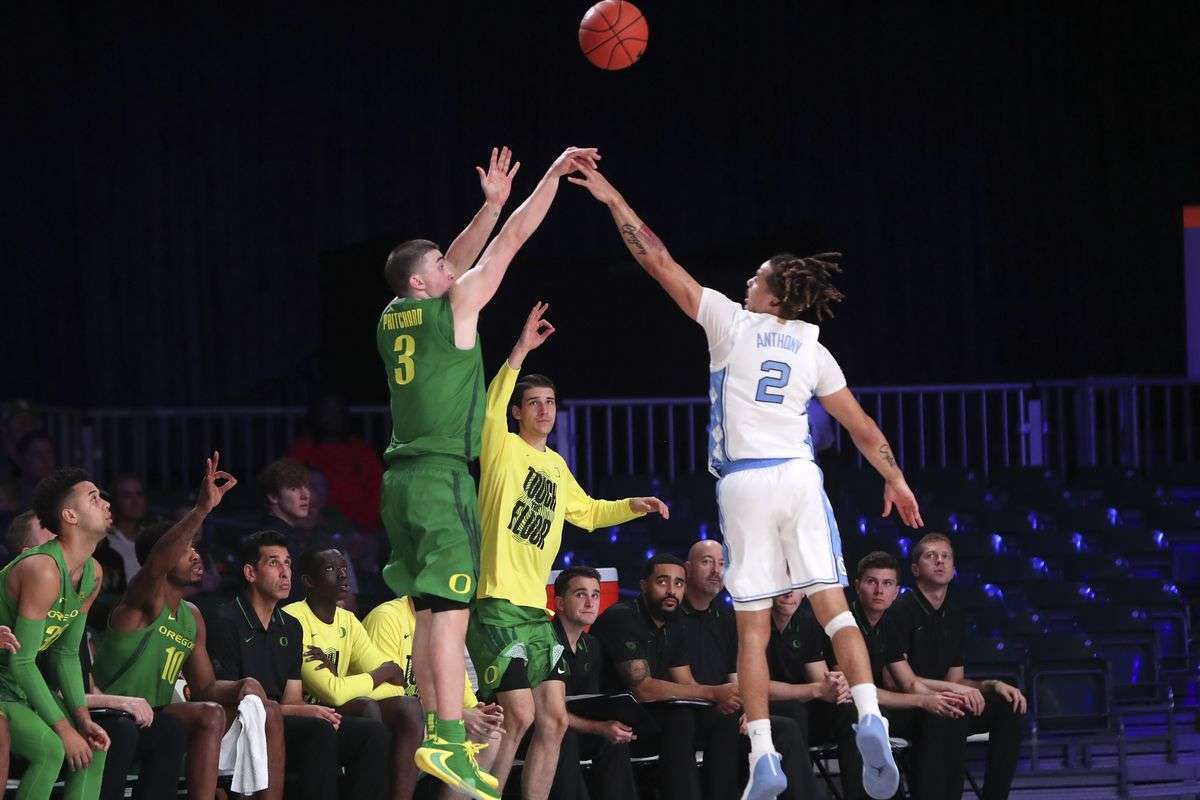 " frameborder="0" allow="accelerometer; encrypted-media; gyroscope; picture-in-picture" allowfullscreen title="bsJIck6iDC0" loading="lazy" src="//www.youtube-nocookie.com/embed/bsJIck6iDC0?controls=1&autoplay=1&enablejsapi=1&rel=1" >
Cole Anthony's heroics in the final 40 seconds help the UNC finish the Battle 4 Atlantis 2-1.
It goes without saying that if you're a UNC fan this weekend this Thanksgiving break has been terrible for everyone's blood pressure. Thankfully Cole Anthony's heroics in the last minute helped UNC leave the Bahamas with a win, giving them the third place finish in the Battle 4 Atlantis.
Much like the game yesterday, the Tar Heels came out of the gates playing some solid to good basketball. Despite Oregon's stout defense and Payton Pritchard's strong play, the Heels were able to do a lot of good things in the first half to keep from falling into a hole. How good was the half? Christian Keeling started to find some offensive rhythm by shooting 50% from the field and contributed 7 points to the team's 46 for the half. Armando Bacot also was a huge contributor for the half (and really the entire game), logging 13 points and 7 rebounds and making 80% of his shots from the field.
The second half was…well, it was a half that happened. The Tar Heels' 48% shooting took quite a hit as they were unable to get into any kind of sustainable offensive rhythm. Why did they struggle, you ask? One could say it's because of Leaky not playing the second half due to an ankle injury, or Cole Anthony and Armando Bacot getting into foul trouble, or Brandon Robinson's ankle injury resurfacing, or every other healthy Tar Heel becoming ice cold from the perimeter. Whichever one of those issues you would like to choose, you would be correct, and yet somehow the team managed to keep from sinking their chances of surviving the weekend with only one loss. The biggest threat to their chances of winning thew game was Pritchard, and he only made 2 of his 8 shooting attempts in the final 20 minutes. Overall, Oregon didn't fair much better in the shooting department, finishing the second half making 35% of their shots compared to UNC's 34%.
In the last few minutes of the game, Cole Anthony came back in after having four fouls for the game. Despite needing to play more careful than usual, he managed to save the entire game by making some clutch free throws after Oregon made the game 72-71 with 36 seconds left. With the game already iced, the Ducks fouled Brandon Robinson with one second left, and he hit both of his free throws to close the game out.
To read more from this article click the link below….
Source: https://www.tarheelblog.com/2019/11/29/20988144/unc-basketball-oregon-ducks-game-recap-cole-anthony-roy-williams-armando-bacot-payton-pritchard