Host Desmond Johnson with John Olzsewski and Rod Funderburk. The guys preview Panthers vs Ravens this weekend, Should the Hornets Rookie Miles Bridges be in the starting lineup for the Hornets, the panel builds the "Ultimate QB", Kenny Bowers from DFSXperts.com with his Fantasy Football picks for week 8 in the NFL, the longest World Series game ever between Dodgers and Redsox and more! Tune into The Rundown with Desmond Johnson Sat Mornings live at 10am on The Sports Hub!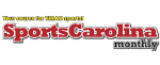 History of Bowman Gray Stadium
Carolina Panthers
Host Desmond Johnson with Rod Funderburk, Brandon Blakney, Aaron Gabriel. Kevin Avery from the...

Gerald McCoy took his talents to the Carolinas and signed with the Panthers.