Host Desmond Johnson with John Olszewski, Haskell Shelton, Rod Funderburk, Sawyer Dillion, Aaron Gabriel. The Guys review Game 1 of the NBA Finals between the Warriors and Raptors. Is Chris Paul still a top 20 player in the NBA? A look at the protective netting situation in Baseball, should it be extended to the foul pole on each side? Plus, Gerald McCoy visiting the Panthers, update on Cam Newton rehab, Houston Rockets are trading everybody and more. Tune into The Rundown Sat mornings 10a-12noon on Sports Hub Triad!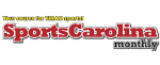 History of Bowman Gray Stadium
Carolina Panthers
Host Desmond Johnson with Rod Funderburk, Brandon Blakney, Aaron Gabriel. Kevin Avery from the...

Gerald McCoy took his talents to the Carolinas and signed with the Panthers.