Host Desmond Johnson with John Olzsewski, Rod Funderburk, Sawyer Dillion, Intern Aaron.
ACC Basketball weekend, a look at #2 Duke vs #3 Virginia, Can UNC win the ACC Regular Season, NBA/Hornets talk, Cam Newton's Shoulder Surgery and is Baseball still "America's Past Time"?
Tune into The Rundown with Desmond Johnson live 10am-12noon on The Sports Hub!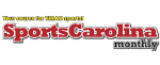 History of Bowman Gray Stadium
Carolina Panthers
Tune in live every Sat morning 10a-12 noon on The Sports Hub

After leading all NFL running backs in snaps played in 2018, Christian McCaffrey is...