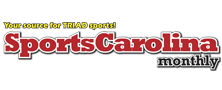 All posts tagged "HP"
Syracuse has surprisingly reached the Sweet 16 of the NCAA Tournament, relying...

Dwight Howard became the second NBA player in the last 36 seasons...

Life is good for Jeff Gordon. He is juggling post-retirement life quite...

The lead up to WrestleMania 34 continues on the March 19 edition...

Two teams stand out as the frontrunners with the first week of...

The Washington Redskins have found a replacement for Kendall Fuller. The Redskins...

Wide receiver Jarius Wright, who was released by the Minnesota Vikings last...

North Carolina's season ended with a splat Sunday, as Texas A&M blew...

By James Stewart As the 1970's rolled into Bowman Gray Stadium, dominate...