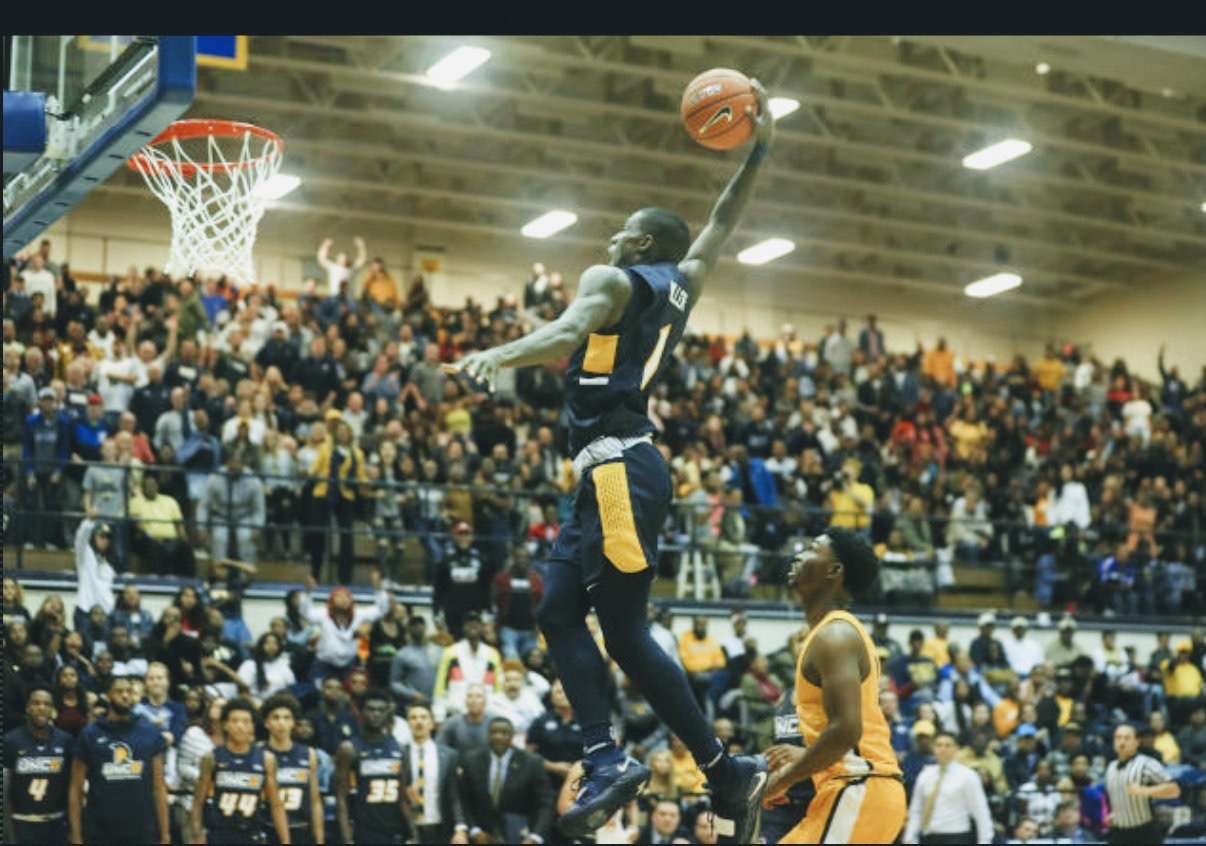 Wes Miller, Head Coach of UNCG Men's Basketball has coached and played with some amazing athletes and players. He's got another great one: Isaiah Miller.
Miller is creating his own version of "A Star is Born" right here in Greensboro, NC.
Coach Wes Miller on Isaiah after their win at Elon…..
"Zay wakes up in the morning with more energy then any of us, he probably sleeps with more energy, eats with more energy. He doesn't say much but his energy and competitive spirit is as consistent as any kid I've ever coached or been around"
Isaiah Miller isn't just energy personified, he's a 6 foot dynamic player that leaps off the screen. And that's not an analogy, Isaiah has a 47 inch verital leap, his ferocious athleticism, and out right fearlessness around the rim has gotten him nicknames like, "Young Westbrook" or "Jumpin Jack Flash". I've even penned my own, "#AllDayZay".
For those who haven't caught a UNCG game this season, make sure you have your Instagram, Facebook, Twitter and Snapchat stories ready, because when this young man gets into the open court he's every bit as good a dunker as Zion Williamson. Yes I said it. That man Zion , who every time he dunks, you get an ESPN alert.
Well trust me when I tell you, Isaiah Miller is a show all to himself.
Miller came to UNCG last year out of Newtown, GA. A teammate of University of Kentucky freshman and defensive stalwart, Ashton Haggins, Isaiah is no stranger to playing with and against top talent. LIke a lot of late bloomers, Isaiah took a late official visit to UNCG in April of his Senior year, but once he signed and arrived on campus, it's seemed like it was only a matter of time until he started to take over games. Like a rocket ship countdown, T-Minus 5, 4, 3, 2, 1…
Lift off came in the first game of the season at NC A&T. Against the cross town rival Aggies, Miller had 16 points 4 rebounds and 4 steals. But it was his Sportscenter Top 10 play that sealed the game for the Spartans. Isaiah crossed over his defender, drove the lane, leaped, cocked back his right arm and flushed it home. The reverberations were felt all through Greensboro.
Pure Statement ? pic.twitter.com/oR8SrCk3IG

— Isaiah Miller (@Nike_Beast23) November 7, 2018
The home court fans started to file out buzzing about Isaiah Miller, aka Young Westbrook, aka jumpin Jack Flash, aka #AllDayZay.
It all starts, for the young Spartan guard, with his roots. A strong relationship with his Mother, Marilyn Miller and brother Ben Miller. Ben spoke to me about his competitive nature and how he never would take it easy on Isaiah as kids, he called it "that no mercy mentality"
Best believe I'm going to talk my ? pic.twitter.com/6gl6OQl23X

— Isaiah Miller (@Nike_Beast23) December 4, 2018
That shows up on every possession for the sophomore guard. Miller plays each second like it's his last, almost as if someone told him "today is the last day you'll play basketball, make the most of it." Ben Miller thinks it's Isaiah's strong faith in God, and his want for everyone around him to be happy and prosper as the keys to his success, as a player and more importantly as a man.
Hard work has paid off for the Spartan guard. So far, in the first 3 Southern Conference games, Isaiah is averaging 19.3 points, 6.3 rebounds, 3.6 steals and 2 assists a contest.
He's also shooting a whopping 58.9 percent from the floor and 40 percent from 3 point land.
As UNCG faces their two toughest Southern Conference opponents to date, Wofford Thursday and Furman Saturday, most pundits and previews have been talking about the importance of Francis Alonso, James Dickey and the likes of Fletcher Magee.
All are very true assessments, but it's the emergence of Isaiah Miller that has Spartan Nation buzzing, waiting for that breakaway dunk moment, or a chase down block.
Lurking this weekend at the Greensboro Coliseum, first Thursday, against Wofford and, Saturday against Furman, the best kept secret in the Southern Conference will be UNLEASHED, don't blink.